Navy to test Project Overmatch capabilities during Large Scale Exercise
The next iteration of the biennial event will loop in nine maritime operations centers, six carrier strike groups, three amphibious ready groups, 25 ships and submarines, more than 50 "virtual" ships, and 25,000 sailors and Marines.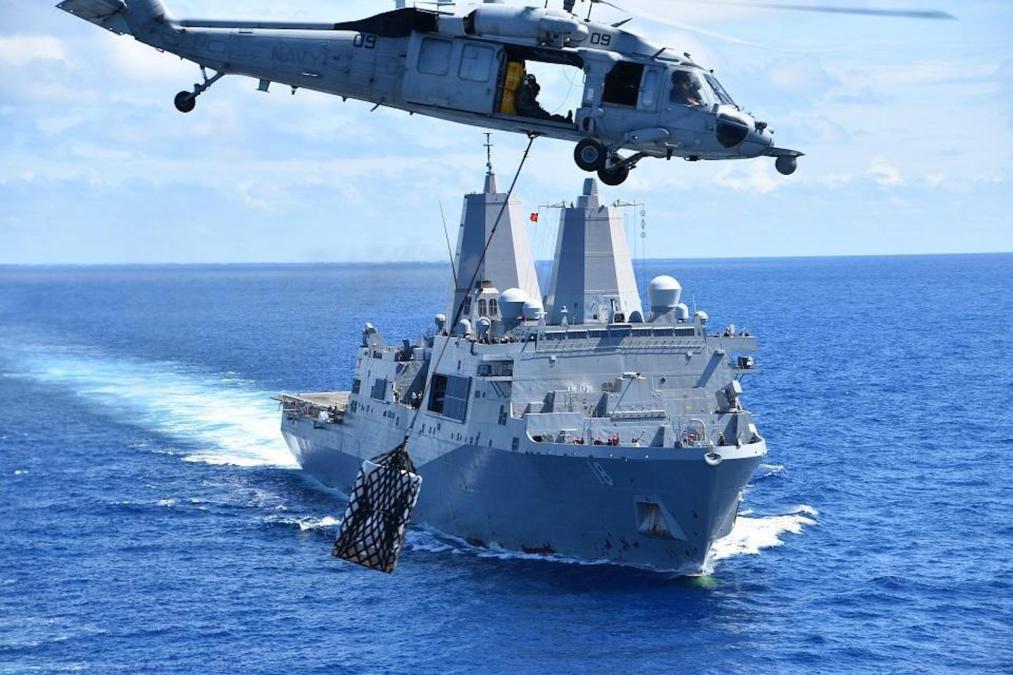 Next month, during the Large Scale Exercise 23, the Navy and Marine Corps will put advanced networking capabilities through their paces, including those associated with the secretive Project Overmatch, according to the head of Fleet Forces Command.
The next iteration of the biennial event, slated for Aug. 9-18, will span 22 time zones in a live virtual, constructive (LVC) environment. It will loop in nine maritime operations centers, six carrier strike groups, three amphibious ready groups, 25 ships and submarines, more than 50 "virtual" ships, and 25,000 sailors and Marines.
LVC training constructs connect deployed personnel and platforms with virtual trainers and computer-generated entities.
The aim of the exercise is to "assess the Fleet's ability to synchronize global naval operations at the operational-to-tactical level of war against strategic competitors," according to the Navy.
During a meeting with reporters on Monday, officials said they were limited in what they could disclose publicly about the event. But they offered an outline of what it will entail.
"What I can say about this scenario, and this is what we're trying to do is, is have [a combatant command] area of responsibility that has a very aggressive percolating event that will eventually turn into kinetic warfare. Simultaneously with that area of responsibility where that event is happening, there will be opportunistic second and third parties that are taking advantage of that, you know, with the hope that the United States has got its eye off the ball a bit and doesn't have the capacity to deter those other opportunistic events going on. So that's the general construct and how we lay this down globally, to make sure all of the commands throughout these 22 time zones are fairly challenged in theirs. And that's what tensions, the resources that we have and making sure we're getting the allocation correct," Adm. Daryl Caudle, commander of Fleet Forces Command, told reporters.
"The event does, as you can imagine, have what we call a kind of a road to war … where we're getting intelligence injected into the scenario," he continued. "So, we'll go kinetic, there will be plenty of opportunity to deter aggression in other areas of responsibility. And there could be things that we do that are flexible response options and flexible deterrence options and dynamic employment of our forces that try to actually dissuade opportunistic adversaries from taking advantage of the thing that's going on in another part of the world."
New technologies are expected to be integrated into Large Scale Exercise 23 including autonomous and unmanned capabilities and communication systems, as the Navy tests its ability to conduct contested logistics operations and targeting and to develop a common operating picture.
That will include Project Overmatch networking tools, which Chief of Naval Operations Adm. Mike Gilday has said will be the bedrock for the future joint tactical network.
"Any of the participants that have Overmatch Capability installed on their ship, like communications as a service, will be tested as part of this event. And the reason I can say that with such confidence is the Overmatch capability set by its very nature is tested anytime we command and control units with that capability. So yes, that will be part of Large Scale Exercise to further Overmatch to get more feedback. And in fact, we're bringing that to bear in this live, virtual, constructive manner, [which] allows us to try to test some Overmatch capabilities that we maybe couldn't do in the real world just because the situation wouldn't necessarily lend itself to that during an actual deployment," Caudle told DefenseScoop during the meeting with reporters.
He declined to provide details about the specific capabilities that will be tested using virtual and constructive elements, citing classification issues.
"I can say that again, as communication as a service allows Project Overmatch units — and eventually all ships will have this capability, including submarines — the ability to be able to have command and control [and] communications back with their headquarters, through every type of circuit that's basically on those ships. And so that technology makes it extremely robust and hard to defeat in a contested environment, because of the ability for us to be able to command and control those ships across all those different circuits seamlessly to the sailor," he said.
The Navy has been experimenting with Project Overmatch capabilities in the Pacific with the Carl Vinson carrier strike group. The plan is to roll those out more broadly to units in the region and then more broadly across the globe. The Large Scale Exercise will be another opportunity for the sea services to put them through their paces before deciding on next steps.
Lt. Gen. Brian Cavanaugh, commander of Fleet Marine Force, Atlantic, Marine Forces Command, and Marine Forces Northern Command, noted that the exercise will involve demonstrating C2 capabilities at the tactical level, not just the global and operational levels. The results will inform future investment decisions and program objective memorandums.
"We're going to learn a lot from this. And there'll be some successes, there'll be some failures. We will learn from the failure. And we will inform future decisions for POM cycles and things that we're going to buy. That's a way to demonstrate what we have and what we can do," he said.