Inside the network that connects DOD officials with emerging tech they weren't aware of
The National Security Innovation Network (NSIN) is trying to help convert some of the most nascent concepts with big potential for the military into minimum viable products or prototypes.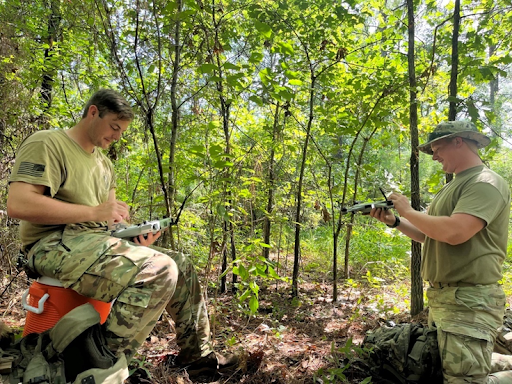 It might not be as well-known as some of the Pentagon's more high-profile teams working to enable new civil-military technology collaboration — but the National Security Innovation Network is generating connections and resources to help convert some of the most nascent concepts with big potential for the military into minimum viable products or prototypes.
Launched in 2016 and rebranded in 2019, NSIN helps pave the way for emerging capabilities with lower technology readiness levels to reach the right Defense Department components that could benefit from their use. Its mission partners across the military lean on NSIN to scan the global market for potentially applicable capabilities that they've "never heard of," according to the network's regional director, David Schiff.
"Some of the things that we are looking at might be on that horizon where people don't necessarily understand the applicability yet, or don't believe in its viability yet. So we are supposed to press the 'I believe' button then and say, 'I think that actually has capability.' But we don't just assume it, we try to connect with the subject matter experts in each branch of service," Schiff told DefenseScoop on Tuesday during an interview on the sidelines of the Navy League's Sea-Air-Space summit.
'Don't keep it in the shadows'
Schiff is a Navy veteran who, among other roles, also served as an executive fellow at Naval Sea Systems Command (NAVSEA) and as the original deputy director of NavalX — before he joined NSIN in 2021.
Broadly, the network pinpoints acceleration, incubation and funding opportunities for a range of novel ideas and technologies that are typically very far off from being fully realized, but could lead to breakthrough solutions for major national security challenges.
For NSIN, Schiff operates as a sort of liaison in the Washington, D.C area between Defense Department components such as laboratories and warfare centers based there, that are able to take advantage of industry and academic programs that align with similar interests.
"I am really a connector. So, I spend a lot of time making sure that if someone, for instance, at this Navy conference says, 'I just wish I knew someone who's good at quantum computing,' what I'm here to do is say, 'I can get you an industry expert, or I can get you an academic expert — which one are you looking for? From the Navy? Or are you looking for the Air Force lead in quantum or artificial intelligence?' Because that is my job," Schiff told DefenseScoop.
In Schiff's view, part of the advantage NSIN provides to DOD is the "confluence of people and the collaboration between organizations that have never talked to each other before."
A recent example of work the network embarked on — and continues to engage in — involves NAVSEA's integrated warfare systems team, or IWS. It was initiated when an admiral at the command, who was Schiff's colleague at NavalX, approached him about a model-based systems engineering dilemma.
While IWS officials felt good about the technical reviews they were conducting, teams across warfare centers were applying different codes, processes and tools and metaphorically "not speaking exactly the same language," Schiff said.
After months of preparation that followed the request, in August 2022 NSIN helped launch a three-day design sprint on IWS' challenge. Roughly 40 representatives from multiple military branches, the Missile Defense Agency, academia and industry collaborated in the pursuit. A program manager from NSIN supported the work, as well as Schiff, who operated as a key liaison. Professors from the University of California-Berkeley helped facilitate this effort and action officers from Amazon Web Services also participated.
All the engineers and experts involved were divided into groups to look at different elements of the issues — such as those around fiber, communications and technology processes.
"At the end of it, we didn't solve MBSE, or model-based systems engineering, for the department. But what we did was say, 'OK, we've refined the problem in six different ways and these one or two, [the command is] going to keep in-house and, like, we're going to figure this out on our own. And then NSIN, can you help us using your college student programs with these two problems? And then, actually, we're going to hand these back over to a warfare center that can really manage it better,'" Schiff explained.
"So, what we're trying to do is say, 'Look, you're not going to solve these huge problems in three days. But what you can do is get on the same page, align on what the concept is, figure out what the next steps moving forward are, and then get the help you need. Whether it's from NSIN, DIU, NavalX, or the Office of Naval Research — it doesn't matter where the help comes from — but don't keep it in the shadows or in a cubicle," he added.
In the aftermath of that sprint to support IWS, students affiliated with the network's university programs are now attempting to solve software- and process-related issues that have stemmed from that original problem.
"I can't speak much more to it yet, because they're still working through it — and they only started in late-January," Schiff said.
Still learning
Even when he learns about new-ish technologies that could impact national security concerns but have higher readiness levels than NSIN seeks, Schiff feels compelled to connect their makers with others in the government that could potentially utilize them.
"I just saw something in Norfolk that was about ultrasonic modal imaging," he noted.
Though he didn't know about that technique beforehand, once he learned more he immediately considered how it might make sense for a NAVSEA team focused on improving the safety and reliability of maritime assets.
"What they're trying to do is make sure that steel plates of a certain thickness are actually essentially as strong as they're supposed to be," Schiff explained. Recognizing that "this UMI capability that [he] had not heard of" seemed promising for future ships and aircraft — which could help the Navy, Air Force and Army, he said — Schiff connected its intellectual property developers to others in his sprawling DOD network.
"At least if that technology is as good as it sounds like it is, you know, I want to make sure that that gets to the right places across the Defense Department," he told DefenseScoop.
Still, Schiff is aware of growing concerns around the over-classification of military dealings and gaps in information-sharing capabilities spanning the defense enterprise.
Throughout the Pentagon and military, in his view, "a lot of people are doing innovation in their cube or in their lab — and there's still not a lot of cross-organizational engagement." Schiff noted that even he, someone who is relatively well-connected in this realm, found out about a Naval Air Systems Command (NAVAIR) program that was not on his radar on the exhibition floor at Sea-Air-Space.
"I'm still learning about things that the Navy has. But if you're staying at your desk, or staying in your house and not engaging with other people — and you're not engaging with people who can help translate what's happening — then you're really not aware of what the rest of the enterprise is doing," Schiff said.
In the interview, he also reflected on presentations made by Rear Adm. Lorin Selby and Gen. David Berger, among others, at the conference and other recent events, which spotlighted broad concerns associated with channels for better information-sharing and the Pentagon's potential for over-classifying details like NOFORN, or materials that are not permitted to be released to any non-U.S. citizen.
"If that's not necessary, then don't do that — because what you're doing is cutting off avenues to solve a problem. And the way that the U.S. [innovated] in the 1940s and '50s was always with allies, right? A lot of our scientists who helped develop some of the most cutting-edge technology were from enemy countries. We took all the German scientists who had to flee — and many of whom were Jewish. That was part of the reason we beat the Germans on the Manhattan Project," Schiff said. "So, some of the advantage we have is our diversity."