Cybersecurity features prominently in new US-Philippines bilateral defense guidelines
The agreement also calls for partnering on securing classified information.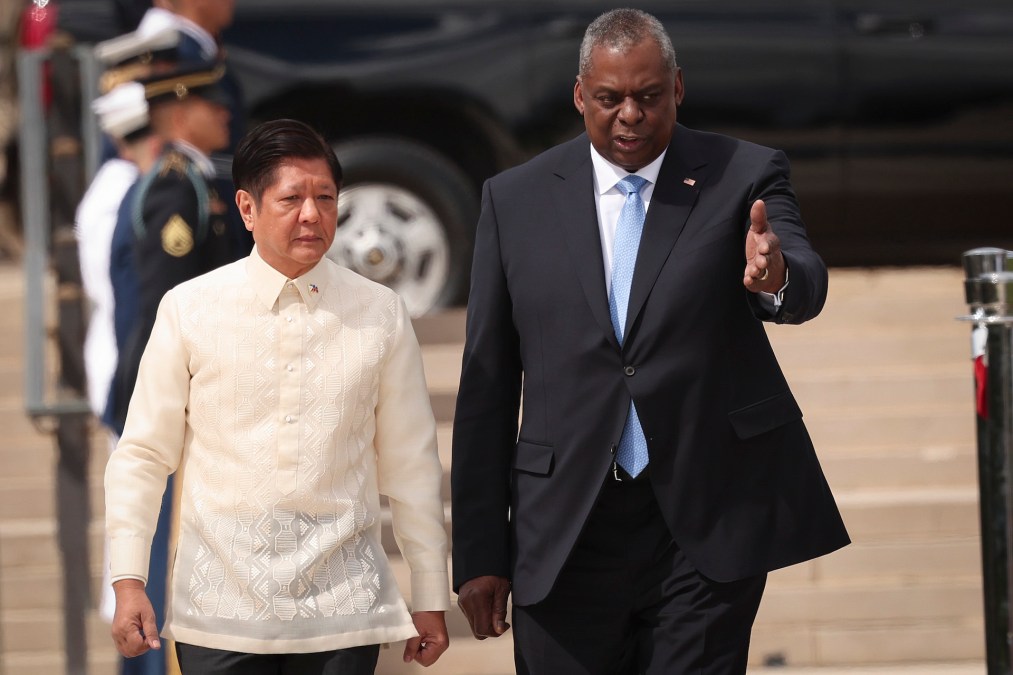 The United States and the Philippines signed new "bilateral defense guidelines" on Wednesday, which include an emphasis on defending against threats in cyberspace.
The Philippines occupies a strategic position in the Asia-Pacific where the U.S. and China are competing for influence. Washington and Manila already have a mutual defense treaty dating back to 1951. But the new agreement comes as both nations are concerned about Chinese aggression.
The new guidelines aim to "guide priority areas of defense cooperation to address both conventional and non-conventional security challenges of shared concern to the United States and the Philippines."
One of those priorities is to "improve cyber defense and cyber security cooperation to secure critical infrastructure and build protection against attacks emanating from state and non-state actors by strengthening interoperability" between U.S. Indo-Pacific Command and the armed forces of the Philippines," as well as "fostering collaboration with other relevant departments and agencies."
Bilateral military exercises and other activities will focus not only on deterring and countering armed attacks by ground, air, maritime, or amphibious forces on either country in the Asia-Pacific — including in the highly contested South China Sea — but also address threats in space and cyberspace, "while expanding the scope, scale, and complexity of such exercises and training," per the guidelines.
Notably, the agreement also calls for partnering on securing classified information. That arrangement comes after troves of classified U.S. national security documents were posted online — allegedly by a U.S. service member — on social platforms such as Discord.
In the wake of the leaks, U.S. Secretary of Defense Lloyd Austin has launched a "comprehensive" review of the Pentagon's security programs, policies and procedures for protecting that type of data. Pentagon CIO John Sherman also issued a "data call" aimed at ensuring DOD components are vigilant about who has access to sensitive information. Sherman also spoke Wednesday about how a zero-trust security architecture could have prevented the leaks.
Going forward, Washington and Manila will "consult on policies, practices, and procedures related to the protection of defense and military classified information in support of the swift conclusion of a General Security of Military Information Agreement," according to the bilateral guidelines agreed to on Wednesday.
The allies are looking at a wide range of areas for additional collaboration, including budget planning for the Philippines and procuring military equipment.
The two nations plan to develop a "security sector assistance roadmap" that will "identify priority defense platforms and force packages over the next five years to bolster our combined capabilities and capacity to resist coercion and deter aggression."
The procurement of interoperable systems is to be prioritized and aided through a variety of mechanisms including U.S. foreign military financing, foreign military sales and excess defense articles programs — as well as Manila's defense acquisition and funding initiatives.
During a meeting with Philippines President Ferdinand Marcos Jr. at the Pentagon on Wednesday, Austin "reaffirmed the Department's commitment to bolstering the Philippines' defense capabilities as the allies develop a Security Sector Assistance Roadmap to guide shared defense modernization investments over the next five to 10 years. Secretary Austin highlighted near-term plans for the United States to transfer several defense platforms to the Philippines to support the AFP's continued modernization efforts," Pentagon Press Secretary Brig. Gen. Pat Ryder said in a readout of the engagement.
During a background briefing with reporters via teleconference on Tuesday, a senior U.S. defense official told DefenseScoop that the development of the roadmap is already "underway."
"In terms of completion, I don't think we have publicly put a date on that — so I'm hesitant to do one in this call. But what I will say is you should assume we are working on it with the utmost haste and hope to have that out as soon as possible," the official said.