Mike Madsen prepares to depart an elevated DIU
Madsen briefed DefenseScoop on what his future might hold — and the direction he hopes to see the Defense Innovation Unit move in as it continues to mature.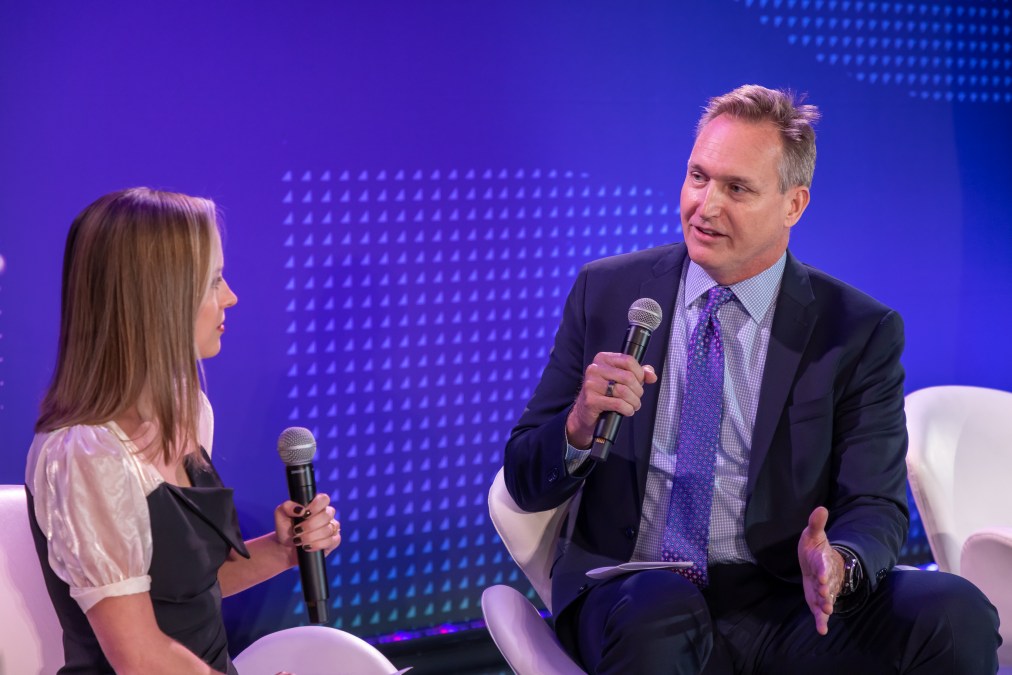 In his final weeks at the Defense Innovation Unit, Mike Madsen is helping its newly sworn-in chief get poised to "really take DIU to the next level," he told DefenseScoop in an interview on Thursday.
"My term ends on June 9. Well, I think it's June 11 — but that's a Sunday — so we'll back it up to the Friday before [which is June 9]," he explained.
Madsen joined the U.S. military in 1994. He's a decorated pilot and former legislative liaison who brought a unique perspective to DIU, where he's served as deputy director and director of strategic engagement, and most recently as acting director.
"It's been a fantastic five years and I can't believe how fast it has gone. This honestly is the longest I have been anywhere in my professional life," Madsen reflected. "And I always like to say that this is the second most fun I've had in my professional life — only because it's hard to compete with flying planes for the Air Force around the world."
In April, Defense Secretary Lloyd Austin tapped DIU's new permanent director — Doug Beck, a former vice president at Apple — to steer the unit. Beck was officially sworn in earlier this month.
"That's an important message that the Secretary of Defense wanted to transmit to the ecosystem that he took time out of his schedule to swear in Doug Beck as the next director and the understanding that we need to leverage commercial technology," Madsen said.
He briefed DefenseScoop on what he might do next — and the direction he hopes to see DIU move in as it continues to mature.
Making it easier
As an Air Force pilot, Madsen flew the C-17 strategic transport aircraft.
Introduced in the early 1990s, around the start of his military career, Madsen remembers back then the C-17 "was the most advanced airlifter in the world." He recalled "glass cockpit, digital everything, a couple backup dials," the electronically controlled fuel system engine, electronic backup capabilities, "and then finally an analog backup to that."
"So it's a very advanced airlifter. But there was a condition that was so common that there was a name for it — it's called an exceptional restart — and what it was is you can be flying along and this advanced airplane [mission computer] would just go completely black. You could be over the North Atlantic, South Pacific, the Midwest, Central Asia — and it would go black," Madsen said.
Those "exceptional restarts" were a result of the fact that the systems' chips couldn't handle the massive, advanced processes.
"Because in the year 2000 — even for the most advanced airlifter that had gone through upgrades — there was no simple way to bring in commercial technology in the form of chips where you could just buy any chip and put it into the system. It had to go through the whole requirements process, which is a very long arduous process. And so in the year 2000, we were still playing around with the best chips that 1986 had to offer, right? Because of that process," Madsen explained.
DIU was designed to "get to some of those [tech] problems," he noted.
Launched by then-Defense Secretary Ash Carter in 2015, DIU was developed to harness the investment and speed of advances in industry-made technologies to accelerate the military's deployment of cutting-edge systems. Madsen joined in 2018.
"One of the things that I see as a 'plus' from my very broad perspective is that not only has DIU leveraged commercial technology, but we now also leverage commercial processes — making it easier to solve some of those problems going forward with rapid acquisition and the ability to use Other Transaction authority to take those best practices … and cycles of refresh from the commercial world and bring it in," Madsen said.
"As I reflect back on it" and the DIU's three permanent directors to date, Madsen said "Raj Shah was the first one — a disruptor extraordinaire, he was the right personality at the right time to really get the DIU going." Then, "Mike Brown was the right one at the right time to focus on transitioning," as the second in the role, Madsen noted. He now sees Beck, the former Apple exec and a Navy reservist as "a fantastic choice, understanding that defense mission set and the commercial ecosystem" to really enable DIU to "level up."
In the near term, the unit is hyper focused on boosting transition rates across its tech portfolios and increasing adoption across the entire enterprise at a much larger scale.
"If our initial DOD partner, say, is the Navy for some sort of solution we prototyped, or we proved it out and we transition it via some sort of production mechanism to the Navy into one of their programs, then to take it and go to the Air Force, or the Marines, or the Army, or Space Force and say, 'Hey, you probably have a very similar problem' — maybe it's operational energy, maybe it's installation energy, maybe it's unmanned sensing, whatever the case," Madsen said.
Moving forward, DIU is also exploring how it can incorporate its elements into DOD's programmatic processes sooner than it is now.
"When the department is doing their acquisition strategies for the services, or when we're thinking about what are the requirements of the pointy edge of the spear with the combatant commands, how can we get involved earlier to be able to articulate clearly what is the real state-of-the-art of commercial technology?" Madsen said.
Aims to impact
Madsen was temporarily promoted to serve as DIU's chief when Mike Brown opted to depart from the post earlier than expected in 2022.
At the time of his exit, Brown expressed dissatisfaction regarding the unit's prioritization within the Pentagon, and its future, among other issues. After serving for almost a year as acting director, Madsen said he's been largely pleased with how some of those issues are being addressed.
"We had voiced some of those concerns — and through the budgeting process we received a significant increase in our budget through the department. And as you're aware, the secretary of defense just realigned DIU to be a direct report to the secretary of defense. That right there is a pretty big statement, as far as the importance of DIU and the mission that we execute," Madsen said.
He considers himself and the organization "very fortunate" that he and Beck are having this current chance to overlap ahead of his departure. Even in this learning and sharing period though, the DIU leaders are continuing their robust, regional outreach.
"We recently had a couple roadshows — one of them in North Carolina, one of them in the Midwest. And in each of those places, we saw an increase by about 600% on submissions from tech companies to our solicitations. Pretty impressive. We have one coming up in Indiana at the end of May, and again, what we're looking for is the best technology across the country, not just in the tech hubs," Madsen told DefenseScoop.
As for what's next for him career-wise, Madsen said he is "very much committed to finding something impactful at the intersection of technology and national security."
"I want to be somewhere where I have a sense of purpose, where it's impactful, on a team all focused on the mission. So, I'm not opposed to staying in the government, and I'm not opposed to going out to the commercial sector — it might be a combination of both. We have a duty to make sure that we're providing the folks that are charged with national security the best technology that America has to offer. And so I'm fully committed to that mission that I've been steeped in here at DIU for the last five years," Madsen said.
Editor's Note: This story is the first in a series of DefenseScoop's coverage of Madsen as he prepares to depart DIU.