Timothy Haugh nominated as next Cyber Command chief
Haugh, who is currently the deputy commander, was nominated by President Biden to be the next head of U.S. Cyber Command and the National Security Agency.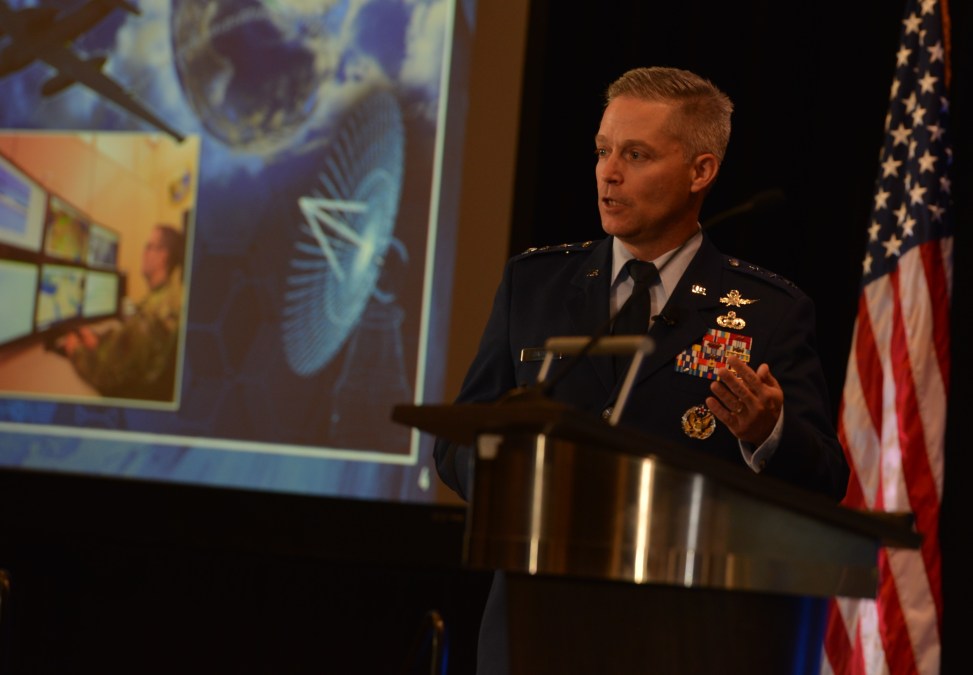 Lt. Gen. Timothy Haugh has been nominated by President Biden as the next leader of U.S. Cyber Command, an Air Force official confirmed to DefenseScoop.
Haugh, currently the Cyber Command's deputy commander, would be the first Air Force officer to lead Cybercom, as the first three commanders were Army, Navy and Army. In the dual-hatted role, he would also head the National Security Agency.
The news was first reported by Politico.
Haugh succeeds Gen. Paul Nakasone, who has led Cybercom since May 2018. Nakasone last year was asked to stay on for an extra year. Typically, this position is a four-year term.
Haugh is a Cybercom veteran holding multiple positions there. He previously served as the deputy commander for Joint Task Force Ares — the cyber component of the global counter-ISIS fight that has now morphed more to focus on nation-states. He was also the commander of the Cyber National Mission Force (CNMF), made up of 39 joint teams and thought to have the Department of Defense's most talented cyber operators at the cutting edge of their profession.
During his time so far at Cybercom, Haugh has helped to pioneer some of the concepts CNMF is now famous for such as election defense, with former top command brass saying: "the history books will record the time that Gen. Haugh was leading the Cyber National Mission Force as when it was relevant and put on the map." He helped initiate CNMF's bid to be a sub-unified command under Cybercom, which became official in December 2022.
Haugh most recently served as the inaugural head of the Air Force's first information warfare unit, 16th Air Force, which combined intelligence, surveillance and reconnaissance, cyber effects operations, electromagnetic spectrum operations, information operations and weather, among others, under a single commander.
During his time there — and taking a lesson learned while on the CNMF — Haugh helped to spearhead the trend of strategic disclosures to help beat back adversarial affronts in the information warfare arena.
As adversaries became adept at subversion in the digital domain below the threshold of armed conflict, policymakers appeared to be at odds over how to combat them. One way to do that was by disclosing their activity through operations and collection methods that didn't hurt U.S. capabilities.
This was first done within the CNMF by disclosing malware samples to both warn companies to patch and burn these tools.
At 16th Air Force, Haugh sought to use the broad swath of capabilities under his purview to disclose enemy activity and reclaim the narrative.
At Cybercom, as its deputy, one of Haugh's main tasks has been focused on developing and building out the Joint Cyber Warfighting Architecture (JCWA), which was designed to get a better handle on the capabilities, platforms and programs the command is designing, and set priorities for the DOD as well as industry partners that would be building them. While it encompasses several components, it is now thought of as a platform in and of itself to conduct military cyber operations.
Haugh, if Senate-confirmed, would take command at a time when the force is continuing to mature and building out a program executive office as mandated by Congress to execute its acquisition needs.
He will also face concerns from Congress and others on the readiness of the force. A major priority for years, there have recently been concerns, particularly on the Navy's contribution to the cyber mission force, regarding readiness. Congress has ordered the DoD to conduct studies to evaluate how to alleviate issues.
Conversations are also getting louder surrounding the possibility of an independent cyber force, something Haugh will also likely face.
Details of Haugh's confirmation hearing and the exact timing of Nakasone's exit are unclear at this time.
Jon Harper contributed to this story.