Marine force design plans include overhauling C2, data capabilities to support 'all-domain' ops
The annual update to Force Design 2030 calls on the Marine Corps to revamp its command-and-control and information capabilities for all-domain operations.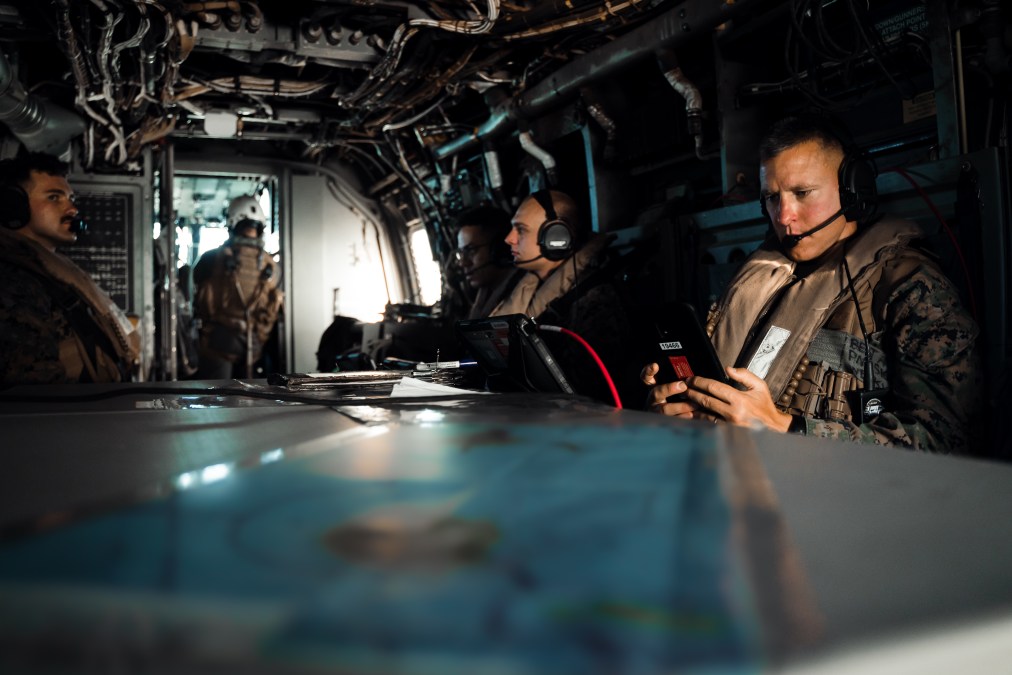 The Marine Corps is preparing to reevaluate its command-and-control and data capabilities in order to identify gaps in the service's ability to conduct "all-domain" operations, according to the latest iteration of Force Design 2030.
The annual update to Commandant Gen. David Berger's controversial vision for transforming the Marine Corps was released Monday, outlining the service's latest plans to prepare for potential conflict in the Indo-Pacific and any challenges it anticipates. One of the tenets of Berger's vision is to include more of a "combined arms" approach to Marine ops and integrating capabilities from multiple domains.
But according to the annual update, the service's legacy command-and-control systems are stovepiped and need to be modernized.
"The successful integration of intelligence, fires, and C2 is the heart of the targeting cycle and is required to enable and conduct kill webs across multiple domains. The need to expand traditional Marine Air-Ground Task Force (MAGTF) operations to address all-domain activities is compelling and requires us to address multiple challenges," the document states.
To address those challenges, the Corps plans to begin a yearlong campaign to evaluate the service's current C2 capabilities and begin experimenting with new technologies that enable all-domain communications.
By August, Lt. Gen. Karsten Heckl, deputy commandant of combat development and integration, is set to conduct an approved acquisition objective review of command-and-control systems "to provide near-term multi-domain capability solutions for the MAGTF. This review will identify which systems to retain or eliminate," the document notes.
According to the annual report, the Marine Corps currently lacks a common Marine Air-Ground Task Force C2 system that can access advanced technologies, as well as C2 technologies that are not bound to single warfare domains and classification bureaucracies.
Following the acquisition review, Heckl's office will begin developing a single product that combines capabilities across the service's family of integrated targeting cells, air C2 family of systems, and ground C2 family of systems. That tool will immediately begin experimenting with U.S. Indo-Pacific Command's joint fires network, per the update.
"The bridging solution must drive convergence of currently disparate air-land centric C2 programs of record to a singular, all-domain MAGTF C2 capability," the document notes.
The Marine Corps also plans to implement changes in its force structure and operational concepts that better align with multi-domain ops. Beginning in March 2024, the service will begin a campaign of experimentation focused on all-domain operations that will inform these changes. Wargames and planning teams are also expected to inform evolving capabilities, formations and concepts throughout the year.
In addition to more combined C2 capabilities, the Marine Corps is revamping its approach to gathering, curating and using information to aid operations. In October, the service plans to publish a Marine Corps data implementation plan that coincides with the Defense Department's data strategy.
"We must evolve from our current framework of siloed data management to an integrated environment that converges data across the [Fleet Marine Force] and supporting establishment," the Force Design 2030 update states. "Establishing a data collection plan with measurable objectives will be critical to this effort."
While the service has done work to advance its data science capabilities in recent years, the document emphasizes the need to embrace data as a "critical element" of modern conflict.
Looking forward, the Corps is also considering how artificial intelligence could be used to help facilitate its data strategy. During a media call with reporters Friday, Brig. Gen. Kyle Ellison, commanding general of the Marine Corps Warfighting Lab, highlighted how AI could become a key tool as the service becomes more data-centric.
"More information and more data is not always better — it's how that data is fused and, in some cases, correlated to enable the decision maker," he said. "And that's where we're moving to — a level of access to information and an ability to fuse information to speed up decision-making, which in the past required human brain cells. Well, we can use those brain cells for the decision-making itself and use AI to help us get to the right decision."
Ellison also pointed to the value of the Marine Corps' new software factory, which the service launched in March. When asked by DefenseScoop how the facility would contribute to the service's Force Design 2030 efforts, he said there is a lot of promise for what the capability will bring to the fight — especially for the military-wide goal to better connect sensors and shooters across the services known as Joint All-Domain Command and Control (JADC2).
"What is extremely important as it relates in particular to JADC2 … is an ability to change rapidly with the evolution of software, and so it is critically important for us to maintain pace with that software evolution," Ellison said. "It is gonna have to be tied into the rest of the joint force when we do it, so as we continue to develop interoperability and integration — which ultimately is JADC2 — a lot of it is about software. We can have systems within the Marine Corps that, if we have the right software, can be interoperable with the rest of the joint force without having to change the hardware."