Army aims to field reconfigurable, air-ground training system by end of 2024
"What we've been able to do with air-ground collective training capability has really expanded what soldiers can learn and kind of get better at," said Col. Nick Kioutas, project manager for the Army's Synthetic Training Environment (STE) portfolio.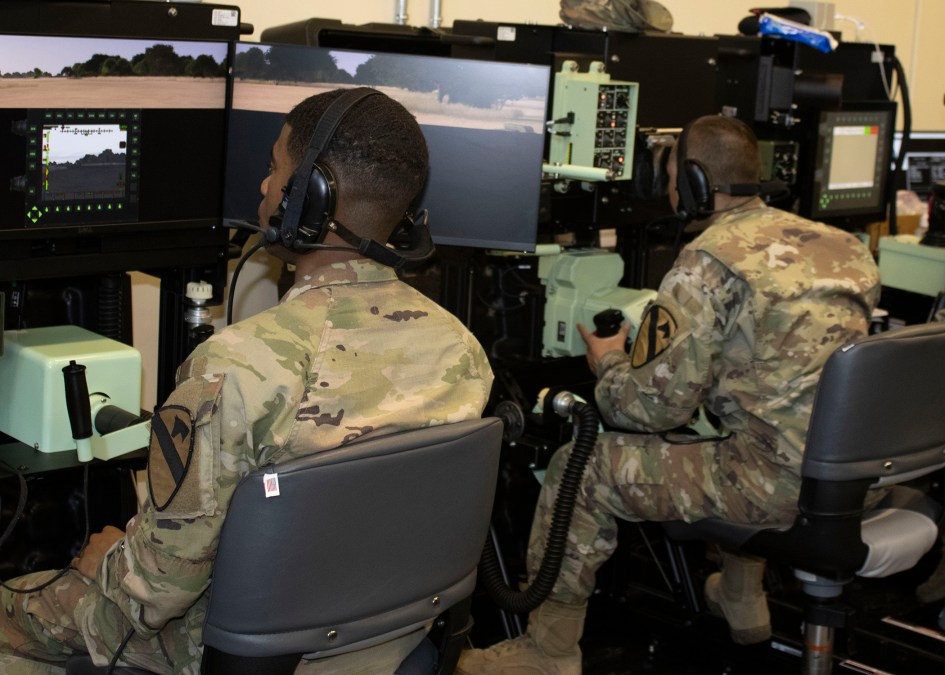 The Army is looking to field a new training capability that allows for ground troops and aviators to train together in a single, virtual environment no later than the end of 2024.
The Reconfigurable Virtual Collective Trainer (RVCT) is a mobile, transportable system that consolidates aviation platforms, ground vehicles and dismounted infantry into a single virtual environment with the goal to train soldiers on combined arms air-ground missions. The Army plans to field the first platforms across three sites in fiscal 2024: Fort Cavazos, Texas, Fort Novosel, Alabama and Fort Moore, Georgia, according to Col. Nick Kioutas, project manager for the service's Synthetic Training Environment (STE) portfolio.
"What we've been able to do with air-ground collective training capability has really expanded what soldiers can learn and kind of get better at," Kioutas said Monday during a technology demonstration of the platform at the Pentagon. "It's about how many iterations we can give to the soldier. With the collective training capability and disparate locations, units can join from Fort Cavazos and Fort Campbell and play together."
The RVCT is part of the Army's larger STE portfolio, which is working to modernize the service's training by bringing together live, virtual and constructive elements. It's a capability born out of a growing need to conduct multi-domain operations in the service, Kioutas noted.
Each RVCT has individual stations where soldiers can practice operating a platform in a virtual environment before stepping into a live range. For example, an RVCT-Ground system configured to train an M1 Abrams crew would have four stations — a driver, gunner, tank commander and munitions loader — while an RVCT-Air system configured to train future UH-60 Black Hawk helicopter pilots features two pilot stations and other crew stations.
Maj. Lane Berg, materiel developer for the Army's PEO Simulation, Training and Instrumentation (STRI), said that the "true power" of the system is the ability to simultaneously train air, ground and dismounted soldiers in a virtual environment
"It's the tank being able to talk to the aircraft over there," Berg said during the demonstration. "If we had a Bradley set up, we'd have [dismounted] soldier laptops that are behind the Bradley. So, a squad can get in the vehicle, conduct the mission with the vehicle in movement, … dismount the vehicle, get on a helicopter, go on an air assault [and] come back."
During soldier touch points, which act as immersive testing and feedback events for new capabilities, the ability to conduct multi-domain training has been very well received, said Maj. Thane Keller, capability developer for the Synthetic Training Environment Cross-Functional Team.
"The ability to set up and to communicate with air as we're executing a mission has been extremely positive," Keller said. "It's just something that we don't really have the opportunity to train on."
The systems can be reconfigured to train on other Army platforms in less than a day, Berg added. RVCT-Ground has Stryker and Bradley fighting vehicle kits, and RVCT-Air can be turned into a CH-47 Chinook or an AH-64 Apache aircraft.
The team also recently tested training on unmanned aerial systems with the platform — a significant time and cost-saving capability, said Maj. Brandon Dotson, assistant project manager at PEO STRI.
"Typically we only operate with them overseas, because you have to shut down the block of airspace to train with them because there's no other way to do that virtually," Dotson said. "To be able to do that in a virtual world and do it multiple times on the terrain that you're actually intending to operate on is a huge game-changer."
However, Keller said that soldiers have given feedback regarding instability in the system's software — the Training Management Tool and Training Simulation Software. Currently a prototype being developed by Cole Engineering Services, the software is being continuously updated and improved, he said.
Berg added that nailing down the system's software will be key to fielding RVCT by the end of 2024. The plan is to start new system test cycles to improve software stability.
The Army is also looking to industry as it improves the technology, Kioutas said.
"On the software side, we have a modular open system architecture. We have a platform development kit that we have given out to whoever qualifies and then asks for it," he said. "What we're asking industry to do is go in and look at our platform development kit and identify where we can improve this capability."
Moving forward, PEO STRI plans to keep adding new platform variants to each of the RVCT systems, such as the Armored Multi-Purpose Vehicle (AMPV) for the ground system and the aircraft under its future vertical lift portfolios.
The Army also hopes to one day incorporate artificial intelligence and automation tools into the RVCT. Right now, training scenarios are set up manually via the Training Management Tool and opposition forces are run by users on laptops, but in the future automation could play that role instead in order to take some load off of operators, Keller said.
Kioutas said the PEO has a vision for creative ways it could use all the data sources available to it to customize training. For example, an individual soldier's physical fitness test could play into their future training exercises or an entire unit's progress would become a factor.
"All the training data that we collect, we don't currently save that," Kioutas said. "What we want to do is to be able to save that and do data analytics on [that] data, as well as develop AI tools and that kind of thing down the road. But that's not here today, but it's coming soon."