Army acquisition chief sees 'competitive environment' for IVAS alternatives if Microsoft's system doesn't satisfy
The Army received IVAS 1.2 earlier this week and it will soon conduct "soldier touch points" to give potential end users the opportunity to provide feedback.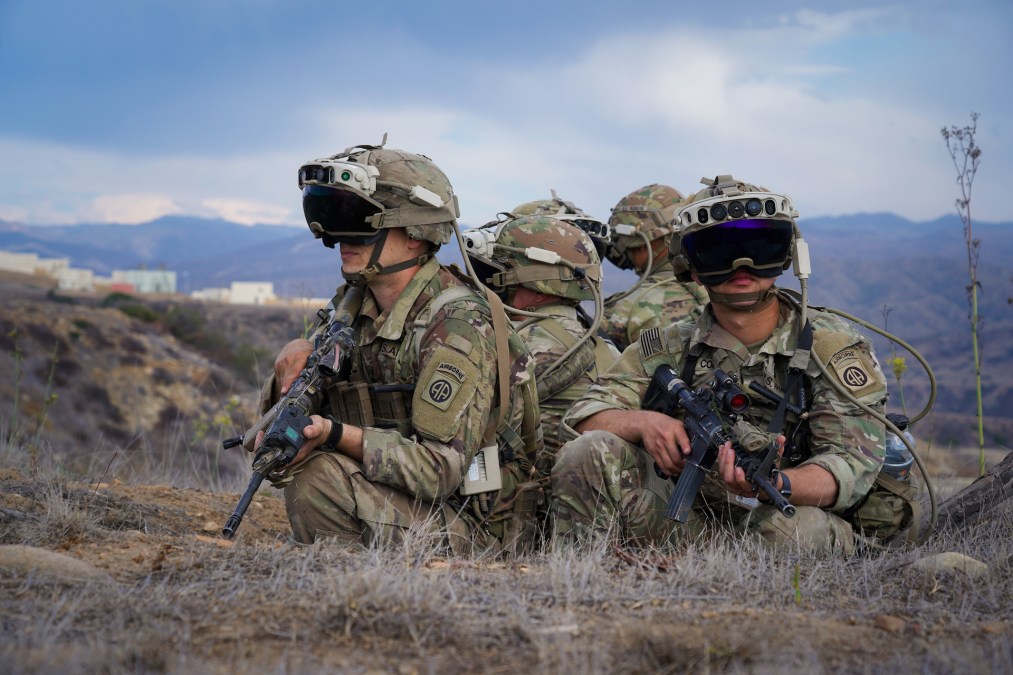 Troops are about to get their hands and eyes on a new version of Microsoft's Integrated Visual Augmentation System. But the head of Army acquisitions anticipates other options could replace IVAS if the technology doesn't meet the service's expectations.
The IVAS program is one of the Army's highest-priority modernization initiatives for its soldier system portfolio. The technology includes a ruggedized augmented reality and heads-up display system based on Microsoft's HoloLens 2 device. The company won a contract worth up to $21.9 billion contract in 2021 to develop and manufacture the tech for the Army, which plans to acquire more than 100,000 systems over the coming years.
The augmented reality headsets are expected to give troops the ability to see through smoke, around corners, and in the dark using advanced sensors; leverage holographic imagery; and display 3D terrain maps and project a compass into a soldier's field of vision. The Army hopes to be able to use them in training environments and on the battlefield.
The Army received IVAS 1.2 earlier this week and it plans to start conducting "soldier touch points" beginning next month to give potential end users the opportunity to put the capability through its paces and provide feedback.
Soldiers had complaints about an earlier version, IVAS 1.0, after testing last year.
"The results of the Ops Demo show user acceptance remains low. Soldiers prefer their current equipment … to IVAS. The majority of soldiers reported at least one symptom of physical impairment to include disorientation, dizziness, eyestrain, headaches, motion sickness and nausea, neck strain and tunnel vision. Soldiers cited IVAS 1.0's poor low-light performance, display quality, cumbersomeness, poor reliability, inability to distinguish friend from foe, difficulty shooting, physical impairments and limited peripheral vision as reasons for their dissatisfaction," according to a report from the Pentagon's director of operational test and evaluation.
The Army awarded a task order to Microsoft earlier this year to start developing version 1.2 to address problems with previous iterations.
"The new version of it, if you try it on, I think it's definitely in the right direction. We'll know more though once soldiers get a hold of it and actually wear it," Assistant Secretary of the Army for Acquisition, Logistics and Technology Doug Bush said on the sidelines of an Army Futures Command technology display on Capitol Hill on Wednesday. "Wearing it like this [at an indoor demo] is one thing, but when you have everything else on, it has to work there too. So again, we'll know more. We're gonna go test it out."
The upcoming experiments involving soldiers will be "a very important data point for us," he said.
"However, it's not an operational test, it's a soldier touch point. So, some of what we get back sometimes is anecdotal or you know, I would call it a little bit more subjective … feedback. But that's OK. But that'll give us a good initial read like if we're headed in the right direction. And then we have to go to more and more difficult tests … as we get more prototypes," he added.
DefenseScoop was able to try on an IVAS 1.2 headset Wednesday and play around with the heads-up display features, including night vision and thermal sensing. That aspect of the technology was impressive, but the system — which still weighs more than 3 pounds — felt heavy and seemed like it could cause neck strain for soldiers who wear it for extended periods of time.
If the tech ultimately doesn't pan out the way the Army hopes it will, other vendors could be tapped, Bush suggested.
"We have a requirement for a capability. So, I think this is on a good track. But were it to not work out, we would likely just do a new competition, perhaps with somewhat different requirements to see what else is out there, if there's other companies that could come to the table," he told DefenseScoop. "I think there are other companies in this space … There's a lot of companies doing, you know, augmented reality and wearable tech. So, if we can't [go with IVAS], if it comes to that, I think we'd have a competitive environment to take advantage of."
The Army currently has enhanced night-vision goggles that it can continue to field while it pursues IVAS or something else like it, he noted.
The service is looking to potentially field an improved IVAS by the end of fiscal 2025.
"We can keep fielding [other] good things, you know, if we need to take longer to get that one right," Bush said. "We'll see. But the requirement I think is still valid to have wearable tech beyond just night vision, at some point, for infantry soldiers. So, I think the infantry community still wants the capability one way or the other."
It's ultimately up to the secretary of the Army to decide whether the service should pull the plug on IVAS, he noted.
In May, Army Secretary Christine Wormuth told lawmakers during a hearing that the service will use funding provided by Congress in the next fiscal year to work with Microsoft "to get the system to a place where our soldiers will want to use it. And if Microsoft isn't able to do that, we will not develop the program further … We're not going to spend $22 billion on a system if it doesn't work."
If the Army ultimately ditches IVAS, Bush doesn't expect that to be the end of its pursuit of a new high-tech visual augmentation system.
"It's ultimately up to the secretary but, you know, like I said, we still need the capability, we still want it. So a normal thing to do if an effort has to wind down … [and] the Army still wants that capability, you know, another market survey and a competition to see what's out there would be kind of your standard steps," Bush said.
"But right now, we're committed to this [IVAS program], getting this one right the best we can. So, we'll see. But I think like you said, there's other companies in the space, which is good. There's a lot of private investment in this space because you know wearable tech and that augmented reality is something that's coming in the commercial sector. So, I think if we end up in that place, I think hopefully we'll have some choices. But Microsoft has performed well on [IVAS 1.2]. I think we've got a much, much better system. But we'll see through testing," he added.
On Friday, DefenseScoop received the following statement from a Microsoft spokesperson: "Microsoft is collaborating closely with the US Army to develop the next iteration of the IVAS headset that improves on earlier variants with a slimmer, lighter and more balanced form factor to greatly improve soldier comfort and performance. Our delivery of the initial set of IVAS 1.2 devices this month is three months ahead of schedule and part of our commitment to move with speed to deliver on this critical program."
Updated on July 28, 2023 at 12:20 PM: This story has been updated to include a comment from a Microsoft spokesperson.