Air Force tackling network needs for future CCA drone operations 
The Air Force is planning to release an "integrated aerial network roadmap" sometime in the fall outlining its strategy, an official told DefenseScoop.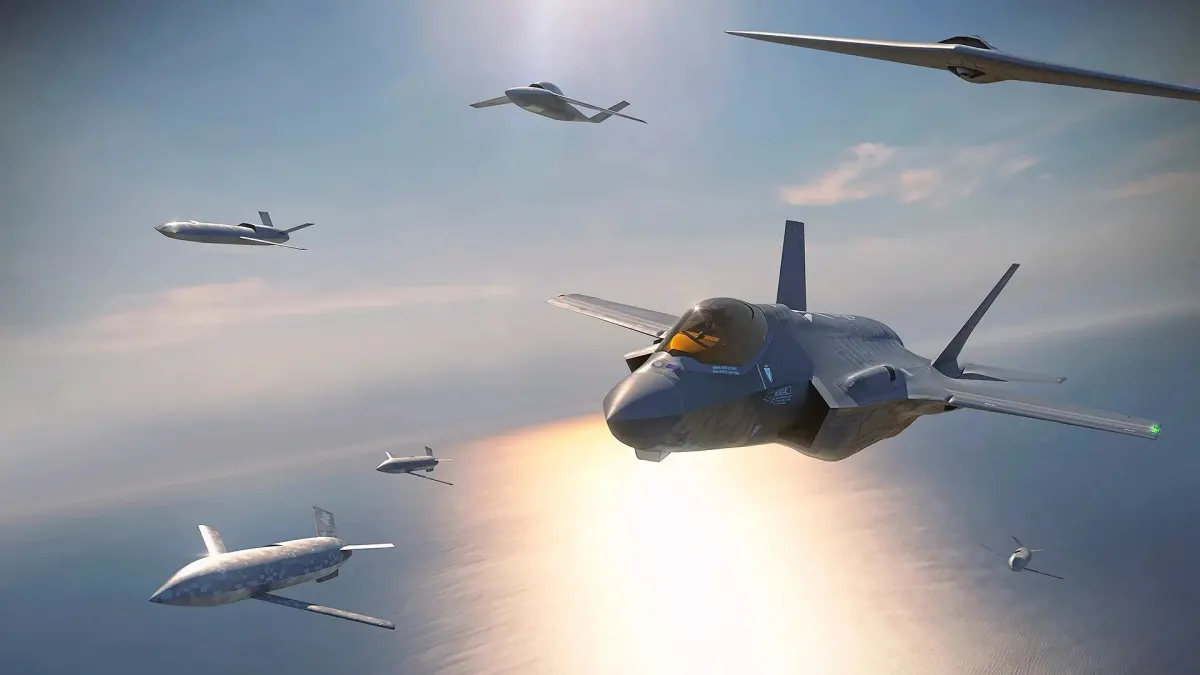 DAYTON, Ohio — The Air Force is working closely alongside the Navy to determine what networking components, both hardware and software, are needed to operationalize future "collaborative combat aircraft" that can be leveraged by both services.
The CCA drones are expected to fly alongside the Air Force's manned aircraft, including the forthcoming Next-Generation Air Dominance fighter jet and other manned platforms. The service is planning for a fleet of 1,000 modular drones, with a goal to begin fielding them by the end of the decade.
In the meantime, Brig. Gen. Luke Cropsey, integrating program executive officer for the Air Force's command, control, communications and battle management (C3BM) enterprise, is taking the lead on addressing the complexity that CCAs will bring to the service's future aerial network architecture — an area he told DefenseScoop gets into "some really wicked-hard physics" and is imperative to get right.
"This is a part that's one of those fixed costs in the systems and we can't afford to screw it up, so we're going through a very deliberate engineering analysis right now that's with [Air Force], Navy — we're pulling in everybody that has a piece to this conversation," Cropsey said Tuesday in an interview on the sidelines of Air Force Life Cycle Industry Days in Dayton, Ohio.
Once the analysis is finished, the Air Force hopes to release an "integrated aerial network roadmap" sometime this fall that outlines how it will execute that connectivity, Cropsey said.
As the Air Force marches forward with CCA research and development, the Navy is pursuing its own next-generation drones for future carrier air wings — which are expected to be more than 50% uncrewed — and new unmanned controls stations for the systems.
Both services have indicated the desire to be able to pass off control of each other's combat drones, and there has been a lot of collaboration between the Air Force and the Navy's Air Warfare Division, N98, Maj. Gen. Anthony Genatempo, PEO for the Air Force's command, control, communication, intelligence and networks portfolio, told reporters during a media roundtable Monday.
"I think the Navy is especially going to bring a lot to bear, but we'll also be utilizing a lot of what [Cropsey] produces," Genatempo said. While Cropsey is leading the effort in articulating the entire end-to-end network architecture for CCAs, Genatempo's program office includes the Air Force's aerial networks division.
Genetempo pointed to the Navy's Tactical Targeting Network Technology (TTNT) and Network Tactical Common Data Link (NTCDL) efforts as some key modernization efforts that could be leveraged. However, more universal tactical data links like Link-16 shouldn't be ignored, he said.
"That is all going to flow to how we can command and control and send information through the network to the forward edge that CCAs are most likely going to be," Genetempo said.
Some of the conversations within the Air Force have been focused on nailing down the right hardware — especially networking nodes — for both the CCAs and the manned aircraft they'll fly with, as well as how the signals are going to be received and transmitted, he noted.
"Understanding what those requirements are, and then being able to say, 'This is the hardware, this is the software that's going to need to be implemented' — that will then basically give me the marching orders of what I'm going to go out to provide," Genetempo said.
At the same time, the Air Force is also focusing on keeping CCAs platform-agnostic so that any type of manned aircraft can leverage the drones, according Brig. Gen. Dale White, program executive officer for fighters and advanced aircraft, which is overseeing the overall CCA acquisition program.
Collaborative combat aircrft are part of the Air Force's larger NGAD family-of-systems. But because autonomous technology is already being developed in both the Pentagon's research-and-development cadres and in the commercial sector, the service wants to field the CCA drones with aircraft already in its fleet before the sixth-generation manned fighter is ready to field.
White told DefenseScoop during a media roundtable Tuesday that officials have tried to simplify the platform integration challenge in order to field the CCA drones faster and broaden how many manned platforms can use them. That doesn't just mean the Air Force's aircraft, but the other service's aircraft as well, he added.
"We need to have some interoperable nature of what these capabilities are, because we're not the only service pursuing this capability," White said.