Navy seeking ability and permission to take control of Air Force's CCA drones — and reciprocate
The Navy is pursuing an agreement with the Air Force that would allow the services to control each other's unmanned fighter jets, according to the Navy's director of air warfare.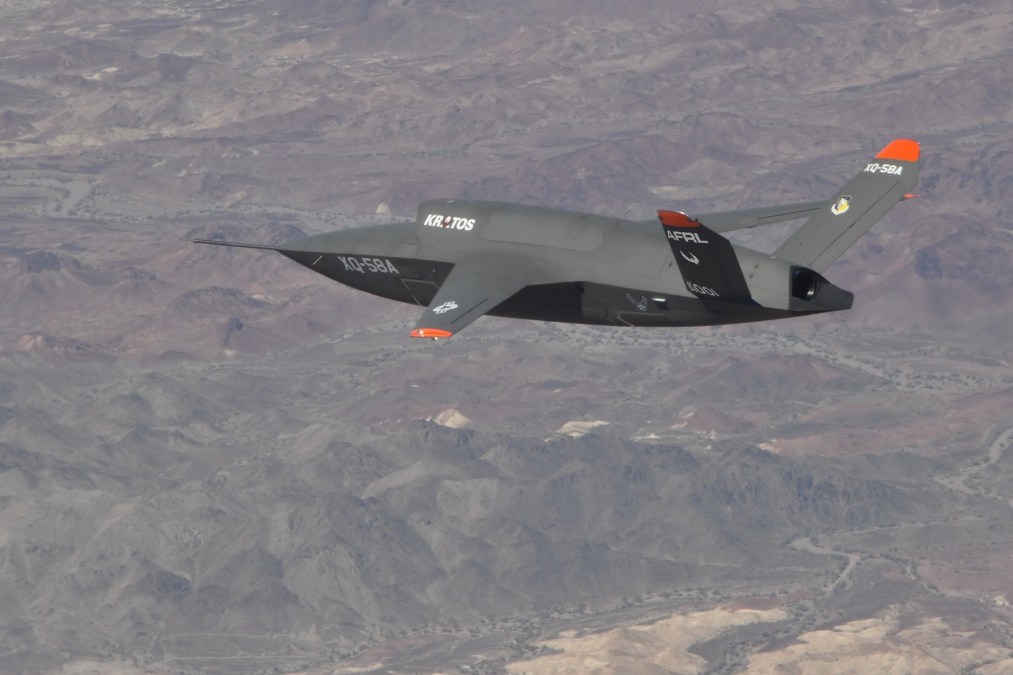 In what may be an unprecedented move toward greater interoperability and platform sharing among the U.S. military services, the Navy is pursuing an agreement with the Air Force that would allow the services to control each other's unmanned combat jets, according to the Navy's director of air warfare.
The Air Force plans to spend more than $6 billion on a "collaborative combat aircraft" program and related projects over the next five years. The CCA drones are expected to serve as robotic wingmen for its next-generation stealth fighter and other manned aircraft. The Air Force is currently planning for 1,000 such systems, and it hopes to have the initial iteration ready for fielding before the end of this decade.
The Navy, meanwhile, is pursuing similar next-gen platforms for its future carrier air wings, which are expected to be 60% unmanned. It's getting ready to field an aircraft carrier-based uncrewed tanker, known as the MQ-25 Stingray, that will be able to refuel fighter jets. And it's also developing new command-and-control capabilities for its unmanned aerial systems.
"You've heard talk about CCAs, MQ-25, and bottom line is we're developing an unmanned control station that's already installed on three aircraft carriers. And that will be the control station for any UAS that we'll be buying," Rear Adm. Andrew Loiselle, director of the air warfare division in the Office of the Chief of Naval Operations, said at the Sea-Air-Space conference this week.
There has been "unbelievable cooperation with the Air Force … in the development of mission systems for both sixth-gen [platforms] and CCAs. And I'm very close to getting a signed agreement with the Air Force where we're going to have the ability for Navy to control Air Force CCAs, and the Air Force to control Navy CCAs. That's a pretty big deal," he added.
The Navy isn't just looking to command and control drones from carriers at sea or ground stations. It also intends to team them with manned aircraft, while allowing them to operate with some degree of autonomy.
"What we're talking about is while airborne, having direct connectivity between our unmanned platforms and our manned platforms, where the unmanned [component] becomes an extension of the manned mission, whether it's into non-permissive environments, or even peacetime and permissive environments — but having an aircraft airborne control an unmanned platform to conduct segments of the mission, and still allow that unmanned [system] to figure out the how — collect the data, report the data back either to the manned platform or a ground control station, and still be able to return to wherever its launch and recovery point is," Rear Adm. Stephen Tedford, program executive officer for unmanned aviation and strike weapons at Naval Air Systems Command, said during a briefing at the Sea-Air-Space conference.
Air Force officials have also laid out plans for their CCAs to operate "tethered" or "untethered" to manned platforms.
"We're going to have the ability to perform maneuvers in close concert with a fighter-type aircraft or NGAD platform itself. And then there are other cases where we will have [drone] swarms doing things on a platform to platform, CCA to CCA, or weapon-to-weapon collaboration level," Maj. Gen. Scott Jobe, director of plans, programs and requirements at Air Combat Command, said last month at a virtual event hosted by the Mitchell Institute.
Developed trust in autonomy will be critical as the U.S. military aims to integrate uncrewed systems and artificial intelligence into its future air wings, Tedford noted at the Sea-Air-Space event.
"We have to use autonomy to help us gain trust in these unmanned systems. If we have trusted autonomy, we can then make the move to truly artificial intelligence and … the future concept and where we're going in the future. If we're going to end up putting hardpoints and weapons on our unmanned platforms, we're going to have to have trust in the system," he said.