Modern 'triad' initiated by Army is making its way to joint combatant commands
U.S. Special Operations Command is looking to take lessons from the Army's new "SOF, cyber and space triad" to see what it can apply to its missions.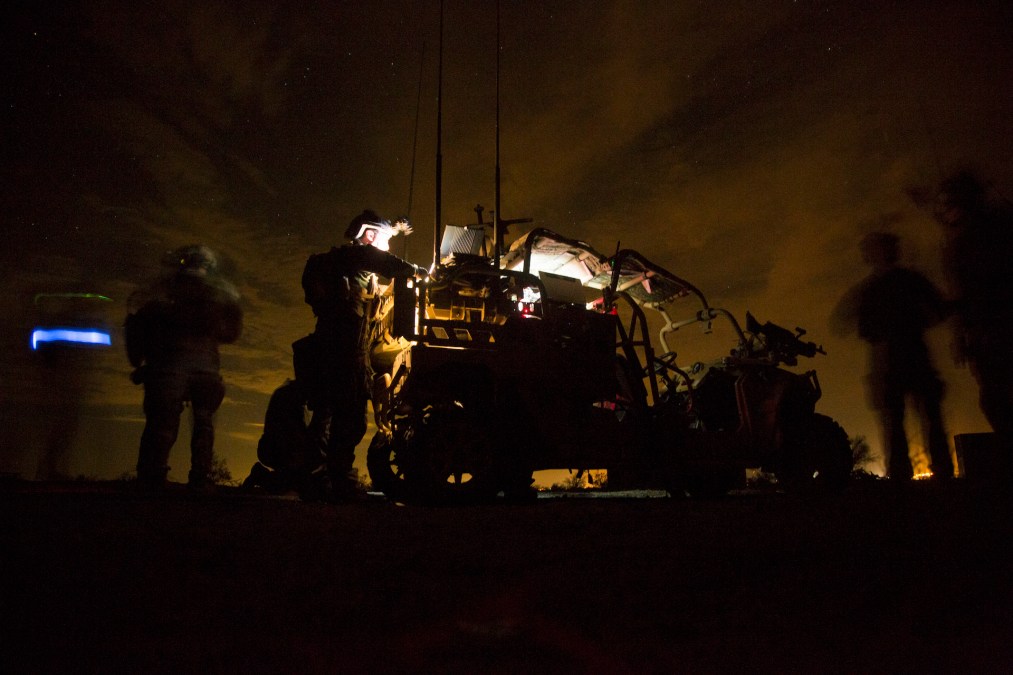 Building off a concept that was first discussed at the Army level, an informal partnership between three combatant commands has begun to take shape in the form of what officials refer to as the special operations forces, cyber and space "triad."
Officials have described this modern-age triad as a key aspect to integrated deterrence — a major pillar of the Biden administration's national defense strategy — focused on combating malign adversary activity occurring on a daily basis. The U.S. military term "triad" has traditionally been a reference to the three legs of the nation's nuclear forces, which consist of bombers, intercontinental ballistic missiles and ballistic missile submarines.
Army officials with Army Cyber Command, Army Special Operations Command and Army Space and Missile Defense Command first unveiled the new triad concept in August 2022 and described it as combining each of their unique capabilities to provide better and more integrated options to policymakers.
Now, the joint combatant commands are beginning to look at how this partnership can apply across their areas of responsibility.
U.S. Special Operations Command "has been reviewing the work U.S. Army Special Operations Command is doing with Army Space and Cyber Commands to determine which elements they have developed have applicability at the combatant command level to ensure the entire Joint Force maximizes the SOF/Space/Cyber triad's capabilities," a Socom spokesperson told DefenseScoop.
This informal relationship of synching and integrating the capabilities of these three organizations stems from their global reach.
"At its heart is the ability to converge those capabilities, the SOF placement and access, the cyber work and certainly the space work in places for integrated deterrence effects that we would otherwise not get if we were doing it individually, and bringing certainly a bigger sum back to not only the mission, but any partner we're working with," Gen. Bryan Fenton, the commander of Socom, told senators in March.
Fenton noted the ties that exist between Socom and U.S. Cyber Command and said the organizations are looking at experimenting to advance the partnership.
"We've got a very close relationship with Gen. [Paul] Nakasone and Cybercom and it's progressed into an area that we now call a capability: SOF, space, cyber triad," Fenton said during a March hearing. "That's been an incredible effort alongside Gen. Nakasone's team. We're very grateful for that and also in the [U.S. Space Command] arena. We are moving forward with exercises, experimentation, a number of senior leader huddles, and I think you'll see that progress and we'd be happy to talk about the progress."
Special operations forces are also at an inflection point of sorts. Following the heavy reliance on these troops during the global war on terror, many inside and outside the Pentagon have openly wondered what role they'll play in the so-called great power competition with China.
Moreover, there have been talks of cutting SOF due to budgetary restrictions.
Some have noted that greater partnership — such as the triad — is a way to ensure the importance of these elite troops and thus negate cuts some find counterproductive.
"Special operations forces are our nation's premiere force during peacetime and war. In the face of recruiting challenges for our military and growing threats around the world, cuts to SOF are not the answer," Sen. Joni Ernst, R-Iowa, said in a statement. "We should be increasing greater cooperation between Special Operations Command, Space Command, and Cyber Command to prevent conflict and protect the homeland. With the shift to peer competition, this integration will help us operate more effectively in the information domain."
Ernst added that as ranking member of the Senate Armed Services Subcommittee on Emerging Threats and Capabilities, she will ensure cuts to SOF won't risk operational security or pose a threat to missions, noting that the U.S. "must be prepared to take on the risks of the 21st century and deter aggression in the face of great power, and that means we need a fully operational SOF."
Spacecom and Cybercom deferred to Socom regarding this triad, but pointed out the strong relationship they have with one another.
"U.S. Space Command contributes to integrated deterrence by preserving freedom of action in space and by providing critical support to the rest of the Joint Force. Our mission spans the spectrum of conflict and every domain. For example, we are creating concepts to further integrate space, cyber, and special operations to generate asymmetrical advantages around the globe," Gen. James Dickinson, commander of Spacecom, told lawmakers in March.
The nominee to be the next Cybercom commander at his July confirmation hearing noted the "strategic competitive advantages" each of these combatant commands brings to the table.
"It offers us an opportunity to look at where each of us can come together to work in support of a geographic combatant commander's needs and be able to do that more effectively together," Lt. Gen. Timothy Haugh told senators. "We're looking for what are those hard requirements that a geographic combatant commander needs, and those are the areas that we're focused on. How do we work together to achieve something that would have been more difficult independently, but when we partner with unique strengths of Special Operations Command and Socom components, with what our cyber mission force brings, that capacity tied together our goals to satisfy hard problems for the geographic combatant commands."
Haugh, as well as Army officials, have noted that special operations forces provide Cybercom's forces placement and access, which alludes to the notion that these forces are forward deployed in austere locations and provide proximal plug-ins to targets that Cybercom can then attack.
He also explained that when he was the commander for Cybercom's Air Force component that oversaw cyber operations for U.S. European Command — from October 2019 to August 2022 — they were working with Special Operations Command Europe every day on meeting needs of the Eucom commander.
From a space perspective, Haugh described the relationship between Cybercom, Spacecom and the Space Force as "inextricable" when it comes to supporting the joint force.
"When we think about what those challenges are and we think about the resiliency that is going to be required, as we think about what potential future conflict could look like, how do we ensure both a redundant set of communications? Much of that is going to be built on space," he said.
At the Army level thus far, officials have said there isn't a desired end state for the time being. The immediate focus has been synchronizing and converging the capabilities of each organization to create an effect and delivering outcomes.
According to an article by three active-duty Army officers, an emerging partnership between special operations forces and cyber forces involving data integration and information capabilities has "demonstrated the value of the larger 'Space, Cyber, and SOF Triad.'"
"Within three weeks of Russia's invasion of Ukraine, the combined SOF-cyber team developed seven new analytic approaches (including two new deep learning models and three new network science models) to support the unique requirements of the information dimension in Eastern Europe," the officials wrote. "In addition to the seven models, the team also relied upon existing models that the team had already developed and deployed, including machine learning, network science, natural language processing, and image-analysis models and visualizations. These models were deployed into production in custom machine-learning pipelines and atop the unified SOF-cyber data to feed a daily product automatically produced and distributed to relevant Army, Joint, and SOF commands in Europe."