Army's cyber, space, SOF 'triad' seeks to complement nuclear triad with enhanced deterrence
The Army's new "triad" is working to integrate cyber, space and special operations capabilities for the joint force.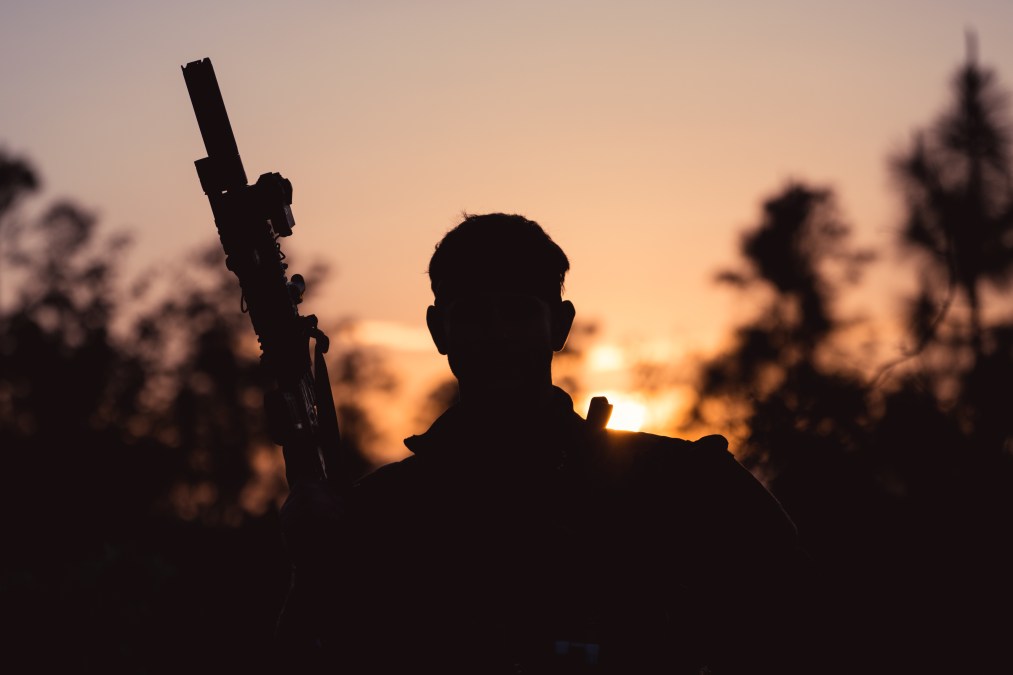 The Army's new "triad," which combines the capabilities of Army Cyber Command, Army Special Operations Command and Army Space and Missile Defense Command, is helping the U.S. military see farther — and faster — than America's enemies, service officials say.
"Secretary [Christine] Wormuth said the No. 1 thing, the No. 1 thing the Army of 2030 needs to do is to see more, faster, farther and more consistently at every echelon than our adversaries," Lt. Gen. Jonathan Braga, commander of Army Special Operations Command, said at the annual AUSA convention earlier this week. "The cyber, space, [Special Operations Forces] triad does exactly this by providing the joint force with the enhanced capability to rapidly see, sense, stimulate, strike, assess and effect across the spectrum from integrated deterrence during competition to high-end conflict."
The U.S. nuclear triad — which consists of bombers, intercontinental ballistic missiles and ballistic missile submarines — that emerged during the Cold War era was geared toward strategic deterrence. The Army's new modern triad is aimed more at contesting malign adversary activity occurring on a daily basis by integrating and converging the unique capabilities of each component.
Braga said the modern triad isn't meant to replace the nuclear one, but rather, enhance integrated deterrence — a key pillar of the Biden administration's national defense strategy — by providing more options for policymakers.
"It is our professional responsibility to provide our best military advice to policymakers that would contribute to deterrence perhaps in a different way," he said. "Cyber, space and SOF all possess … unique but independent capabilities. Each component can rapidly gain intelligence, attack critical vulnerabilities. And we must leverage all of these components in order to impose doubt, cost … upon our adversaries."
What is less clear is, however, is how these capabilities will be integrated and provided to joint commanders when needed.
"I would say that's part of the experimentation," Braga told reporters when asked what this triad looks like in practice and how it integrates its capabilities on the battlefield for commanders. "Right now we have SOF, space and cyber working side by side. We've done this recently, physically co-located in Fort Bragg. We're physically working together in support [of] Project Convergence as well and have been doing that the last year. And then there's other exercises that we've been doing … I'd say it's been both episodic and then we've been growing in physical co-location of different entities."
Others explained that it depends on the mission.
"If you're doing Project Convergence, you're going to be out at their ops center. If we're supporting one of [Braga's] operations, we're going to be co-located at Fort Bragg," Lt. Gen. Maria Barrett, commander of Army Cyber Command, told reporters.
Project Convergence is the Army's campaign of learning that is intended to facilitate Joint All-Domain Command and Control (JADC2).
The Army's new multi-domain operations doctrine, which was officially unveiled this week, directs the service to combine and integrate land, air, maritime, space and cyber in all facets of operations.
Officials also explained that given each entity of the triad is essentially global and works for global combatant commands, they are joint by nature and must work across services and interagency, which is especially important in the cyber realm.
While Army Cyber Command provides high-end cyber operators to conduct operations on behalf of U.S. Cyber Command, it only is responsible for conducting those ops for a select number of combatant commands — Central Command, Africa Command and Northern Command.
Offensive cyber capabilities are conducted on behalf of Cybercom through what's known as Joint Force Headquarters-Cyber. These entities provide planning, targeting, intelligence and other cyber capabilities to the combatant commands to which they're assigned. The heads of the four service cyber components also lead their respective JFHQ-C. These organizations oversee combat mission teams and combat support teams.
Army Cyber does, however, provide tactically focused cyber and electronic warfare personnel globally through the 915th Cyber Warfare Battalion that conducts more proximal radio-frequency types of operations, and has global control and oversight of the Army's portion of the Department of Defense Information Network.
When it comes to the unique capabilities each component of the triad provides, leaders described how SOF provides irregular warfare, Army Cyber provides increased awareness and intelligence to the network along with integrated cyber, electronic warfare and influence packages, while Space and Missile Defense Command provides space capabilities and intelligence at the theater level.
Army Special Operations Command is creating a two-star headquarters at 1st Special Forces Command on irregular warfare, transforming headquarters elements to converge on adversaries. Additionally, 1st Special Forces Command is experimenting with a deployable two-star special operations joint task force headquarters to better interoperate with the joint force during high-end conflict. Exercises are slated for next summer in the Indo-Pacific, Braga said.
Meanwhile, Army Cyber Command provides insight to commanders on what their battlespace looks like from a digital perspective.
"How well are your networks responding, what does the attack surface look like, what does the influence sphere look like, what are the trends that the adversary is doing in that information sphere, and so on and so forth," Barrett said. "What I really think Army Cyber delivers are some comparative advantages of a few key areas … There is a track record of integrating cyber, EW and influence operations. We've done it before. Now we can deliver this to my partners over here having the reps and sets of doing that."
Space and Missile Defense Command assists with space-based intelligence.
"When integrated with SOF and cyber, whether that's the accesses that each of those commanders can provide us, whether it's space capabilities that I'm going to provide them, it's going to have a deterrent effect on the adversary and it will provide non-lethal effects to our adversaries," Lt. Gen. Daniel Karbler, commander of Space and Missile Defense Command, said. "When we talk about active campaigning, we look at what we're also able to provide intel support to space, provide that information, whether it's to SOF or whether it's to cyber or whether it's to supported commander."
Moreover, by integrating capabilities, units that deploy forward can help provide additional intelligence and access needed for another unit, creating a more holistic and even symbiotic relationship with increased capability for commanders, officials say.
"There are some places that they go that maybe I can't get to. This is where I would say, 'Hey, can you get me close to something so that I can do X, Y and Z?'" Barrett said. "They offer me a positional advantage and then can I let then see the environment in a way then perhaps they were not able to do — or if they're downrange and a special operator perhaps doesn't have the time to take a look at all the data that we're seeing, can I offer him something very fast and very informative to his team's decision-making that might inform their operations?"
When pressed to provide specific examples of how the triad has performed, officials declined to offer a recent example — likely for classification reasons — but referenced the counter-ISIS fight during the mid-2010s.
Joint Task Force Ares was part of the campaign in which Cybercom sought to not only attack ISIS through cyberspace, but also to integrate cyber effects into battlefield operations.
"We combined lethal and non-lethal effects for much, much more of a holistic effect that provided the gains on the ground in the physical domain, but it also provided gains in the information domain that both Cyber Command was able to do with non-lethal means. And then there were some kinetic means that were put into effect for exponentially more impact and actually had an even larger impact than any of us actually expected and predicted before we went down that journey together," Braga said.
"That's really informed a lot of my thinking going forward," he added. "Combining [cyber capabilities] with actions to the maneuver force on the ground, I think this really was groundbreaking for leading a lot of different thoughts for how the maneuver force could actually employ this in combined arms maneuver and in a very kinetic fight. But combining those two together I think has shaped a lot of thought moving forward."