Head of Southern Command warns of China's growing technological grip in region
Gen. Laura Richardson is concerned about Beijing's infrastructure investments in Latin America.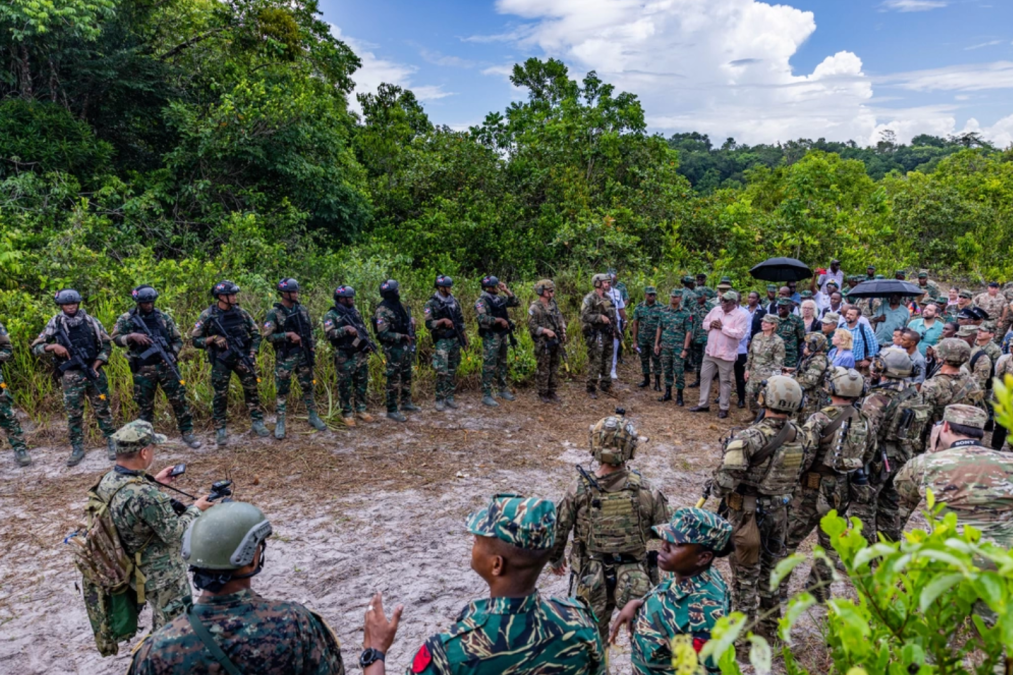 U.S. Southern Command is working deliberately via conferences, exercises and other engagements to inform international military partners in the region of China's escalating presence and influence within their communications and technological infrastructure — and help them counter it, Gen. Laura Richardson said on Friday.
"I think that we have to truly appreciate what this region brings and the security challenges that these countries face," the Southcom commander urged at a virtual event hosted by the Center for Strategic and International Studies.
For the Pentagon, China is "at the top of the list … as a pacing challenge or an adversary," she noted.
Southcom is the U.S. military combatant command that's responsible for contingency planning, operations and security cooperation in Central America, South America and parts of the Caribbean. An Army aviator who has flown Blackhawk helicopters, trained soldiers, deployed to the Middle East and advised top policymakers, Richardson took the helm of the organization in October 2021.
"There is no other hemisphere that is inextricably linked to our homeland like the Western Hemisphere and the importance of the region cannot be overstated enough," she said, pointing to the area's physical proximity to the U.S., heaps of rare Earth elements and crucial natural resources that stem from the Amazon Rainforest.
"We see significant illegal mining, illegal logging, deforestation — all of these criminal elements that are happening," Richardson noted.
However, while Southcom has been leading robust efforts to combat those and other illicit crime and drug trafficking activities in the area that are now showing progress, the commander said China continues to capitalize on problems created by growing poverty, food insecurity and transnational criminal organizations to exploit the nations.
"These countries are really hurting from [Covid-19], they are still digging out from" the pandemic, she explained.
"And so we've got to be there [as] 'Team USA, Team Democracy [with] Western solutions, U.S. solutions. But what is keeping [U.S.] companies from competing on tenders for these countries' contracts, what are the barriers?" she said. "When there are only six Chinese companies that are competing on a tender — why is that? Right. What is happening?"
In 2013, the Chinese government coined and launched the Belt and Road Initiative, a massive infrastructure project to develop ports, roads, railways, airports, power plants and telecommunications networks around the globe. Many analysts have warned that the program is igniting what will be a disturbing expansion of China's power worldwide, in the years to come.
"What the [People's Republic of China] is doing looks to be investment — but really, I call it extraction, at the end of the day," Richardson said.
"In terms of the critical infrastructure that the PRC is investing in the hemisphere — it's all the critical, critical infrastructure," she explained, explicitly mentioning deepwater ports, space infrastructure and communications networks as examples.
At times the Beijing-backed projects involve cost overruns and drastic delays, but governments in the region often lack other affordable options.
"Five countries have the PRC backbone for 5G [technology], 24 countries have PRC 3G or 4G backbone. So, what usually comes to happen is they're offered almost a zero-cost upgrade to the 5G. And so it's really hard for these leaders that are in the seat, usually for only one term of four years. They're working on a stopwatch — not a calendar — and we have to be able to have alternative methods, alternative companies, alternative options for them to be able to select [besides] the Chinese competitors. That's where we're getting out-competed by the Chinese right now," Richardson said.
And though the Chinese do not have a naval base in the region, she noted that she's concerned about Beijing building capabilities in and along waterways now, and later "flipping and using it for military application."
The United States must come up with technological solutions that can be deployed quicker to support military partners in Southcom's realm and elsewhere, as China strategically expands its global reach, she suggested.
"As someone put to me earlier this week, when you are desperate for help, you're going to turn to whoever's there — someone throws you a rope, you don't necessarily look at who's giving you the rope, you just grab it. And so we need to have alternatives to the PRC," Richardson said.
In that sense, she's steering Southern Command to "continue full-court press to bring all of the instruments of national power" to bear in the region — economically, militarily, and diplomatically.
"I think that that's what the Chinese do so well with the Belt and Road Initiative," Richardson said.
Her team is pursuing new and existing technology- and information-sharing agreements to exchange data and communications with partners in the region without relying on that "PRC backbone" for information transmission. They are also hosting and participating in various recent and forthcoming events to "raise the profile of companies that are already investing in the hemisphere, but then also double down" on what's presently available.
"We've had five exercises in the region over this past month — five of them at the same time in different places," Richardson explained, noting that they can each bring dozens of nations together.
Among them, she highlighted Southern Star Special Operations Exercise in Chile, a maritime exercise in Guyana, the Guyana-hosted Tradewinds training exercise, and Resolute Sentinel with Colombia, Peru and Ecuador.
"I think we're in a very unique position to be able to put together all of the things that are happening in the region and be able to present that. Countries make their own decisions. They are sovereign countries, and we respect that. They make their own decisions, but I always try to make sure that they have all the facts, because they aren't sometimes presented with all the facts," Richardson said.