How US Transportation Command is using open-source info to counter China
"You see that the information is key, and how we scrape and get that information all together —  for us, bringing it up and combining it with information from other security levels is critical," Gen. Jackie Van Ovost said.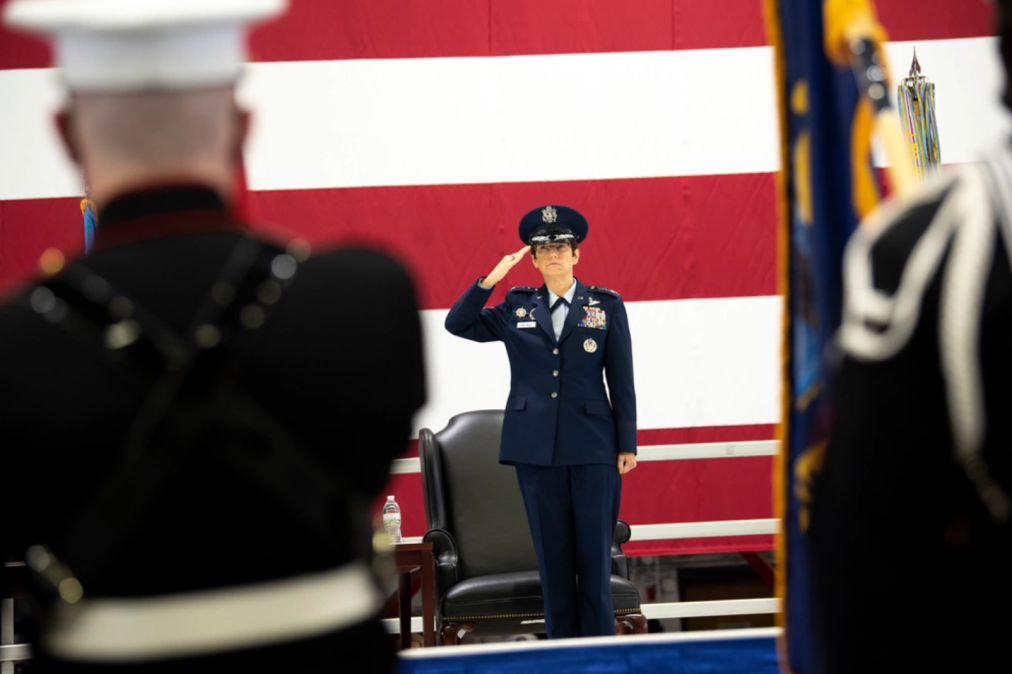 NATIONAL HARBOR, Md. — Open-source technologies that help generate intelligence from a growing cache of publicly available raw data and information sources are becoming an increasingly vital asset in U.S. Transportation Command's arsenal, especially as challenges across the global logistics landscape continue to intensify.
Transcom chief Gen. Jackie Van Ovost shed light on how her team is prioritizing information-sharing with international partners and turning to open-source capabilities — with caution — to help hold U.S. rivals like China and Russia accountable and ultimately deter aggression.
"You see that the information is key, and how we scrape and get that information all together — for us, bringing it up and combining it with information from other security levels is critical," she told DefenseScoop on Monday during a media roundtable at AFA's Air, Space and Cyber Conference.
Broadly, Transcom is a functional combatant command that's charged with leading the Defense Department's integrated global mobility operations via land, air and sea in times of peace and war.
"One reality we're certain of is that contested logistics will be the norm in any future fight," Van Ovost explained.
"China has invested heavily in securing their own logistics. From the largest maritime container fleet in the world to software and infrastructure — they are working hard to reshape the world and they understand that logistics is the soft power with hard consequences across the [diplomatic, information, military and economic spheres]," she also noted.
Van Ovost spotlighted some of the recent military and economic pressure China has been putting on its neighbors in the Indo-Pacific region — while also "clearly threatening Taiwan" — which, in her view, already demonstrates certain complex and emerging challenges associated with military logistics and associated operations of the present and future.
For instance, she noted a new national map that the Chinese government rolled out last month, claiming certain disputed territories and waters as its own.
"I don't think that expansion is going to stop and, frankly, our allies and partners in the Pacific are really very aware of this now, and the number one thing we can do is to build them together to try to have a common understanding of what is happening — and to name and shame when things occur," she said.
That "naming and shaming" has been a necessary tactic particularly lately, she suggested, as China's Coast Guard and maritime militia have attempted to harass members of the Philippines military conducting resupply missions to their outpost at Second Thomas Shoal.
"They were shouldered by the China Coast Guard and they were water-cannoned by the China Coast Guard — which can hurt the boat and people onboard, right? And now there's overhead imagery that shows the aggressive maneuvers by China, which became unclassified and sent out for people to see. So, name and shame — just like we did with Russia as they started building up on the border with Ukraine prior to their full scale invasion," Van Ovost said.
But as her command increasingly leans on information-sharing and open-source capabilities to keep their own personnel and international partners informed, they're also being deliberate about ensuring that data and insights are not tampered with or influenced by adversaries.
"We do see how Russia is trying to take it and make it misinformation, and they take a piece of it that's factual and they build a whole story around it. That is happening in other areas — we fully expect to be attacked in that way," she said.
"So, our discernment is key," Van Ovost told DefenseScoop.