Hicks takes direct oversight of Pentagon's UAP office; new reporting website to be launched
In separate discussions over the last week, Deputy Defense Secretary Kathleen Hicks and a Pentagon spokesperson briefed DefenseScoop on the near-term vision for the All-domain Anomaly Resolution Office.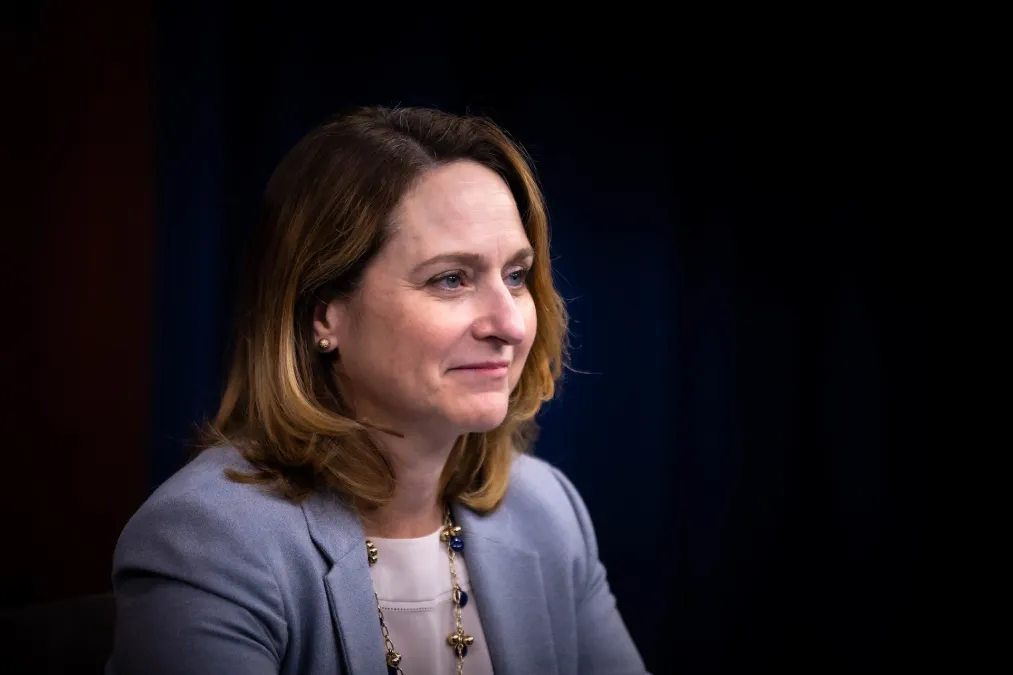 Deputy Defense Secretary Kathleen Hicks recently moved to personally oversee the Pentagon's unidentified anomalous phenomena (UAP) investigation team formally known as the All-domain Anomaly Resolution Office, DefenseScoop has exclusively learned. And a new website will soon be launched where incidents can be reported.
Hicks now holds regular meetings with AARO's inaugural director, Sean Kirkpatrick — who she's also repositioned to report directly to her.
The Pentagon's second-in-charge took action late last month, partly to help speed up AARO's development and launch of a congressionally mandated public website where the organization will be expected to disclose its unclassified work and findings and offer a secure mechanism via which users can submit their own reports of possible UAP observances.
In separate discussions over the last week, Hicks and Pentagon spokesperson Eric Pahon briefed DefenseScoop on new details regarding the deputy secretary's near-term vision for AARO — and the latest status of the new website and reporting mechanism ahead of an official announcement from the Defense Department expected on Thursday.
"I believe that transparency is a critical component of AARO's work, and I am committed to sharing AARO's discoveries with Congress and the public, consistent with our responsibility to protect critical national defense and intelligence capabilities," Hicks told DefenseScoop.
Behind the scenes
Mysterious, seemingly unexplainable flying objects have long perplexed humans all over the world. For decades, they have been referred to as UFOs. But recently, the U.S. government began using the "UAP" moniker to account for what appear to be craft that can travel underwater or transition between space and Earth's atmosphere, or other domains.
The latest surge of interest and pressure from the American public and Congress started really mounting in the last five or so years, in response to multiple verified videos showing U.S. military pilots' interactions with baffling objects, often around key national security installations.
Hicks formally established AARO via an official memorandum last year, after lawmakers mandated its creation in the fiscal 2022 National Defense Authorization Act.
"The UAP mission is not easy, and AARO's mission, to minimize technical and intelligence surprise by synchronizing scientific, intelligence, and operational detection identification, attribution, and mitigation of UAP objects of national security issues, is being orchestrated by a small, but growing team," Hicks explained.
"AARO is not yet at full operational capability, and I look forward to AARO achieving that in fiscal year 2024," she also told DefenseScoop.
To meet its directions from Congress — and led by it's inaugural director Sean Kirkpatrick — AARO officials must disseminate a series of reviews about the organization's expanding portfolio of UAP investigations and sightings that Defense Department and intelligence community personnel catalog. Kirkpatrick testified at a Senate Armed Services subcommittee hearing in April that, at that time, AARO was diving deep into more than 650 cases of reported incidents.
Not long after that event, in July, the House Oversight Committee held a separate hearing on UAP transparency, which was notably well-attended, where three former U.S. defense officials each testified under oath that they believe UAP pose "an existential threat to national security." During the hearing, all witnesses suggested, and one blatantly stated, that AARO has not met its responsibility to seriously engage with potential observers and that DOD needed better reporting and response mechanisms.
During both Kirkpatrick's and the whistleblowers' hearings, a visible point of contention that came up was associated with AARO's seemingly delayed delivery of the fiscal 2023 NDAA-mandated website and UAP reporting mechanism.
The legislation set a June deadline for the online portal to be supplied by the office.
Kirkpatrick told lawmakers at the review hearing in April that his team "submitted the first version of that before Christmas," but he was still waiting on input from superiors at the time.
At the transparency hearing on July 26, witnesses urged lawmakers to hold AARO accountable and ensure it was on track to implement the required reporting mechanism for UAP observers to access information and share their personal accounts to inform DOD.
DefenseScoop viewed a timeline in an unofficial memo that allegedly records all the major steps AARO previously pursued aligned with the website development up until July 31 — the same date that Hicks convened stakeholders to discuss AARO's website and formally directed DOD to provide that office with any administrative and technical support needed to build and launch the online portal successfully.
Hicks was not provided with the website materials until late-July, which is when she got involved and took personal oversight over the project, DefenseScoop confirmed.
According to the timeline, last fall AARO began planning to generate and launch a public-facing website and reporting mechanism at the recommendation of its Senior Technical Advisory Group — and in anticipation of the fiscal 2023 NDAA requirement.
That November, the office submitted a package to Undersecretary of Defense for Intelligence and Security Ronald Moultrie and requested formal approval to begin developing a website and the "Phase Two" secure reporting mechanism. The timeline notes that the "Phase One" reporting mechanism is the email address that individuals who have spoken to members of Congress currently use to report information to AARO.
Phase Three, which has not yet been approved, is the NDAA-mandated mechanism for AARO to receive reports from the public.
Between November 2022 and April 2023, that submitted package moved back and forth between the I&S front office and AARO at least every other week. At Moultrie's request, AARO regularly responded to questions, made edits and re-coordinated the memo. And Kirkpatrick also had several in-person meetings with the undersecretary.
In May — not long after Kirkpatrick testified about the product being under review — Moultrie approved AARO's staff package, authorizing the office to provide members of Congress with an email address that individuals can use to contact AARO and to coordinate a package authorizing launch of the website and the Phase Two reporting mechanism.
A decision on the Phase Three mechanism was deferred until a later date.
Following Moultrie's approval, AARO worked with its IT contractor to refine a prototype website, according to timeline.
That month, the Joint Staff also separately published a "GENADMIN" message on "Unidentified Anomalous Phenomena Reporting and Material Disposition" that offers guidance to the military services and commands about reporting UAP worldwide, using a standard reporting template. The template is a result of work AARO has pursued with military leaders to improve and standardize reporting procedures across the force, since its inception.
Two months ago, on June 27, Kirkpatrick's team delivered an overview of the prototype website to the DOD's deputy general counsel for intelligence, and others. During that briefing, the intel lawyers identified several privacy and records management requirements that AARO needed to address before releasing the secure reporting mechanism portion.
AARO then reached out to department stakeholders to address those issues raised — but the timeline suggests staff faced challenges receiving definitive guidance on what privacy and records management actions were required to launch the website.
So, on July 31, Hicks convened them all to discuss AARO's website, and ultimately accelerate its creation.
"She has the ability — and used it — to bring together all the top actors in the department. I think what she found was that this was being worked at a working level, but it didn't have the right level of senior leader attention until she really kind of drove it home to say, 'Hey, you people around the table are going to make this thing happen,'" Pahon, the Pentagon spokesperson, told DefenseScoop.
When asked why she went all-in on prioritizing AARO as an element under her purview, particularly now, Hicks told DefenseScoop: "The department takes UAP seriously because UAP are a potential national security threat. They also pose safety risks, and potentially endanger our personnel, our equipment and bases, and the security of our operations. DOD is focusing through AARO to better understand UAP, and improve our capabilities to detect, collect, analyze and eventually resolve UAP to prevent strategic surprise and protect our forces, our operations, and our nation."
The new UAP website
On Thursday, the Pentagon is expected to announce that AARO is set to launch its informational website that compiles details around its ongoing operations and efforts to make sense of UAP reports.
This site will host readily accessible, regularly updated information for the public about AARO's activities. And Kirkpatrick's growing team will post information, photos, videos and other media of UAP cases as they are declassified and approved for public release.
Other content will include reporting trends and a "frequently asked questions" section, as well as links to official reports, transcripts, press releases and other resources that AARO thinks the public may find useful.
"In the near future, the authorized reporting mechanism consistent with section 1673 of the fiscal 2023 NDAA will reside on the website, as well. AARO's intent is for this website to be a one-stop shop on AARO and UAP, and we look forward to continuing to refine the website to provide the most transparency possible regarding AARO's work and findings," Pahon told DefenseScoop.
He confirmed that AARO has established a multi-phased approach to developing the authorized secure reporting mechanism.
That secure resource is projected to be launched in late October of this year. AARO will initially only be accepting reports from current or former U.S. government employees, service members, or contractors with direct knowledge of federal programs or activities dating back to 1945.
"The process for submitting these reports, via the AARO website, is going through a significant security review to ensure that we protect both the privacy of the participants and the security of the site. AARO and the Department recognize that members of the general public also desire to make UAP reports, and this capability will be established in the next phase of the website development in the coming months," Pahon noted.
The office will engage closely with and through the department's Chief Information Office and the Defense Media Activity to ensure the upkeep of this portal.
"While no one can guarantee that a website cannot be hacked, AARO has been working with experts across DOD to ensure that this website meets the highest government security standards. For example, AARO rigorously tested the site for vulnerabilities, and will be hosting it on the .mil domain," Pahon also said.
Broadly, department officials "acknowledge that there have been some delays to launch the website" and reporting hub, he added. But he emphasized that the holdups "resulted from our work to ensure that [they comply with DOD] standards for security and the public release of information, and to verify that the website meets the statutory, regulatory, and technical standards for official government websites."
Despite the challenges and bureaucratic hurdles so far, Hicks told DefenseScoop that she and other DOD leaders are "confident in the process that AARO is putting into place to receive reports and protect the information it is provided, as well as the DOD CIO's efforts to ensure the integrity of the website."
"Key to these efforts is AARO's work with the military services and organizations across DOD, including the DOD CIO, to ensure that our most sensitive work is secure and continues to provide the department with the technological edge we require to deter conflict and ensure success," the deputy secretary said.
In her view, AARO has taken "significant steps" this year to build a pathway towards establishing transparency and trust "with the American public, members of Congress, and our own DOD and Intelligence Community employees" on UAP — and the website's unveiling is the latest demonstration of that.
"AARO is also working to standardize and destigmatize reporting on UAP and to thoroughly analyze reports of both current and historical events. We still have a long way to go, but I have charged AARO to aggressively pursue efforts to make its findings as widely available as possible to the Congress and, whenever possible, the public," Hicks added.
In response to questions regarding how concerned she is that some of these reported UAP encounters could be advanced platforms owned by a U.S. adversary like China or Russia, Hicks said that DOD "is always concerned about the potential threats of new advanced technology being used by our adversaries."
"That's why the Department takes UAP seriously. We need to understand these UAP that exhibit behaviors not readily understood by our sensors or observers to ensure they are not a threat to our homeland," Hicks told DefenseScoop.