DOD's All-domain Anomaly Resolution Office confirms receipt of more than 800 reports of UAP
A new Pentagon report confirms that AARO has received a total of 801 reports of unidentified anomalous phenomena as of April 30.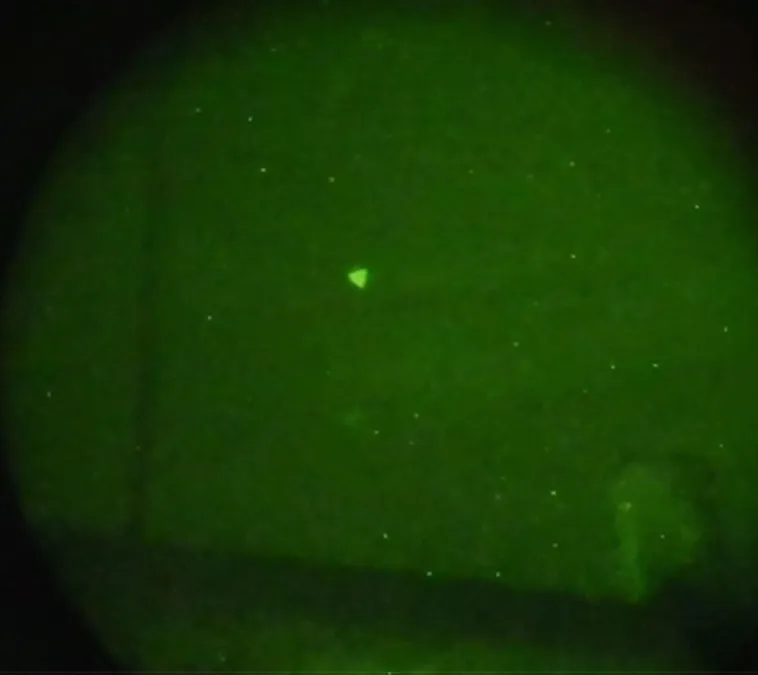 Officials in the Pentagon's All-domain Anomaly Resolution Office (AARO) will spend the next year sharply focused on enabling more integration of the maritime and space domains in their coverage while also closing gaps associated with sensors and data collection that inform their ever-growing portfolio of national security-aligned unexplainable phenomena investigations, according to the team's latest congressionally mandated report.
Obtained by DefenseScoop before it was released Wednesday evening, the 15-page document (the newest in a series of reviews required by lawmakers in the 2022 National Defense Authorization Act) confirms that AARO has received a total of 801 reports of unidentified anomalous phenomena as of April 30. This public, unclassified version does not say how many of those have been resolved.
The report covers the time period between Aug. 31, 2022 and April 30, 2023 and marks an uptick of 291 reports since the previous iteration and announcement last year that verified 650 cases. Officials noted that 274 of those new 291 UAP cases "occurred during this period" — while another 17 "occurred during previous reporting periods from 2019-2022, but had not been conveyed in previous submissions."
Notably, of the latest 291 accounts, "290 occurred within the air domain and one in the maritime domain," the report states. None of those newly covered submissions referred to transmedium objects (which can speedily travel from above the Earth's atmosphere to areas underwater and are why the term "UFO" evolved to "UAP") or detections in the space domain.
"Airborne UAP continue to dominate UAP reporting," officials also note in the report.
They also reveal that AARO is now accessing UAP incident reports from the Federal Aviation Administration to consider in its studies. The officials broadly committed to further deepening AARO's relationship with U.S. military and civilian agencies' air domain-focused components in the next year.
"Collaboration with Space Force, U.S. Space Command, NRO, and NASA is well underway. Integration of the maritime domain is another area where AARO will seek to make significant progress in the coming year. AARO will work with the U.S. Navy and [ODNI's National Intelligence Manager for Military Integration] to ensure timely and quality reporting via existing reporting mechanisms, and begin conducting research on sensor calibration relevant to the maritime domain," per the report.
The office's other primary priority moving forward in the near term will encompass mitigating reporting bias and bolstering reporting quality on UAP.
Currently, gaps in domain awareness are a "direct result of insufficient data secured by radar, electro- optical (EO)/infrared (IR) sensors; the presence of sensor artifacts, such as RI flare; and optical effects, such as parallax, that can cause observational misperceptions," officials wrote.
AARO plans to strengthen targeted collection within the intelligence community and help better inform other agencies about what data and information to collect from observers, according to the report.
The team has also produced a new "multilayered" science-and-technology plan that incorporates how other federal mechanisms can support the overarching mission to detect, track and characterize UAP.
On par with the last version of the report, AARO officials in this one again state that, to date, no UAP encounters "have been confirmed to have directly contributed to adverse health-related effects to the observers."
They do blatantly clarify for seemingly the first time, however, that no UAP report has been positively attributed to foreign activities. Still, "these cases continue to be investigated," they wrote.
Despite whistleblower claims, AARO's chief Dr. Sean Kirkpatrick has repeatedly emphasized that the Defense Department has found no credible evidence thus far of extraterrestrial activity. The latest report does not expressly include a statement with that sentiment — though AARO at this point has still obtained nothing that officials believe suggests otherwise, DefenseScoop confirmed.
"We've stated that we've found no evidence many times in the past. Also, searching for evidence of extraterrestrial activity is not the mission of AARO nor the purpose of the annual report on UAP," a Pentagon spokesperson told DefenseScoop late Wednesday.
"We anticipate that the secure reporting mechanism on the AARO website will be live soon," the official also said.