SOCOM encountering challenges connecting counter-drone systems with software and data
An official compared current constraints with counter-UAS platforms to those often attributed to the Pentagon-wide effort known as Joint All-Domain Command and Control.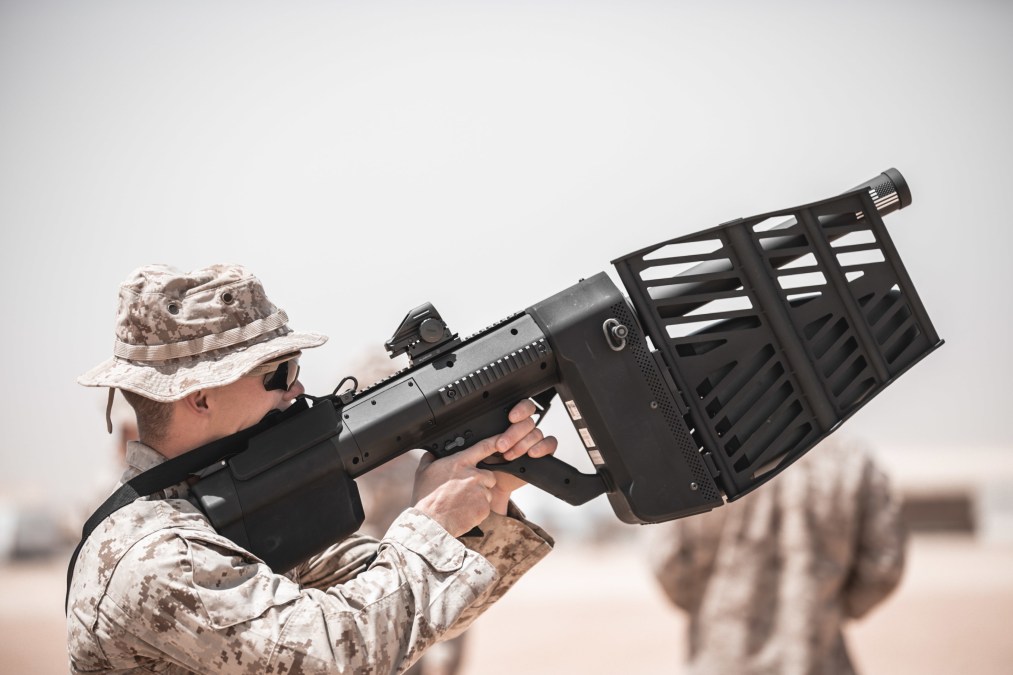 As the Defense Department tackles the growing and evolving threat posed by unmanned aerial systems, U.S. Special Operations Command is emphasizing the need for modern software capabilities and data-sharing standards in its counter-UAS platforms.
The proliferation of drone warfare in the Russia-Ukraine conflict has highlighted these types of threats, but SOCOM has been looking at how to address UAS attacks on special operations forces for the last few years, Lt. Col. Gabriela Arraiz, deputy chief technology officer at Joint Special Operations Command, said Wednesday during a panel at NDIA's Emerging Technologies for Defense conference and expo.
The counter-drone mission is usually focused on which kinetic or non-kinetic weapons can best defeat incoming UAS, but Arraiz said there are more pressing challenges to address as the command deploys its systems.
"What we discovered was that the most challenging part of this problem actually has nothing to do with the final step, and everything to do with the steps that precede it. And the steps that precede it are largely dependent on software and data," she said.
Arraiz compared current constraints with counter-UAS platforms to those often attributed to the Pentagon-wide effort known as Joint All-Domain Command and Control. The concept aims to connect weapons, sensors and data across the entire Defense Department under a single network, thereby enabling better and faster decision-making.
"What we discovered was that the counter-UAS problem set and the challenges that we are experiencing today in this space are a microcosm of the challenges that the JADC2 initiative will also experience," she said. "Getting systems to talk to one another, getting sensors to send data, getting access to that data, being able to use it to make decisions — [it's] a counter-UAS problem, and at the larger scale also a major initiative and movement for the JADC2 problem set."
In 2022, the command awarded Anduril Industries a contract worth nearly $1 billion to serve as the lead on its counter-drone systems integration efforts. But the Defense Department's slow acceptance of commonplace practices in the commercial industry — such as application programming interfaces, data-sharing and cloud storage — has created gaps in new and legacy systems, Arraiz said.
"[Anduril] have very modern technology, but that modern technology now has to work with something that was built into the Army 30 years ago that uses an antiquated programming language and isn't cloud native," she said. "And so, how do you make these systems talk and communicate — especially when we're talking about the kill chain and how long that kill chain is?"
Better connectivity between systems enabled by cloud environments would also boost data-sharing speeds, which is crucial for the projected fast-moving fights of the future where commanders will need to make decisions about incoming drone threats quickly, Arraiz noted.
Modern software could also improve how counter-drone platforms are updated with new capabilities to meet rapidly evolving UAS threats, Stephen Bowdren, Marine Corps program executive officer for land systems, said Wednesday during the panel.
His office is particularly interested in capabilities that have open architectures and are easily upgradable — especially when Marines are conducting operations in distributed and remote environments in the Indo-Pacific, he said.
"As threats change and different threats show up in different form factors — let's say, swarming [drones] versus individual — how will your software adapt to that? And how can a Marine out in the field download that? Does a field service rep have to come out and plug in and then do an update? That's not going to necessarily work very well in the first island chain," Bowdren said.
In terms of ground-based air-defense systems like counter-UAS platforms, there isn't a single agreed upon open-architecture connectivity standard that would promote interoperability and modularity, Arraiz said. Traditional software protocols will suffice until otherwise determined, she suggested.
She urged companies interested in working with SOCOM and other Defense Department components to come to the table with capabilities that already enable interoperability.
"If your solution is cloud native, if it adheres to modern systems architecture [and] open systems architecture, if you have data dictionaries and application programming interfaces, come to the DOD with all of that from day one," Arraiz said.