Award for Army's next-generation intelligence ground station expected by year end
A top Army official said an award for the Tactical Intelligence Targeting Access Node could involve either Raytheon Technologies or Palantir moving forward, or potentially both companies.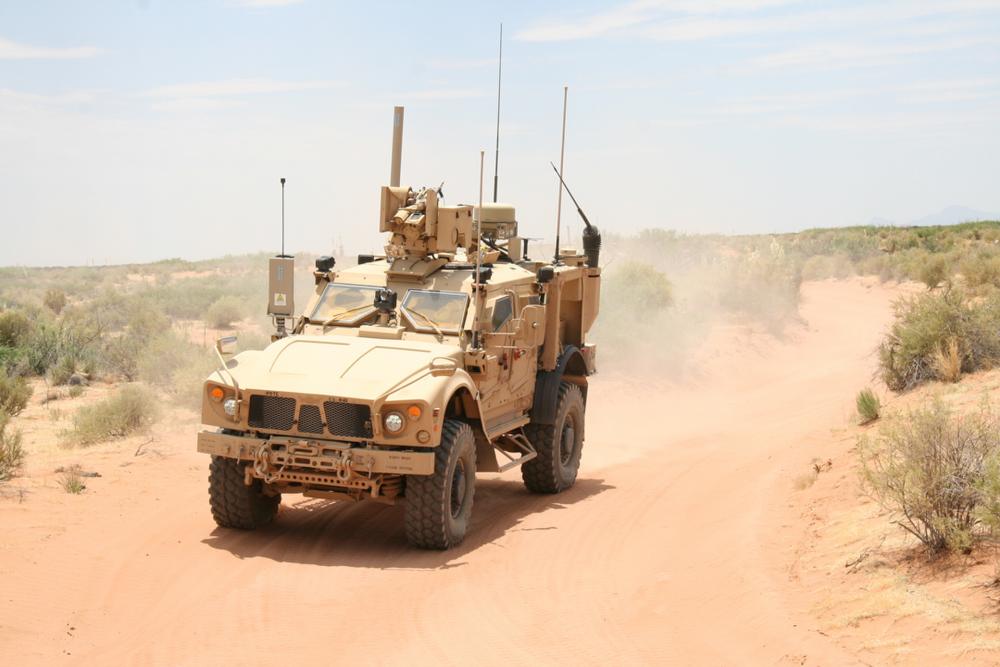 AUGUSTA, Ga. — The Army expects to award a contract before the end of 2023 for a next-generation ground system to collect and disseminate sensor data, according to a top official.
"We can expect some form of up-select decision later this year" for the Tactical Intelligence Targeting Access Node (TITAN), Brig. Gen. Wayne "Ed" Barker, program executive officer for intelligence, electronic warfare and sensors, told DefenseScoop during an interview at the TechNet Augusta conference.
TITAN is considered a critical modernization component for the Army's multi-domain operations (MDO) concept because it will integrate various types of data from numerous platforms to help commanders make sense of a fast-moving and complex battlefield.
Raytheon Technologies and Palantir were each awarded $36 million last year to compete for the final phase of the contract (in July, Raytheon Technologies, now RTX, had an internal realignment and TITAN now falls under Collins, a RTX business).
Both recently concluded what the Army calls soldier touchpoints, or test events in which companies put their system through its paces in operational scenarios while users get to offer their feedback on how it works and what tweaks need to be made for the next event.
There were eight soldier touchpoints in all and the Army is now in the assessment phase.
Barker said an award, which will be expected by the end of the calendar year, could take many forms, meaning it might not be just one company.
"It could take the form of one vendor moving forward, both vendors moving forward, or some combination of the two. It just depends," he said. "That's the beauty of the [other transaction authority agreement] — we can pick and choose the best of both and move that forward or we can have them both move forward based on the available resource and to continue to prototype."
According to Bryant Choung, senior vice president for federal defense solutions at Palantir, the Army had the vendors build the advanced variant of the system.
"You can think of this as a superset of the capability that will exist at lower echelon," he told DefenseScoop in an August interview. "For this capability … we were testing the space tier, the aerial tier and the ground tier all together."
Choung added that the Army has selected the Family of Medium Tactical Vehicles as the base platform and participants integrated a shelter onto that, including everything from compute to communications to software.
Both competitors essentially had the same challenge sets to present, albeit at separate times.
"We're connecting to live assets and real assets. The way that they had to coordinate this was to do them sequentially. But it's the same problem set each time," Choung said.
The data generated during these events is critical for the Defense Department when it has to make its decision, and it's important for the companies to get feedback from the users to make potential tweaks along the way.
"The government is going to get a really good rich data set in terms of the usability, the capability and just like the speed to delivery, in terms of how the two systems performed," Choung said.
For RTX's part, their system sought to reduce the cognitive burden on soldiers.
"RTX's TITAN solution is designed to reduce operator load, decrease decision-making time and provide key information in a rapid, digestible method so connecting directly with potential users as the company iterates a solution was a great opportunity," Scott McGleish, executive director and general manager, Converged Solutions at Collins Aerospace, an RTX business, told DefenseScoop via email. "RTX listened closely in these sessions, walking users through the solution and taking their feedback directly. RTX is developing the system to be user friendly, and we did hear feedback from senior leaders that our development choices were in aligned with their mission needs and requirements."
Choung noted that the soldier touchpoints are key, especially on a software-centric program like TITAN.
"We've integrated the radio, the comms, the computer, etc. But really being able to use that software advantage of understanding, okay, what's actually beneficial to the individual warfighter, how can you reduce the sensor to shooter timeline, how do we increase usability while also increasing capability," he said. "That's really going to be driven through the software. This series of eight soldier touchpoints provided us valuable feedback from the soldiers in terms of how we accomplish that mission."
Those touchpoints included mission profiles of understanding the different types of capabilities soldiers would want TITAN to have, he added, noting some took place in a lab environment, but all included real-world data.
"This includes real-world troubleshooting. Again, it's a complex environment up there," Choung said. "They're connecting to different [signals intelligence] systems, [image intelligence] systems are connecting to aerial tier, satellite tier, or space tier. How do you allow the soldiers to connect to those easily — and then in the case that they need to either adjust mission or adjust something on the system, how do they do that easily while reducing cognitive burden?"
McGleish described the process as iterative.
"We took each lesson learned and applied it to the next software update to ensure each new STP had the latest upgrade for review and comment," he said. "Because we're building this with immediate feedback from the Army customer, we've been able to take feedback and build new features or edit existing ones into the solution in near real-time."