US military publishes new joint warfighting doctrine
"It marks a distinctive paradigm change," Vice Chairman of the Joint Chiefs of Staff Adm. Christopher Grady said at AFA's Air, Space and Cyber conference.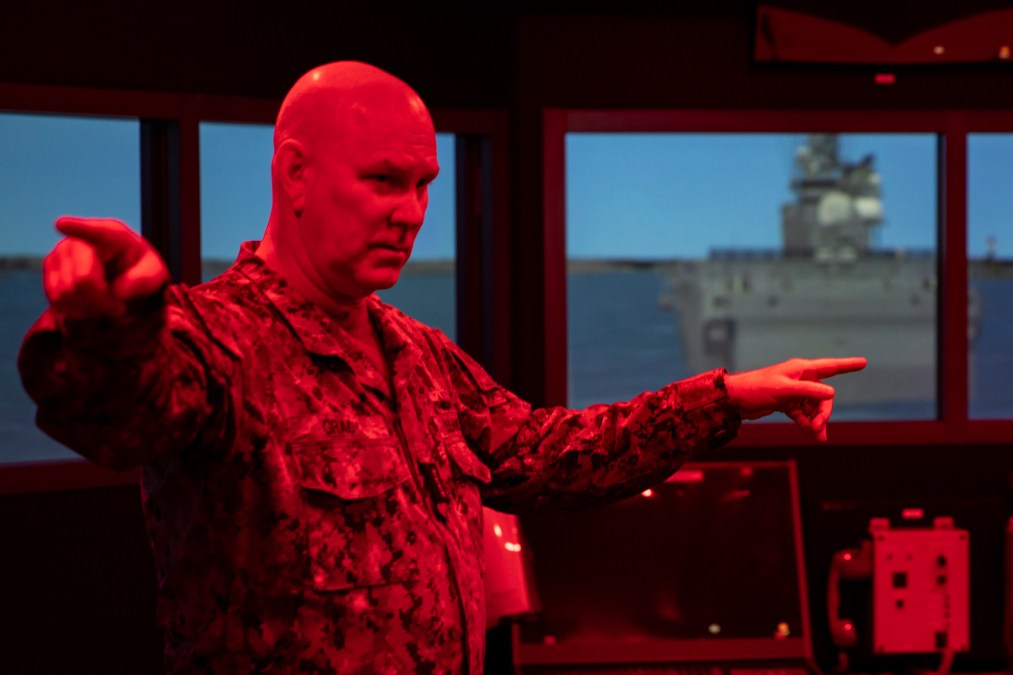 NATIONAL HARBOR, Md. — The Joint Chiefs of Staff have published their highly anticipated new doctrine for implementing the U.S. military's joint warfighting concept.
The document — called JP 1 Volume 1, Joint Warfighting — appears to have been quietly published on Aug. 27, although it isn't publicly available.
"We realized Joint Warfighting Concept 3.0 as Joint Publication 1 Volume 1 … This is important because it's gone from concept to doctrine, and it marks a distinctive paradigm change. It emphasizes our proactive stance in a persistent competitive environment where military advantages aren't set in stone. We must think expansively beyond conventional operational domains. And it is crucial for us, all of us, to understand that this isn't a one-time endeavor. Our required joint capabilities are ever-evolving, echoing the fluidity of modern warfare, and they must be informed by the JWC's tenets," Adm. Christopher Grady, vice chairman of the Joint Chiefs of Staff, said Wednesday at AFA's Air, Space and Cyber conference.
"And to truly bring this doctrine online, I need this community's help. The most consequential thinking decisions and investments we're making for our future national defense are underway right now. We need to hear the voices of airmen and guardians in the Joint Force forums, exercises and war games. We need your expertise, your skills, your perspectives. We need you to accelerate change within the Joint Force. We must adapt to meet the demands of the future fight and we cannot get this wrong," he added.
The new publication provides foundational doctrine on the strategic direction of the Joint Force, and the functions of the Department of Defense and its major components, according to the JCS.
DefenseScoop reached out to the Joint Staff to try to obtain a copy but is still waiting to hear back.
Joint doctrine "presents fundamental principles that guide the employment of U.S. military forces in coordinated and integrated action toward a common objective. It promotes a common perspective from which to plan, train, and conduct military operations. It represents what is taught, believed, and advocated as to what is right (i.e., what works best). It provides distilled insights and wisdom gained from employing the military instrument of national power in operations to achieve national objectives," per the JCS.
Gen. Mark Milley, chairman of the Joint Chiefs of Staff, had previously indicated that the new publication would likely come out in July.
"Doctrine is important because it will help clarify and inform all the various levels of the organization on how you plan to fight. And then there'll be subordinate doctrines that come out of each of the services that support the joint doctrine, etc. So Joint Pub[lication] 1 will come out … and that'll start us on a journey. It'll probably take two years or so for all the other documents to catch up so that we clearly establish the doctrine on how to fight," Milley said June 30 during remarks at the National Press Club.
At the AFA conference, Grady noted that Joint Warfighting Concept 3.0 focuses on information advantage, command and control, joint fires, the ability to win in contested logistics, and expanded maneuver.
To win "key battles for advantage," U.S. military forces must "sense and make sense" of their operating environments by fusing information from sensors across multiple domains — including space, air and land — and make that information rapidly available for decision-makers. The employment of combinations of crewed and uncrewed systems will be a key component of future operations, he added.
The U.S. military is good at force employment, Grady said. However, he sees room for improvement regarding force design.
"Where I think we can do better as a Joint Force is the future force design aspect. And we have to hold ourselves accountable to the direction that we've been given" by the secretary of defense, the National Defense Strategy and Joint Warfighting Concept 3.0, he said, noting that the DOD needs to solve some of its key challenges in upcoming budget cycles.
"One of my major lines of effort as the vice chairman is pushing for more accountability in this process so that we can better realize the future force design imperative, bolstering deterrence, amplifying our global network of allies and partners, driving down risk and fast-tracking the development … [of] innovative capabilities and operational concepts," he said.
A J-7 cross-functional team within the Joint Staff, led by Maj. Gen. Patrick Gaydon, has already been established to explore options for creating a new "Joint Futures" organization, the shape of which is still being fleshed out.
"That organization will help drive these [doctrinal] concepts, but also the technologies and describing the operational environment that we're moving into, and so on," Milley said at the National Press Club.