Surveys and stickers: A day on the water with the Navy's MK-18 drones
Check out Brandi Vincent's video about a recent Naval Oceanography Mine Warfare Center training mission.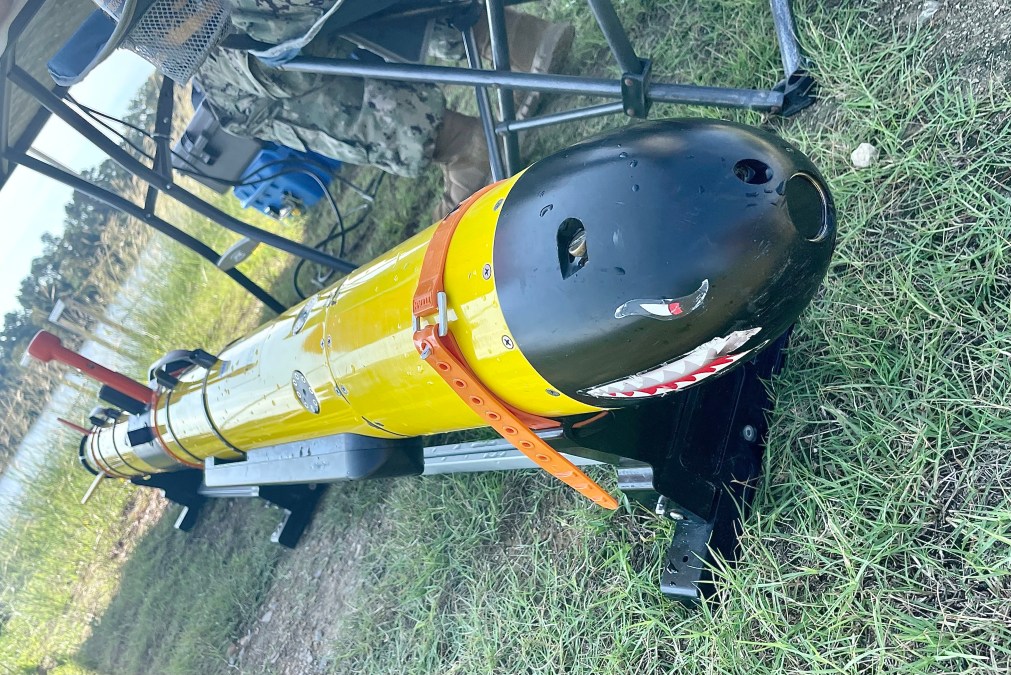 WATERS NEAR BILOXI, Miss. — It's headquartered at Stennis Space Center in Mississippi, but the Naval Oceanography Mine Warfare Center (NOMWC) deploys certified teams all over the world to conduct ocean bottom surveys, associated assessments, and data fusion that all ultimately support the U.S. military's mine countermeasure operations.
Further, when natural disasters strike near strategic ports, NOMWC is often one of the first organizations that goes in to review the port's bottom to see what kind of hazards are there — and whether it's possible to get a clearer path to bring in a ship and provide relief to people who are suffering.
"The collection, analysis and products that we put together are all about providing support to combatant commanders and helping them make decisions. So, everything we're bringing in is maximizing the amount of information that we have about a [water's] bottom and about the threats that we're dealing with out there," Lt. (j.g.) Michael Barnhill recently told DefenseScoop.
Barnhill is an oceanography officer who leads a small but mighty NOMWC team that has deployed in many waters around the world — with MK-18 underwater drones — to train and perform missions.

"The main sensor that we're worried about with the MK-18 is the side-scan sonar unit. So, it's using sound waves to actually ensonify the bottom of the ocean and take imagery that we can physically look at on a computer and actually see shapes and sizes and everything down there," Barnhill explained.
Those autonomous systems also host different suites of environmental sensors that are covering currents, conductivity, temperature, and other factors that officers pull to complete as much analysis as possible and get clearer looks into what's underwater.
On Sept. 26, DefenseScoop joined Barnhill and his team for a training mission they completed in military waters located on their home base near Biloxi, Mississippi.
"We had one sailor who was in our group who had been out on deployment with me before — and the other two who were working with the MK-18 were completely new to the system. They had never touched it until the week before, and they've been learning some of the academic side and getting the idea behind it. And that was one of the first times we let them put it into practice. So, it was pretty exciting for them," Barnhill told DefenseScoop.
Check out a video about that mission: