Army, aviation giants gear up for next leg of FARA helo competition
The program is back on track to getting competitive prototypes flying by 2024, moving the Army closer to a more modern aircraft fleet.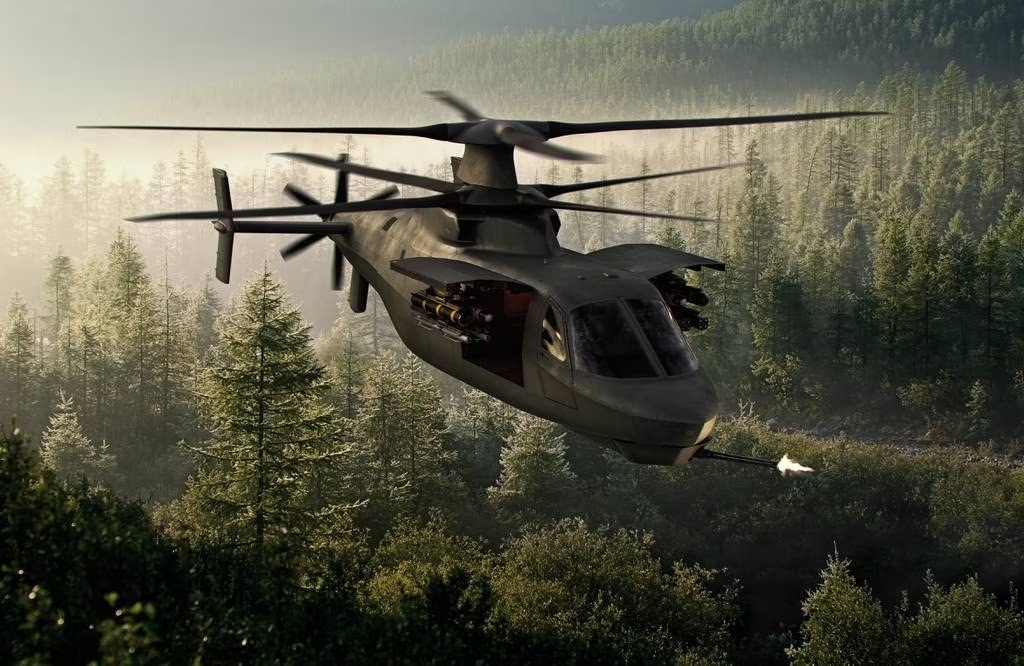 After nearly a year-long delay, the two defense contractors vying to make the Army's Future Attack Reconnaissance Aircraft (FARA) have each received the aircraft's engine — checking a critical box to getting competitive prototypes in the air and getting the service closer to realizing its vision for a modern aircraft fleet underpinned by an open system architecture.
Textron's Bell and Lockheed Martin subsidiary Sikorsky are competing for the chance to design and build the Army's next-generation scout helicopter, which is set to replace the Vietnam-era OH-58 Kiowa Warrior. The service retired its Kiowas in 2014, leaving a capability gap for armed reconnaissance missions.
Both companies have been eagerly awaiting the acceptance and delivery of the T901 flight test engine under the Improved Turbine Engine Program (ITEP), which has been plagued by supply chain and workforce issues experienced by the engine's manufacturer, General Electric.
The Army delivered the T901 to both Bell and Sikorsky on Oct. 20, giving both companies the green light to integrate the engine into their prototypes and gear up for ground runs scheduled for the second quarter of fiscal 2024 and first flight in the fourth quarter of '24 — considered the "next big goal" for the program, according to Rodney Davis, acting program executive officer for Army aviation.
"We're still looking at first unit issued in [fiscal 2031]," Davis said Oct. 10 during a panel at the annual AUSA conference. "Really, key to us is getting the engines installed in the aircraft and getting them flying as soon as possible, because those lessons learned wrap back up into the evaluations of the aircraft."
FARA is part of the Army's future vertical lift portfolio, a broad effort to introduce new aircraft into the service's decades-old fleet while integrating modern technologies onto current platforms to keep them relevant for future conflicts. It also includes the successor to the UH-60 Black Hawk known as the Future Long Range Assault Aircraft (FLRAA) — a high-profile program that saw the Army in 2022 choose Bell's V-280 tiltrotor over a helicopter prototype developed by a Boeing-Sikorsky team.
Now that the T901 engines are delivered to industry, the program executive office is focused on getting an analysis of alternatives for FARA done by the end of 2023, Davis said. Once that is completed, the service will be able to release a request for proposal for FARA's engineering, manufacturing and development phase and pave the way for a milestone B decision in fiscal 2026, he added.
At the same time, the future vertical lift cross-functional team at Army Futures Command is making sure that FARA's requirements stay operationally relevant for its mission set. The team plans to evaluate that routinely during upcoming Experimental Demonstration Gateway Event (EDGE) exercises hosted by the Army alongside industry and the service's entire aviation enterprise, Brig. Gen. Cain Baker, director of the cross-functional team, said during the panel.
"With FARA, we've got to continue to press forward with the ecosystem, the network, the launched effects and the ability to actually employ this aircraft at long range so we can sense, detect and then properly target," Baker said. "We're looking at better ways to be able to communicate at distances and provide those launched effects and that lethality."
As for industry, leaders at both Bell and Sikorsky told DefenseScoop that they're confident in how their respective prototypes will perform during upcoming ground and flight tests — partly because each company has worked in the interim to buy down risk on the program.
"We have really taken this opportunity that we had with some time to absolutely go in and reduce risk as much as possible to ensure that what we write in our proposal is backed up with a lot of risk [analysis], so the Army can get aircraft on time, on cost and schedule," Jay Macklin, director of Army and future vertical lift strategy and business development at Sikorsky, said in an interview on the sidelines of the AUSA conference on Oct. 10.
Sikorsky is offering its Raider X prototype, a coaxial twin-rotor helicopter with a single pusher propeller that is based on the company's S-97 Raider aircraft. Prior to receiving the T901 engine, the prototype was about 98 percent complete, Macklin said.
But because its prototype is derived from an existing aircraft, the company has been able to take lessons from over 130 flight hours already conducted on the S-97, he noted.
"Every single flight hour that's going on that directly helps us answer a question or make an improvement or feed into the maturity of our increment-one design, which is what we will propose," Macklin said. "In essence, we have another prototype that we're flying."
Meanwhile, Bell has been at work conducting independent ground tests on its prototype known as the Bell 360 Invictus — a single main rotor helicopter also based on an existing company aircraft, the Bell 525 Relentless, albeit with some upgrades in order to meet the Army's FARA requirements.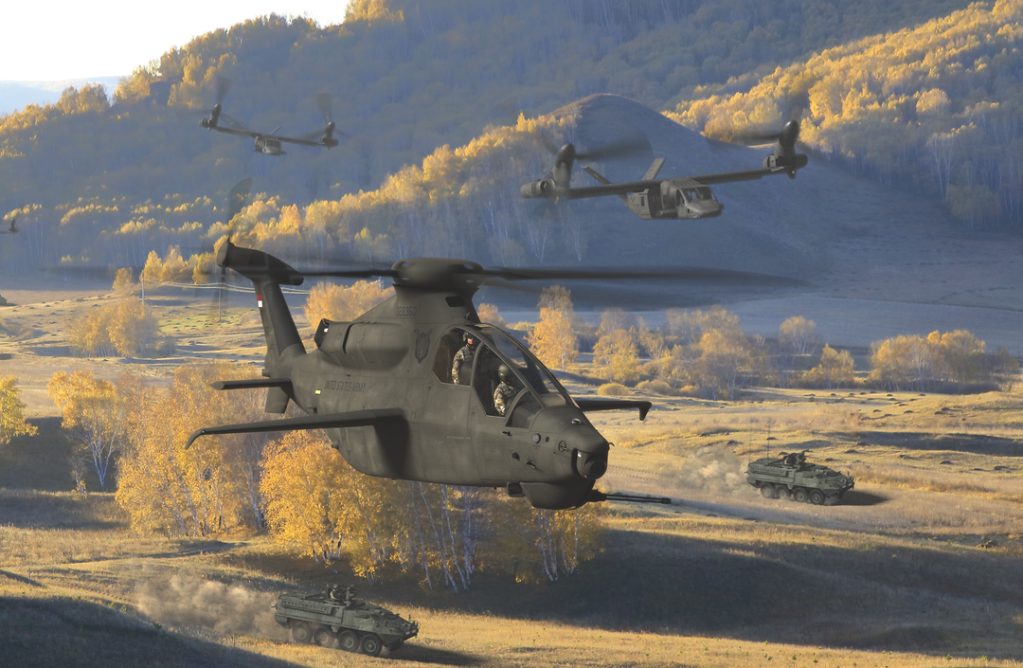 Grady King, Bell's director of FARA sales and strategy, told DefenseScoop that the company has shifted its master schedule around the delay in receiving the T901 engine in order to stay on track.
"We're still doing functional test procedures on other parts of the aircraft and have been doing that — some of those we would have done after the installation but now we've just kind of rescheduled them," King said in an Oct. 11 interview at AUSA. "The only ones we have left to do are centric on having the engine."
Along with ensuring both prototypes run as expected physically, Sikorsky and Bell are also focusing on their helicopters' modular open-systems architecture (MOSA) — a key requirement for all future Army aircraft.
MOSA is a set of hardware and software components enabled by a digital backbone that allows the Army to incrementally add, remove or replace capabilities on their aircraft independently of each other. The service hopes that by emphasizing MOSA on new systems it can stay relevant for future threats, keep sustainment costs low and avoid vendor lock.
"That digital backbone is critical to be able to insert new technology quickly, because we don't have time anymore to bring an in aircraft, keep it down for a month, do a [modification] on it and then get it back out in the fight. We need to be able to put mods on these aircraft quickly, and these digital backbones … are allowing us to do that," Davis said.
For Bell, the digital backbone on its FARA prototype is identical to the one used in its winning FLRAA aircraft, the V-230 Valor, King said. The company was easily able to transport the system onto the Bell 360 Invictus due to digital engineering techniques it is using, he added.
"The switches and the ports of where things get plugged in — from a sensor, radio [and] weapons perspective — those part numbers are exactly the same. We did not have to go spend new research money to reinvent something that's already on an aircraft," he said. "We think that's a distinguisher between how Bell is approaching that, as opposed to others."
Sikorsky is realizing the same cost-savings benefits for time and dollars in their own independent testing for MOSA, Macklin said.
"What we're seeing is that because of the open architecture, what normally takes a certain period of time is taking much less time to integrate onto the architecture," he said. "It just gives the Army a flexibility that they really don't necessarily have today."
To ensure the Raider X is compliant with the Army's MOSA requirements, Sikorsky has conducted five of its own capability integration tests, Macklin said. The tests had third parties bring "various boxes" of software and hardware components and integrate them onto the aircraft's architecture, he explained.
The tests have gleaned a number of key lessons for Sikorsky, especially on potential cost savings MOSA can offer the Army for its future and, eventually, legacy aircraft, he noted.
While new platforms like FARA and FLRAA are underpinned by MOSA, the Army is also hoping the technology can be applied to its current aircraft — such as the AH-64E Apache attack helicopter and the Black Hawk.
"A modular open-system approach is what is going to keep us relevant over time," PEO Aviation's Davis said. "We've got a good foothold in there with FLRAA and FARA, but everything you see that we're doing today, a modular open-system approach is how we evaluate people's submissions for our programs."