Pentagon redefines its overarching plan to accelerate data and AI adoption
The new strategy was produced by the Chief Digital and AI Office (CDAO) and unveiled by Deputy Defense Secretary Kathleen Hicks on Thursday.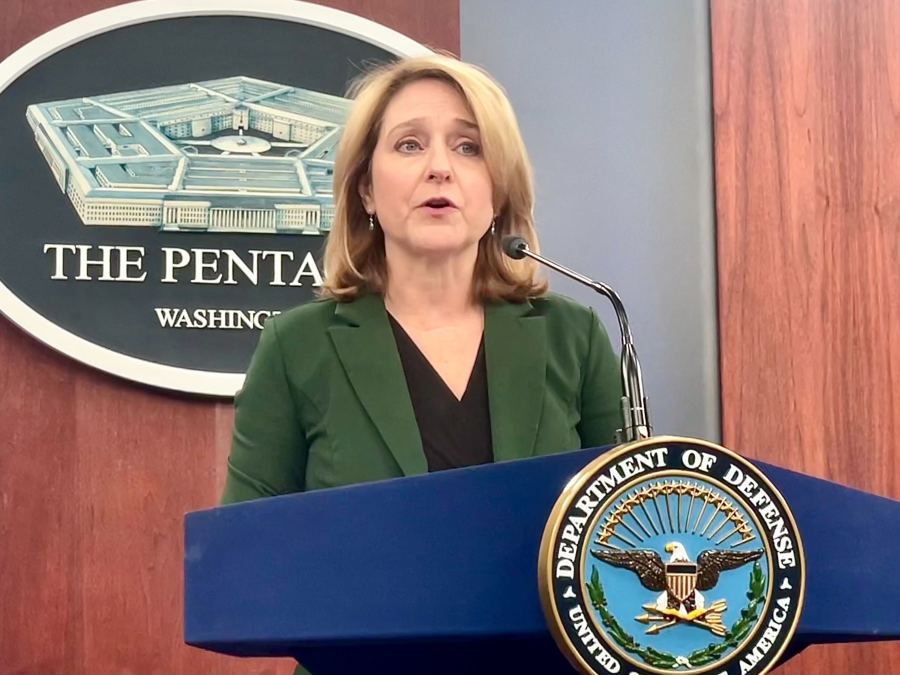 Pentagon leaders released a new, long-awaited strategic plan that revamps and redefines how U.S. military and defense components adopt and deploy crucial data, analytics and AI capabilities — particularly as they prepare for higher-tech conflicts down the line.
The 2023 Department of Defense Data, Analytics, and AI Adoption Strategy was produced by the Chief Digital and AI Office (CDAO) and unveiled by Deputy Defense Secretary Kathleen Hicks at a Pentagon press briefing on Thursday.
"Increasingly over the last dozen years, advances in machine learning have heralded and accelerated new generations of AI breakthroughs — with much of the innovation happening outside of the DOD and government. And so our task in DOD is to adopt these innovations wherever they can add the most military value," she told reporters.
Senior CDAO officials, including its chief Craig Martell, have been teasing this newly launched strategy — which was slated for publication by the end of the summer — repeatedly in recent months.
It follows two foundational guiding documents meant to drive AI use across the DOD. The first enterprise-wide AI strategy was launched in 2018, and Pentagon officials disseminated the first revised version in 2021.
This new 26-page AI adoption strategy "not only builds on DOD's prior AI and data strategies — but also includes updates to account for recent industry advances in federated environments, decentralized data management, generative AI and more," Hicks said.
She confirmed the department's hope that this updated guidance will help all components and services speedily realize critical unfolding AI-aligned efforts, including those related to Joint All-Domain Command and Control (JADC2) and the new Replicator initiative, which aims to counter China by fielding thousands of autonomous systems in multiple domains within the next 2 years.
The strategy includes sections spotlighting new key outcomes the department is eyeing to enable with AI, the associated goals officials will pursue and the high-priority areas where they plan to fully embrace these rapidly evolving technologies. Specific goals listed involve removing policy barriers, investing in interoperable and federated infrastructure, improving data management and growing AI talent, among others.
"The state of AI in DOD is not a short story, nor is it static. We must keep doing more — safely and swiftly — given the nature of strategic competition with the [People's Republic of China], our pacing challenge. At the same time, we benefit from a national position of strength. And our own uses grow stronger every day, and we will be keeping up the momentum ensuring we make the best possible use of AI technology responsibly and at speed," Hicks said.
During a call with reporters following Hicks' briefing, Martell also echoed this intention of Pentagon leadership to keep a flexible and fluid approach when it comes to unleashing AI and machine learning for the military in the coming years.
"Technologies evolve. Things are going to change next week, next year, next decade — and what wins today might not win tomorrow. Rather than identify a handful of AI-enabled warfighting capabilities that will beat our adversaries, our strategy outlines the approach to strengthening the organizational environment within which people can continuously deploy data analytics capabilities for enduring decision advantage," Martell explained.
He and other officials on the call told reporters that the CDAO team is crafting new "iterative" implementation guidance that will accompany the strategy. They expect to release it in the next few months.
That plan will look a bit different from traditional implementation guides, Martell said, because "each of the services have wildly different needs, they're at wildly different points in their journey and they have wildly different infrastructure."
Notably, this refreshed strategy also comes as DOD leadership is heeding warnings from top technology and national security experts about the dire need for the U.S. military to be "AI-ready" by 2025.
During the Pentagon press briefing, Hicks told DefenseScoop that the 2023 AI adoption strategy marks "a key piece of how we get there."
Another major contributing element to DOD becoming AI-ready to match its adversaries in that time frame, in her view, is on-time congressional appropriations and predictable resourcing to advance ongoing work.
"Absent any predictability in our funding streams, it's very hard for us to be able to project [DOD's AI readiness] with accuracy," Hicks told DefenseScoop.