Air Force CCA drones could have greater range than crewed fighters: senior official
A leader of Air Force Futures provided insight into the latest thinking about collaborative combat aircraft.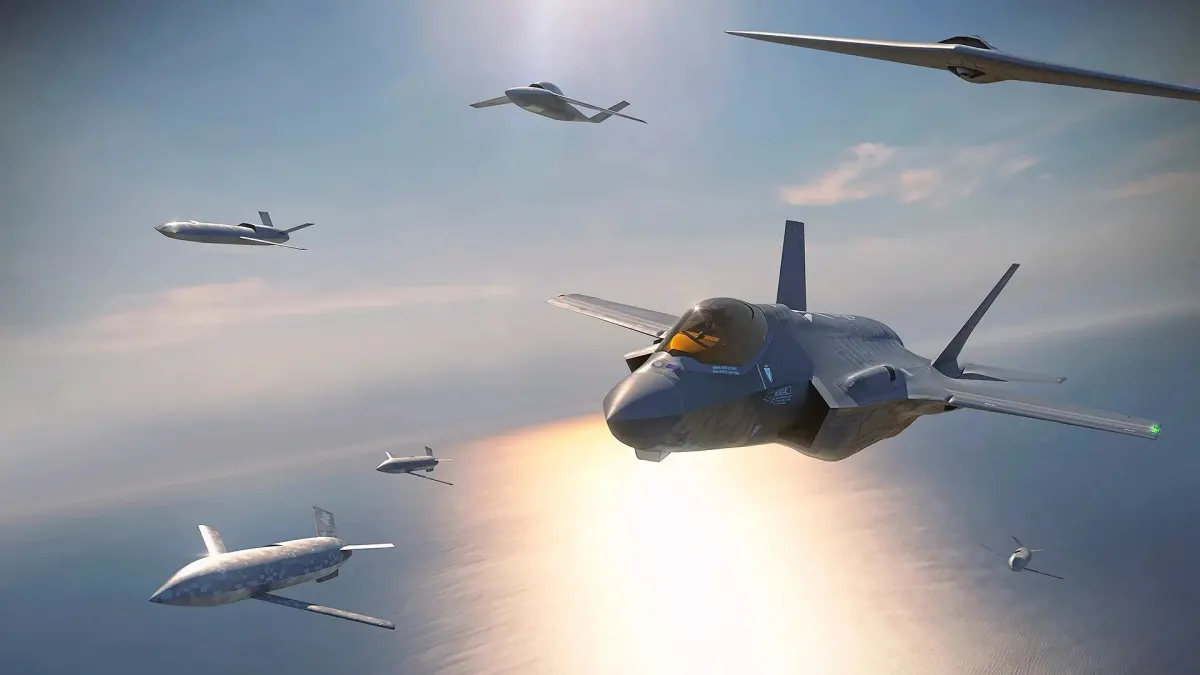 The Pentagon's next-generation drones known as "collaborative combat aircraft," may have a longer reach than the military's manned fighter jets, according to a leader of Air Force Futures.
The service is still working through the requirements for the initial CCA systems — which they're aiming to move into production by fiscal 2028 — and many details of the program are highly classified. However, on Wednesday a senior official provided additional insights into the latest thinking.
"We think that particularly in the initial tranche of CCAs, their range will be relatively the same as our current fighter fleet, potentially a little bit longer, which helps with the flexibility of how we would actually employ them. And we're working through those concepts of employment right now. Future tranches and increments of CCAs will probably be refueled [mid-air by tankers]. That adds to the fueling complexity and the fuel needed in theater, but we think those are problems that are solvable going forward," Thomas Lawhead, Air Force assistant deputy chief of staff for strategy, integration and requirements, told DefenseScoop during a Mitchell Institute event.
For comparison, an F-35A joint strike fighter has a range of more than 1,350 miles with internal fuel, according to the Air Force. The service's crewed platforms can also be gassed up via aerial refueling.
Lawhead said the first set of CCAs could also potentially have the capability to be refueled mid-air, "depending on the offeror."
In September, the Air Force issued a request for information to examine options for CCA propulsion systems, which would affect the aircraft's range and fuel requirements.
"This RFI focuses on capability at discrete intervals defined as near (3 years), mid (5 years), and far (7 years) terms from a program initiation assumed to be Q1FY25. For these intervals, the government questions seek information on capability vs. cost, schedule, and risk centered on off-the-shelf, modified off-the-shelf, derivative, and new engine designs. For the purpose of this response, the engine characteristics of interest include 3000-8000 lbf thrust class engines," it stated. "For the purpose of this response, the desired aircraft characteristics of interest for evaluating the enabling capabilities of the engine's options are as follows: increased range, reduced runway take-off distance, increased Mach capability, increased power and thermal capacity, and increased payload."
The Air Force hasn't formally kicked off the industry competition for the CCA program, but a sizeable number of vendors have been developing related technologies and are expected to compete.
The service envisions the drones serving as robotic wingmen for crewed fighters, such as the Next-Generation Air Dominance system and F-35, or performing missions independently of manned aircraft. It plans to field them in increments as capabilities evolve.
The platforms are seen as a relatively inexpensive way to add capacity to the fleet. On Monday, Air Force Secretary Frank Kendall estimated that they will cost about one-quarter or one-third of an F-35A, which has a price tag of approximately $80 million.
In fiscal 2024-2028, the service intends to invest about $5.8 billion in research, development, test and evaluation for the main collaborative combat aircraft program, plus another $400 million or so for an experimental operations unit and an autonomy testbed that will support the initiative.
The Air Force is planning for a future force consisting of 1,000 CCAs or more.
While the drones could carry a variety of payloads and play a number of roles, air-to-air operations will be the main task of the first tranche, Lawhead noted.
"The concept has evolved in that we're trying to narrow our focus a little bit. So there's the autonomous collaborative platform umbrella of things that could be done in a uncrewed state. We think one of the critical needs that we have is to bring affordable mass to the battlespace, and we'll do that with … collaborative combat aircraft that will be initially in the air-to-air role and then we will seek to expand to other mission sets," he said.
Air Force officials will also be examining runway requirements and how that might shape the future fleet. Pentagon officials are concerned that fixed sites such as air bases and other infrastructure, could be easily targeted by adversaries armed with precision-guided munitions. Having aircraft with short take-off and landing capabilities could help mitigate that problem, although there may be tradeoffs involved.
"We'll explore the trade space in terms of runway length required versus runway independence, and what that gets us from a payload and range capability standpoint," Lawhead said.
Another area being explored is how CCAs can best fit into the broader force structure.
"That, frankly is exactly what the [team] and the experimental ops unit are going to try and get after is what does what does the fighter squadron of the future look like? Is it a 24 [primary aircraft] squadron with you know, 12 CCAs or 48 CCAs attached to them as part of the squadron? Are they separate? What is the kind of day-to-day battle rhythm of those CCAs? Do we forward deploy and … set the theater with CCAs already in theater, keep a small number back for testing, training, and then do a predominance of our actual crewed-uncrewed training in the virtual arena?" Lawhead said.
"All of those are issues to be worked out as we see one what kind of CCAs we actually get out of this increment one to let the [team] and the experimental ops unit folks develop those tactics, techniques and procedures for how we want to employ them, and then what's the best way to organize, train and equip those squadrons most efficiently, most effectively," he added.