Kendall: CCA drones will be 'complementary' to Pentagon's Replicator initiative
There are some key differences in fielding goals and system capabilities that set CCAs apart from the Replicator effort, according to Secretary of the Air Force Frank Kendall.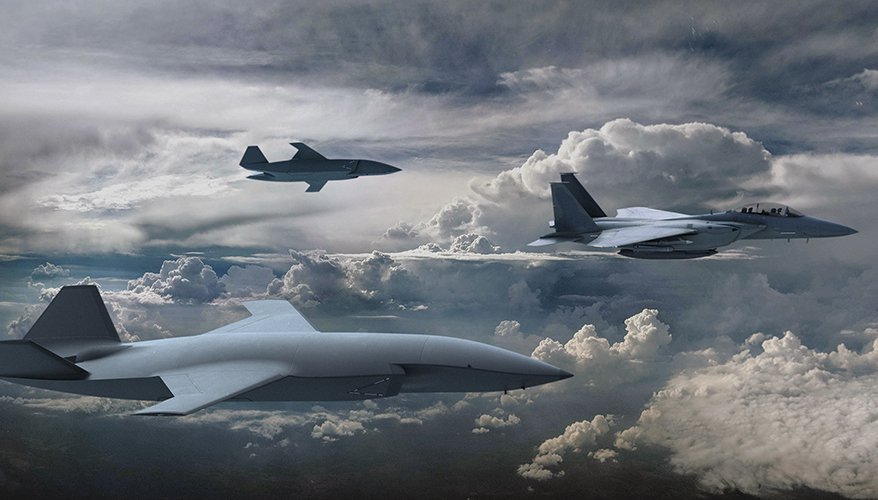 The Air Force's effort to field loyal wingmen drones that can fly alongside its manned aircraft will be a reciprocal one to the Pentagon's ambitious Replicator initiative, although the two projects have key differences in requirements and mission sets, according to Air Force Secretary Frank Kendall.
Unmanned aerial vehicles known as collaborative combat aircraft (CCA), will be part of a family of systems for the Air Force's Next-Generation Air Dominance (NGAD) program. The service wants to equip CCAs with a range of capabilities — from offensive strike to intelligence, surveillance and reconnaissance — so they can augment sixth-generation stealth fighters and other crewed platforms.
Once fielded, the drones are "intended to be complementary" to the Pentagon-wide Replicator initiative revealed in August, Kendall said Monday during an event hosted by the Center for a New American Security.
"We know what kind of capabilities we want and we're working with industry now on some different competing concepts for that," he said. "That's a major acquisition program that's going to take a few years, but we do intend to be in production by the end of the [future years defense program] with the first increment and field it as quickly as we can in reasonable quantities."
However, the Replicator program is operating on a faster timeline than CCAs, Kendall noted. Spearheaded by Deputy Defense Secretary Kathleen Hicks, Replicator aims to field thousands of attritable unmanned systems across multiple warfighting domains within the next 18 to 24 months. The goal is to counter China's own military mass by unleashing drones at-scale for military operations.
The Pentagon has intentionally kept discussions about how it will fund and facilitate Replicator, as well as how each of the services and defense contractors will support it, behind closed doors. But some service leaders have already hinted that current and future platforms could be part of Replicator.
Kendall noted that the Air Force does have some candidates for the initiative that it will pitch to be included, and the service is going through a process to identify them.
"We need something that has a range and payload characteristics consistent with our operational concept, which means probably … very small UAVs," he said.
Along with fielding timelines, Kendall said there are some key differences in capability between CCAs and what the Pentagon wants for Replicator that don't exactly align. Mainly, the Air Force's loyal wingmen will not be as expendable as drones fielded through Replicator.
However, the service is looking for systems that are less expensive than crewed aircraft for its CCA program, he noted.
"In the case of the Air Force, if we go ahead buying just the NGAD platform and [F-35 joint strike fighter] and [B-21 Raider bomber] … you can't afford the Air Force," Kendall said. "Those systems are all in the $100 million-plus category — in some cases, way beyond that — so we've got to have something that will allow us to have mass at affordable prices. CCA is designed to do that."
The Air Force envisions the drones being modular in design, meaning they can be equipped with multiple capabilities in order to perform different missions from day to day. Although Kendall announced in March that the Air Force was planning for a force of 1,000 CCAs — assuming two drones would fly alongside 500 manned aircraft — he said Monday that number will likely increase.
The service intends to spend more than $6 billion on the program and projects related to it over the next five years, according to its budget request for fiscal 2024. The rough cost estimate for a CCA would be "on the order of a quarter or a third, for example, of an F-35," Kendall said.
On the other hand, Replicator drones will be designed in a way so that the Pentagon can field large numbers of them and can expect a significant amount will be lost or damaged during operations, he added.
"The Replicator concepts, as I understand them, are more expendable in that they don't necessarily have the same kind of range, payload characteristics and, therefore, can be acquired both in larger quantities and also used more like an expendable program," Kendall said.
The attritable characteristic of the drones is a key factor that the Air Force is considering as it sorts out which systems the service will pursue and field under Replicator and don't necessarily fit with the concept of CCAs, he said.