Navy seeing increase in demand for information warfare experts
The Navy is looking to increase funding for information operations and creating information ops surge teams.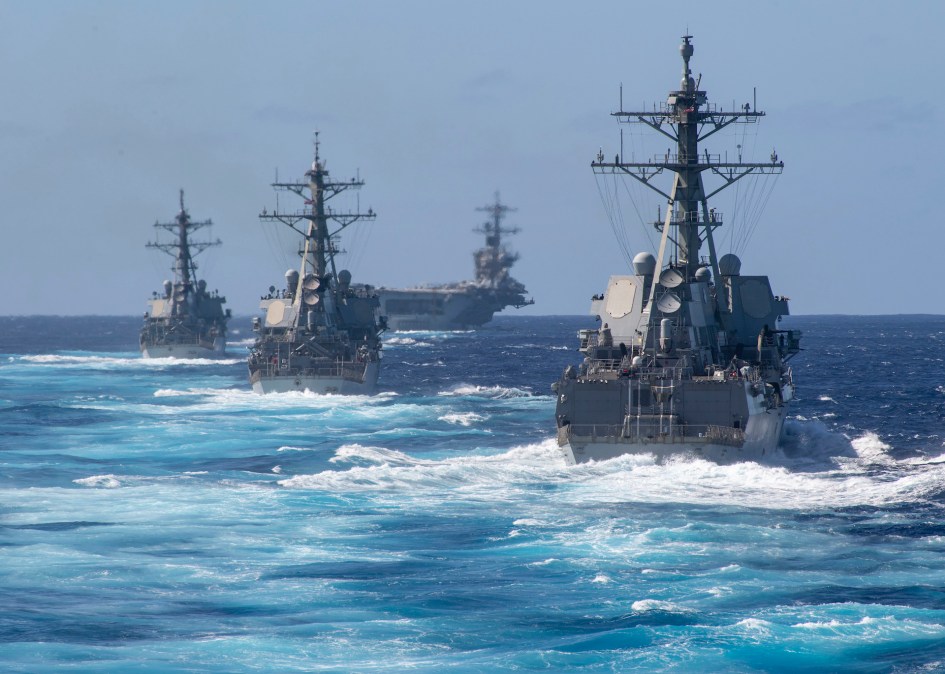 Information warfare personnel are in high demand for Navy commanders, and the leader of the organization responsible for proving these experts is struggling to meet the need.
"The competition is so keen now that my warfighting peers are approaching me and in a good way want me to do my job. They want to invest in actually having information warfare experts as part of their team because the environment is so complex now," Vice Adm. Kelly Aeschbach, commander of Naval Information Forces, said Wednesday during a presentation at the Association of Old Crows symposium in Washington.
Aeschbach referred to many of these capabilities as high-demand/low-density, a term generally reserved for the special operations community.
Several years ago, the Navy created information warfare commanders as permanent fixtures within carrier strike groups. Aeschbach said those types of personnel are now also permanently part of amphibious ready groups and the service is piloting an initiative with the submarine community.
The submarine force, just like many of the other warfighting communities in the Navy, had to focus all its attention and resources on its main mission, often neglecting information warfare aspects, Aeschbach suggested.
"They did not invest in actually having information warfare onboard with them. They didn't have direct support capability, which they would take out in the form of some dedicated collection support, certain missions, but no one integrated full time," Aeschbach said. "Now that we have so much competition in the undersea space … submarine officers need to actually focus solely on the success of operating that submarine, putting its weapons where they need to be, and called upon to do that."
The Navy is now conducting a pilot effort to provide the right personnel in electronic warfare, intelligence support and cyber to this community. As part of the initiative, the service will embed information warfare officers full time with three enlisted members, one of whom will bring EW expertise, she said.
Aeschbach also mentioned the recent establishment of Fleet Information Warfare Command Pacific to plan, coordinate and direct information-related capabilities for Pacific Fleet.
As part of that effort, Aeschbach said officials are advocating for the creation of information operations "surge teams" under the Information Warfighting Development Center.
"We recognized that this was an area that the Navy had really not been investing enough in," she said. "We also recognize it's a high-demand/low-density skill set. You need a significant amount of training to be exceptional in information operations."
The Navy was able to get a commitment to put additional resources toward information operations during the last budgeting cycle, referred to as the Program Objective Memorandum, in Pentagon parlance.
"We've worked with Navy leadership to ensure we've got the funding for now looking at how do we accelerate the delivery [of] those teams and ensure we have the best training," Aeschbach said.
While these teams will eventually support all numbered fleet commanders, they will initially focus on the Pacific.
The Navy has also revamped its training for military deception.
The "Warfighter Development Center has also updated the Navy's [concept of operations] on fleet deception and we just implemented a new Navy deception practitioners course," Aeschbach said. "We're continuing to help in updating the Department of the Navy policies on deception activities, another area where I think we just … had not been focused on and are bringing a renewed energy there."