Cyber Command, DARPA ink agreement to transition innovative technologies for operational use
The new agreement is meant to bridge the valley of death and get more cyber capabilities into operational use.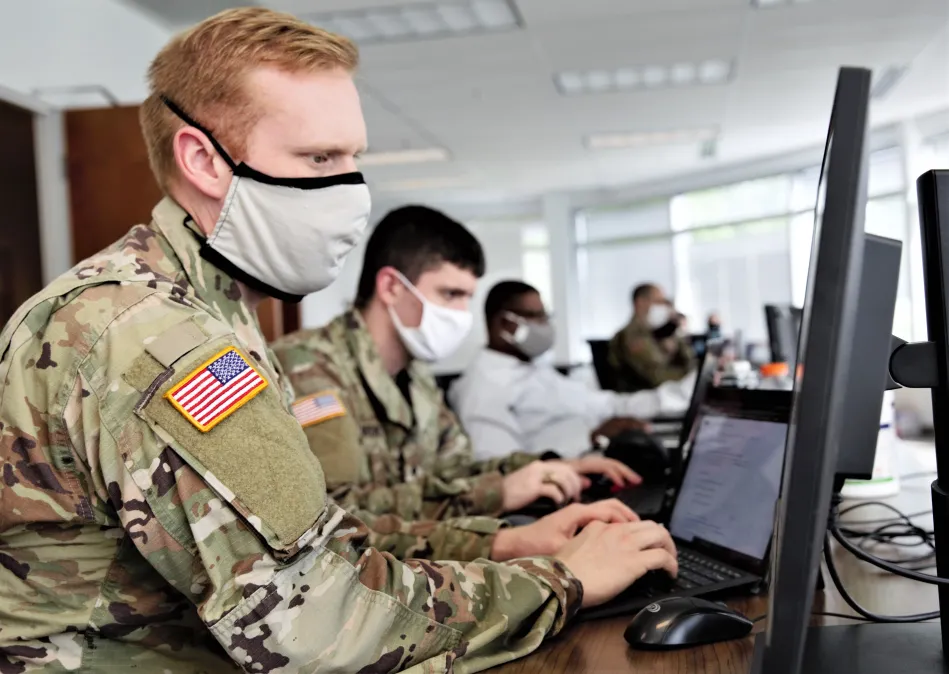 U.S. Cyber Command and the Defense Advanced Research Projects Agency have developed a memorandum of understanding to transition cyber technologies to the command in an attempt to bridge the dreaded "valley of death."
The so-called valley of death refers to when the Department of Defense fails to transition a piloted innovative technology for operational use due to a variety of factors, leaving the solution effectively dead after a period of investment and development.
The new agreement, signed in October, involves a partnership between both organizations on requirements development and transition of capabilities to Cyber Command.
"The most important part of it is that once a technology gets to a level of maturation where the command is ready to put it into operation, then we will put it into our budget," Michael Clark, director of J9, acquisition and technology directorate at Cyber Command, said in an interview. "This [MOU] is intended to … bridge that valley of death. For every technology that we agree with DARPA that the command has an interest in, that as we go through the development, if it reaches the point of its maturing and it's a capability that the command agrees it will put into operation, we will fund then that transition into operations."
This is a significant partnership as Cybercom is still working to build out its capabilities and infrastructure as a relatively young organization in the government space. When Cybercom was initially created, it relied heavily upon the personnel and infrastructure of the National Security Agency. But now, as it has grown, it has decided it must have its own unique infrastructure for its military mission, called the Joint Cyber Warfighting Architecture (JCWA), which is still being built out. JCWA can be thought of as a military cyber warfighting platform through which cyber warriors conduct their missions and analysis, similar to how soldiers leverage tanks and pilots rely on airplanes to carry out their missions.
As Cybercom has continued to grow, it has sought to take more advantage of its unique, service-like authorities, which include acquisition. In 2024, it is poised to gain what's known as enhanced budget authority, which will provide the combatant commander with direct control and management of planning, programming, budgeting and execution of the resources to maintain the cyber mission force. With that, the command wants to increase its partnerships with labs such as DARPA, the Defense Innovation Unit and the military services' labs.
The origin of the MOU with DARPA came from a history of working together but also a desire to create a more formal and stable pipeline of technology to serve the cyber mission.
"It came about through DARPA and Cybercom jointly working on problems for a long time and seeing how hard it was to transition successful technology into a working context — even when everybody wanted it to happen — and having an informal transition strategy based on relationships wasn't working fast enough to meet today's needs," Kathleen Fisher, office director for DARPA's Information Innovation Office, said in an interview. The organizations were "wanting to have a more formal structure that allowed us to transition the things that proved out really quickly into an operational context."
For Clark, innovation is one of his and Cybercom's top priorities, and DARPA is one of the most important partners on that front. He noted that the command doesn't simply want to do the same thing better, but it wants new and innovative technologies.
Agreements like this allow Cybercom to better foster prototypes and innovation on a more rapid basis.
A telling example from the past is a tool called Project Ike, which, among other things, helps with mission planning and command and control of cyber forces. While it started at DARPA over a decade ago for the Army under the moniker Project X, it didn't officially transition to Cybercom under its Joint Cyber Command and Control capability until almost 10 years later.
That was due to a variety of factors — namely that the command wasn't mature enough in its capability architecture yet, so there was nowhere for it to transition to. But officials acknowledged that is just too long to transition technology in a dynamic environment such as cyberspace.
Going forward, transitioning new innovations can't follow that same path "where it took those decades or so to be able to do it," Clark said. "I need to drive innovation at the speed of relevance, speed of operational relevance."
He added that officials don't want decades of science and technology development. In some cases, they want it done in weeks, such as an idea that came from a university professor and was quickly operationalized.
Other agreements, such as those with DIU and DreamPort — Cybercom's innovation facility — have led to capabilities and contracts used by the cyber national mission force.
Recently, Cybercom hosted for the first time the Office of the Secretary of Defense's Research and Engineering directorate's cyber community, which brings together all the labs, to examine priorities.
Constellation
The exact mechanism DARPA and Cybercom are establishing is known as the "constellation" pipeline whereby high-risk, high-reward programs started by DARPA that are about to pan out — with Cybercom's awareness and input — are then transitioned.
"Those programs will get extra attention and funding to harden them, to convert them from research prototypes into things that fit within the Cybercom ecosystem to transition really rapidly into operational use — helping to bridge that cyber valley of death," Fisher said.
The types of technologies in the pipeline could be applicable to major acquisition efforts the command already has for programs under JCWA such as Unified Platform — a data centralization platform — or the Persistent Cyber Training Environment, or smaller-scale efforts.
The vision is "transitioning [capabilities] at multiple different levels of granularity and throughout all of those different kinds of components," Fisher said. "It would be examined on a case-by-case basis for would a significant piece of a program be the right transition effort, or would a single capability be the right unit of transition? That's a place that the flexibility of the pipeline is really valuable is that there's a meeting of the research side and the capability of the demand side of what's the most important piece of this and where is the demand the best. And then the contractor vehicle allows for additional resources to be put in to be given more funding to the people who did the research to continue on the effort to customize it to fit it into the downstream ecosystem at the appropriate place."
Fisher added this is a pilot effort, noting there aren't necessarily similar types of agreements for other components of the DOD.
"What's special about constellation is it's overarching. It encompasses many, many different efforts and programs over a long period of time," she said. "It is envisioned to outlive a particular program. It's envisioned to be a vehicle to transition at the moment, like the efforts of six or seven different programs already, and then we expect new programs to join in as they evolve. That longer-standing vehicle is new for us."