Navy looking to add vendors to $982M IDIQ contract vehicle for unmanned systems tech
The Navy released an RFI to gauge companies' interest in pursuing access to the IDIQ-MAC pool of awardees for the Unmanned Surface Vehicle/Vessel Family of Systems.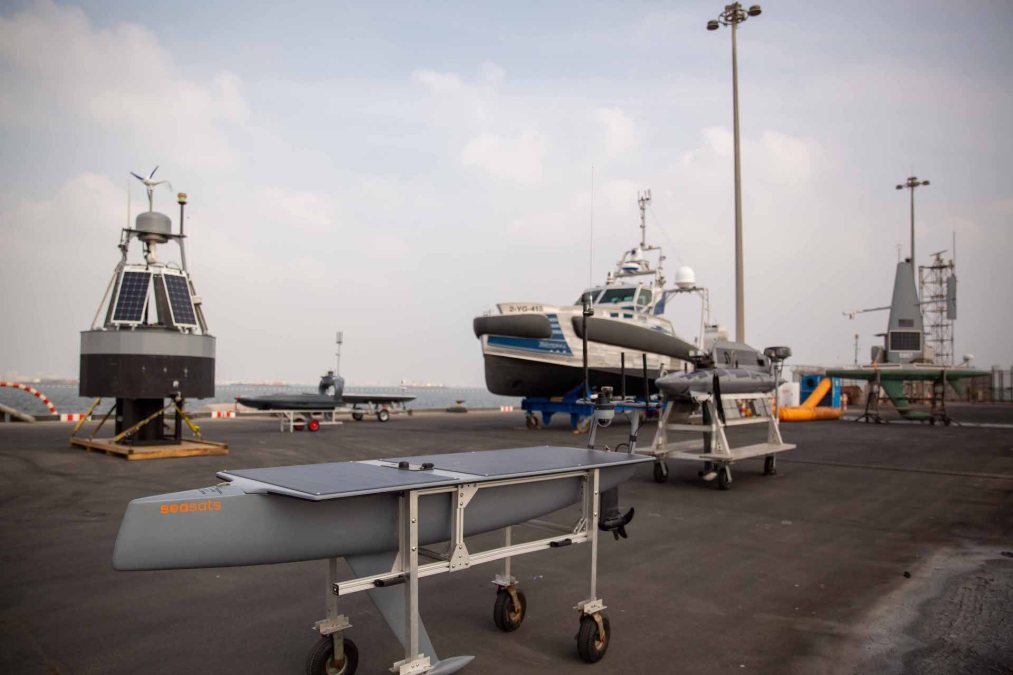 Naval Sea Systems Command's Program Executive Office for Unmanned and Small Combatants is looking to add additional contractors to its list of qualified vendors for a $982 million indefinite-delivery, indefinite-quantity multiple award contract (IDIQ-MAC) vehicle for the procurement of supplies and services in support of the Unmanned Surface Vehicle/Vessel Family of Systems.
The Navy initially tapped 40 vendors for the initiative in 2020. Now, it's looking to cast its net again.
On Nov. 21, the service released a Sources Sought notice on Sam.gov to gauge companies' interest in pursuing access to the IDIQ-MAC pool of vendors that are eligible to compete for individual task and delivery orders.
The Unmanned Maritime Systems Program Office PMS 406 and the NAVSEA Contracts Department have planned "to periodically evaluate the need to offer on-ramps for additional Industry partners over the USV FoS IDIQ-MAC's Period of Performance (five (5) year base period, with an additional five (5) year ordering period option)," according to the RFI.
Contracts awarded thus far have fallen into six categories: payloads, non-payload sensors, mission support systems, autonomy and vehicle control systems, ashore and host platform elements, and logistics and sustainment.
Payloads carried by a USV may include technologies like towed sonars, data recorders, payload controllers and signal processors. Non-payload sensors that are "organic" to the platform may include forward look sonar, transducers, hydrophones, Automatic Identification System (AIS), imaging, radar, transponders, Conductivity, Temperature & Depth (CTD), sub-bottom profiler, Doppler velocity log, Global Positioning System (GPS), and altimeters, according to the RFI.
The Navy also needs mission support systems, such as launch and recovery systems, that provide for "physical, electrical, and/or data interfaces" to the payload systems.
Autonomy technology is seen as a critical enabler of future unmanned platforms that will be expected to operate with limited human involvement.
"Autonomy systems enable the USV to independently develop and select among different courses of action to achieve goals based on the USV's knowledge and understanding of the situation," while vehicle control systems "enable the USV to monitor and conduct the mission," the RFI stated.
The Navy also needs host platforms ashore and at sea to launch and recover unmanned vessels. Technology that falls under this category includes launch and recovery hardware, data interface systems, hardware interface systems, electrical interface systems, local command and control, energy system charging/refueling equipment, onboard storage equipment, maintenance equipment, and tendering for a USV, according to the RFI.
Additionally, the sea service also wants systems and subsystems that enable unmanned vessels to communicate with host platforms, such as radios, cross-domain solutions, enclosures, power supplies and associated software/firmware.
Logistics and sustainment activities include "providing services that are required for optimal performance of the USVs, payloads, Payload Deliver Systems (PDS), and related components throughout the program lifecycle," the RFI stated.
Industry responses to the notice are due by Dec. 19.
Digital Horizon
The release of the RFI wasn't the only significant development in the world of Navy unmanned systems last week. On Nov. 23, U.S. 5th Fleet, based in Bahrain, kicked off Digital Horizon 2022, a three-week event focused on integrating robotic platforms and AI.
"By harnessing these new unmanned technologies and combining them with artificial intelligence, we will enhance regional maritime security and strengthen deterrence," Vice Adm. Brad Cooper, commander of U.S. Naval Forces Central Command, U.S. 5th Fleet and Combined Maritime Forces, said in a statement.
Digital Horizon will include 15 drones provided by 17 industry partners. Ten of those systems will be operating with 5th Fleet for the first time, according to U.S. Naval Forces Central Command.
The robotic platforms include the following unmanned aerial vehicles and USVs: Aerovel's Flexrotor and Shield AI's V-BAT, Easy Aerial's tethered UAV, Elbit Systems Seagull, Exail DriX, L3Harris Arabian Fox MAST-13, Marine Advanced Robotics WAM-V, MARTAC T-38 Devil Ray, Ocean Aero TRITON, Open Ocean Robotics Data Xplorer, Saildrone Explorer, Seasats X3 and SeaTrac SP-48.
"Accenture Federal Services and Big Bear AI will also employ data integration and artificial intelligence systems during the event, and Silvus Technologies will provide line-of-sight radio communications while an unmanned surface vessel from Ocius participates from off the coast of Western Australia," according to a NAVCENT release.
Digital Horizon is underway as the Navy works to create a "mesh network" of AI-equipped unmanned surface vessels that carry sensors and transmit data via the cloud.
Last year, the service set up Task Force 59 in the Centcom region to advance these efforts.
Robo-ships have been equipped with cameras that can keep an eye on what's going on in the vast bodies of water near the Middle East and alert commanders when they detect something notable.
"We've seen great promise in taking new cutting-edge unmanned surface vessels and tying artificial intelligence with them as a means to enhance maritime security around the Arabian Gulf," Cooper told reporters last month during a meeting at the Pentagon.
The Navy is growing its fleet of unmanned platforms in the region, and officials hope to have about 100 USVs — contributed by the U.S. and partner nations — operating there by the end of next summer.
"The pace of innovation is amazing," Capt. Michael Brasseur, commander of Task Force 59, said in a statement. "We are challenging our industry partners in one of the most difficult operational environments, and they are responding with enhanced capability, fast."