Army's command post tool provides commanders improved situational awareness, DOD weapons tester says
The Command Post Computing Environment is operationally effective in supporting commanders and staff with improved situational awareness and mission command, according to DOT&E.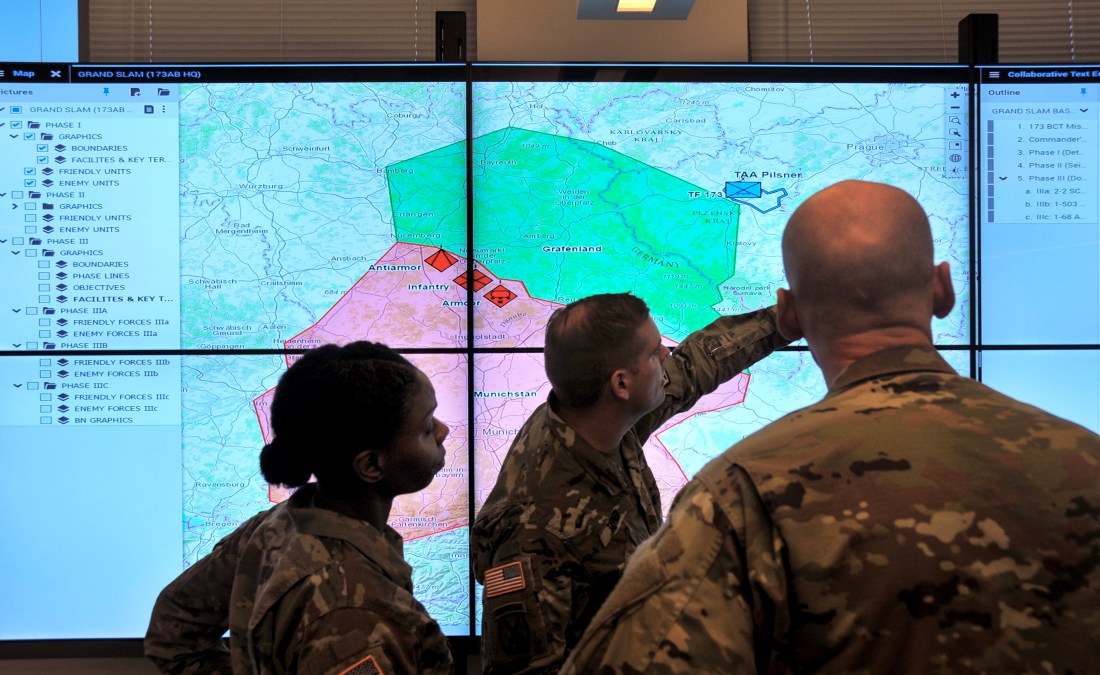 The Army's situational awareness tool collapsing various systems within the command post is operationally effective in its mission, according to the Pentagon's weapon tester.
"Command Post Computing Environment (CPCE) Increment 1 is operationally effective in supporting commanders and staff with improved situational awareness and mission command," the annual report from the Office of the Director, Operational Test and Evaluation stated.
CPCE is a web-enabled system that will consolidate current mission systems and programs into a single user interface at command posts to provide a common operational picture.
DOT&E said in its report that CPCE has problems with reliability, training and usability but is survivable and demonstrated an enhanced defensive posture in a cyber-contested environment.
"The program office has an active partnership with DOT&E and continues to enhance network and mission command systems test and evaluation processes based on DOT&E feedback," Paul Mehney, director of public communications for Program Executive Office Command, Control, Communications-Tactical, told DefenseScoop in a statement. "Specific to CPCE, the Army is executing an industry based best practice of DEVSECOPS to iteratively improve CPCE capabilities. Key to these efforts is to improve upon the user interface, enhance cyber security and deliver a data fabric capability to provide commanders with prioritized relevant data at point of need."
Program officials explained that there is a much tighter linkage to DOT&E than in past years.
Much of the testing for Capability Set 21 was affected by the COVID-19 pandemic and had to be deferred until the Capability Set 23 period.
The Army has adopted a multiyear strategy for the incremental development and delivery of new capabilities to its integrated tactical network, involving a combination of program-of-record systems and commercial off-the-shelf tools. Those "capability sets" now provide technologies to units every two years, each building upon the previous delivery. Capability Set 21 was primarily designed for infantry brigades, whereas Capability Set 23 is focused on Stryker brigades and Capability Set 25 is focused on armored brigades.
"This was the first time ever, for us to gather up all of the stakeholder partners and not only do ops demos, but like do a series of tests that involve them," Matt Maier, project manager for interoperability, integration and services at PEO C3T, told DefenseScoop in November. "Now they're able to come out participate in our technical testing, they're able to come out and participate in our experimentation events … I think that that was something that we just didn't have before. I think as a result, I think that's what helped improve our relationship with DOT&E. They're starting to get some of the instrument and data that they were really looking for."
Better instrumentation data also helps the program office better design capabilities and goals going forward.
This month, with DOT&E oversight, the Army is executing a test assessment for Capability Set 23 with the 2nd Cavalry Regiment in Germany where results will inform the final capability set design for fielding.
The Army's tactical data fabric capability will ride on CPCE. The Army is currently conducting experiments with Army Pacific formations.
DOT&E provided three recommendations to the Army pertaining to CPCE: complete the improvement plan to correct deficiencies noting in increment 1 Follow-on Operational Test and Evaluation and demonstrate fixes in future test events; demonstrate training improvements, and; complete the improvement of CPCE data instrumentation to support test adequacy and confidence in data collection during future developmental and operational test as well as demonstration its effectiveness in a CPCE test event.