Army to test its 'tactical data fabric' at Project Convergence
The Army's tactical data fabric aims to more seamlessly connect commanders with the information they need to make battlefield decisions.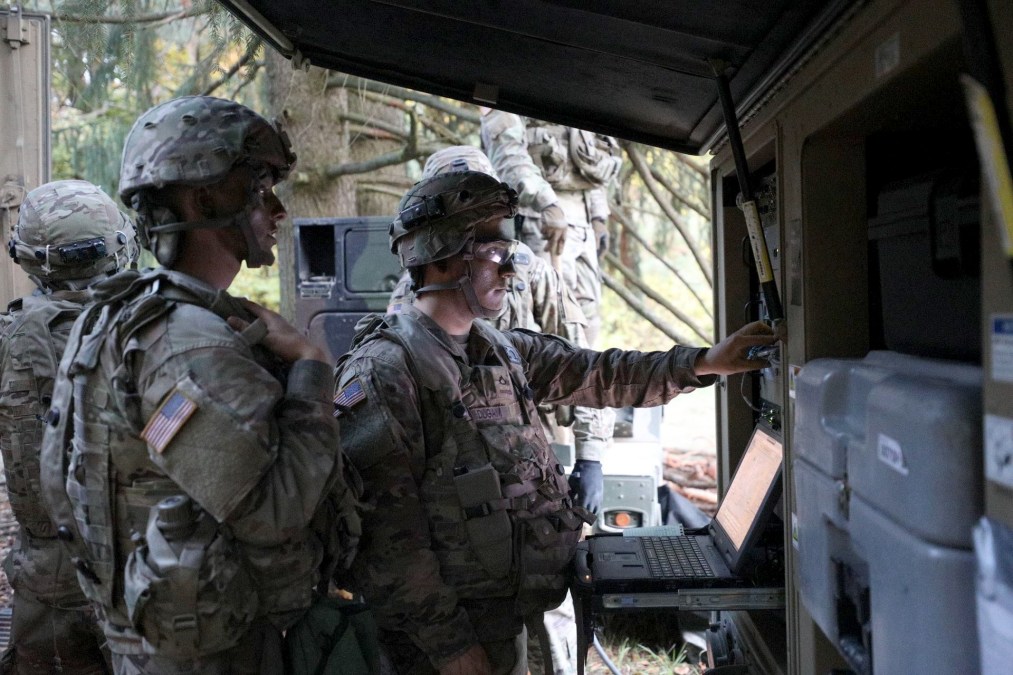 ABERDEEN PROVING GROUND, Md. — The Army is gearing up for a major test of its ability to stitch data together at the tactical edge in the coming weeks alongside its sister services and allied forces.
At the Army's capstone Project Convergence 22 exercise — which is intended to test technologies and concepts for Joint All-Domain Command and Control (JADC2) — the service will deploy what it calls the tactical data fabric.
A data fabric is not a single solution, but rather, a federated environment that allows information-sharing among various forces and echelons.
This capability, while not a standalone program, is part of the larger Command Post Computing Environment (CPCE), a web-enabled system that will consolidate current mission systems and programs into a single user interface at command posts to provide a common operational picture.
Army officials explained that the need for a data fabric is tied into CPCE.
"What we're trying to do right now with regard to data is we're trying to provide better connective tissue to stitch all of that data together so at the end of the day, the commander has the data that he or she needs to accomplish their mission," Col. Matthew Paul, project manager for mission command at Program Executive Office Command, Control, Communications-Tactical, told reporters Thursday at Aberdeen Proving Ground. "We have ways to do that today, but it's very manually intensive, clunky and error prone ways to move data and to manage data. We're trying to harmonize that with what we call tactical data fabric."
The technology will enhance commanders' ability to access data and synchronize it between echelons and formations more seamlessly.
While the Army has experimented with the tactical data fabric with Army Pacific, Project Convergence will provide a venue to demonstrate to senior leaders the ability to bridge the divide between the enterprise data ecosystems and the tactical data ecosystems.
The Army plans to connect several systems, such as the Army Intelligence Data Platform and Army Vantage, and proliferate data in a seamless way, Paul said.
The minimum viable product will be on display, which is largely a government-built platform as opposed to a commercially-built system provided by vendors.
The capability is a tactical version of Army Cyber Command's big data platform Gabriel Nimbus. Several so-called big data platforms exist across U.S. Cyber Command, the Defense Information Systems Agency, Army Cyber Command and the Marine Corps. They are essentially hybrid cloud environments that allow for storage, computation and analytics across networked sensors. When forces conduct cyber missions, they collect data and use high-powered analytics to make sense of it. Big data platforms do just that, but also share that analysis in an easy-to-access repository for other forces.
Moreover, this platform has essentially subsumed a previous government science and technology effort called Rainmaker.
In Project Convergence 21, Rainmaker and the tactically focused Gabriel Nimbus platform were running side by side, Paul said. Now it's a singular system.
"Rainmaker … as a program or as an S&T initiative does not exist anymore, but we did take some of those key components and integrate them into our tactical data fabric social net, using that ARCYBER [solution] as a baseline," Paul said.
Going forward, Paul said the Army will bring problems or gaps to industry to help solve, but not necessarily build an entire data fabric.
"We're not looking for … industry to provide us with a big monolithic solution end-to-end. When we have specific challenge areas, we will look to industry for support," he said.
The Army's tactical data fabric is also expected to benefit the other services and coalition forces.
"What tactical data fabric will do, it will be able to make more data and better data available to our joint partners more frequently and it'll be more timely. I think that's the value proposition of a fabric," Paul said.
Experimentation has allowed the Army to understand what data standards it needs to prioritize, which is shared with the Defense Department's JADC2 cross-functional team for greater joint situational awareness.