SDA taps Raytheon for 'fifth orbital plane' of missile-tracking satellites
Raytheon's constellation of seven satellites is slated to launch in late 2025, and will be a key element of the Proliferated Warfighter Space Architecture.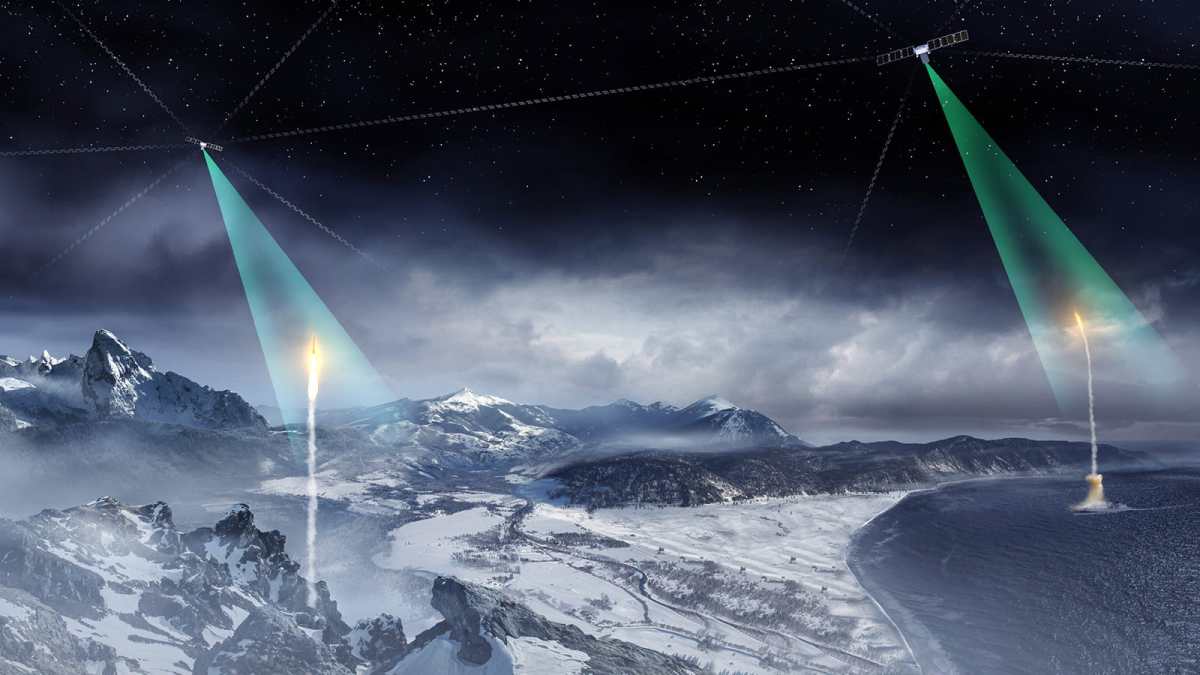 With a recent fiscal boost from Congress, the Space Development Agency selected Raytheon Technologies for a new contract worth more than $250 million to make and deliver a constellation of seven missile-tracking satellites — and assist with launch and ground operations supporting the Proliferated Warfighter Space Architecture (PWSA).
Formerly known as the National Defense Space Architecture until it was rebranded in January, PWSA refers to the next-generation network of military satellites SDA is paving the way for, to ultimately provide missile warnings and transport critical data. Officials envision hundreds of satellites and sensors that can cycle out over time as capabilities mature.
The agency is generating a layered satellite network with advanced technologies that are essentially structured and deployed in orbital planes and tranches. Tranche 0, the first group of satellites in the architecture, is set to launch this month. Last year, SDA announced that Northrom Grumman and L3Harris had been tapped to deliver four orbital planes for the Tranche 1 tracking layer — with each company separately providing two planes of 14 satellites each. Raytheon's low-Earth orbit constellation of networked satellites will become the fifth plane of spacecraft in the Tranche 1 tracking layer, providing enhanced missile warning and detection for the Department of Defense.
"Congress added funding in this year's appropriation to develop the fifth plane, so this award is the result of that process," SDA spokesperson Jennifer Elzea told DefenseScoop on Friday. This additional plane "adds sensor diversity to our T1 Tracking constellation and achieves a price point of [approximately $40 million] per sat," she said.
Lawmakers reportedly increased SDA funds in response to urgent demands from U.S. Indo-Pacific Command for missile-tracking sensors needed to protect the region.
Raytheon's constellation of seven satellites for the fifth plane is slated to launch in late 2025 — after the other Tranche 1 tracking satellites, which will be sent up starting around April of that year, Elzea confirmed.
Raytheon's spacecraft will feature the contractor's Wide Field of View overhead persistent infrared sensor, and a Saturn-class microsatellite bus and electronics payload from its subsidiaries Blue Canyon Technologies and SEAKR Engineering.
"Developing a resilient and affordable proliferated satellite constellation in low-Earth orbit will improve our ability to track emerging threats like hypersonic missiles," Dave Broadbent, president of space and C2 at Raytheon Intelligence and Space, said in a statement to DefenseScoop. "Continuing to develop this architecture with SDA and our industry partners will be a high priority for [the company] in the coming months."
Raytheon originally bid for a previous satellite constellation contract with SDA in 2020 but was not selected, and later lost an associated bid protest.