Gilday taking cautious, 'deliberate' approach to Navy's secretive Project Overmatch tech deployments
The sea service is currently deploying the capabilities with the USS Carl Vinson to evaluate their effectiveness.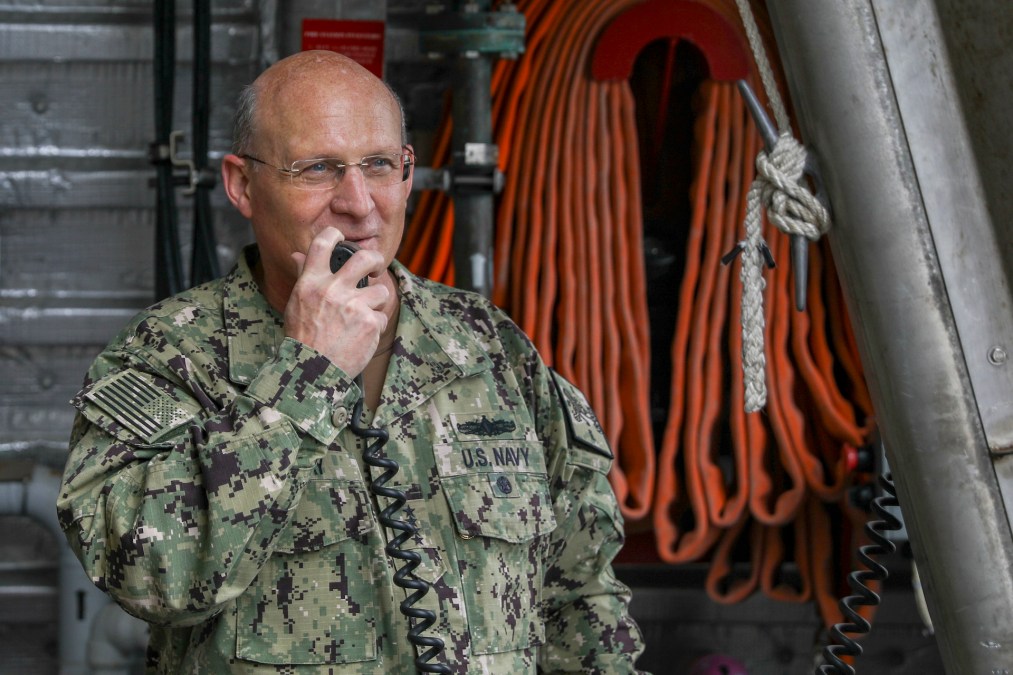 The Navy's testing of its new — and highly secretive — Project Overmatch capabilities is "in full swing," but the service's top officer is taking what he calls a "deliberate" approach to rolling out the technology more broadly across the fleet.
Project Overmatch is the sea service's contribution to the Pentagon's broader Joint All-Domain Command and Control (JADC2) initiative to better link the U.S. military's networks, sensors and shooters.
Chief of Naval Operations Adm. Michael Gilday has said Overmatch's technology could be "the bedrock for the joint tactical network of the future," and enable the military to "take any data and push it over any network in a software-defined environment, where the software decides what to prioritize information and how that data is going to flow to the endpoint — whether that's a decision maker or whether that's a weapon system."
The sea service is currently deploying the C2-related capabilities with Carrier Strike Group One (CSG-1) and its flagship, the USS Carl Vinson, to evaluate them.
At the Navy League's Sea-Air-Space conference this week, Gilday said the testing is "in full swing right now" with the carrier force off the coast of California, and the service is looking to "scale it" after the experiment.
DefenseScoop asked Gilday what the next steps will be for the rollout after the activities with the carrier wrap up.
"I want to wait and see what kind of success hopefully we'll see with Vinson. And that's going to inform how quickly and how broadly we scale or not. You know, if we still have work to do, then we're going to go back and do that work. Again, with all of these decisions, I've been very deliberate so that we don't get too far ahead of our skis and then make big investments and things that we really regret. So I don't have an answer for you yet, but I hope to talk about that more — we hope to talk about that more after Vinson is finished," he said.
Gilday declined to say which units he's eyeing as potential next candidates to deploy with the capabilities, nor would he discuss timelines for future rollouts.
"I won't talk about publicly where we're going next. We're learning from each iteration and making informed decisions based on that, based on what we've seen. So far with Vinson, we're on schedule, I will say that, and on track in terms of the objectives that we're seeking and where we want to go with it," he said.
Project Overmatch technology isn't only intended for U.S. Navy ships at sea. The Marine Corps and allies and partners are also "tied in now," Gilday noted. He told DefenseScoop that he "absolutely" would like for the Coast Guard to be tied in as well in the future.
The Coast Guard is part of the Department of Homeland Security, but it deploys its forces around the globe, including in support of the military.
The Navy's Unmanned Task Force at the Pentagon is also looking at how the service can leverage the technology to better integrate drones into the fleet.
"The Unmanned Task Force is working primarily in the classified space, on lethal capabilities, as well as command-and-control enhancements … that are going hand in glove with Overmatch. I just can't talk about it more specifically than that," Gilday told reporters at the conference.