Software will be 'most critical capability' in future fights against advanced foes: senior Army official
The Army is looking to bake in software from the beginning of programs, including a new network design where divisions — not brigades — are the main focus.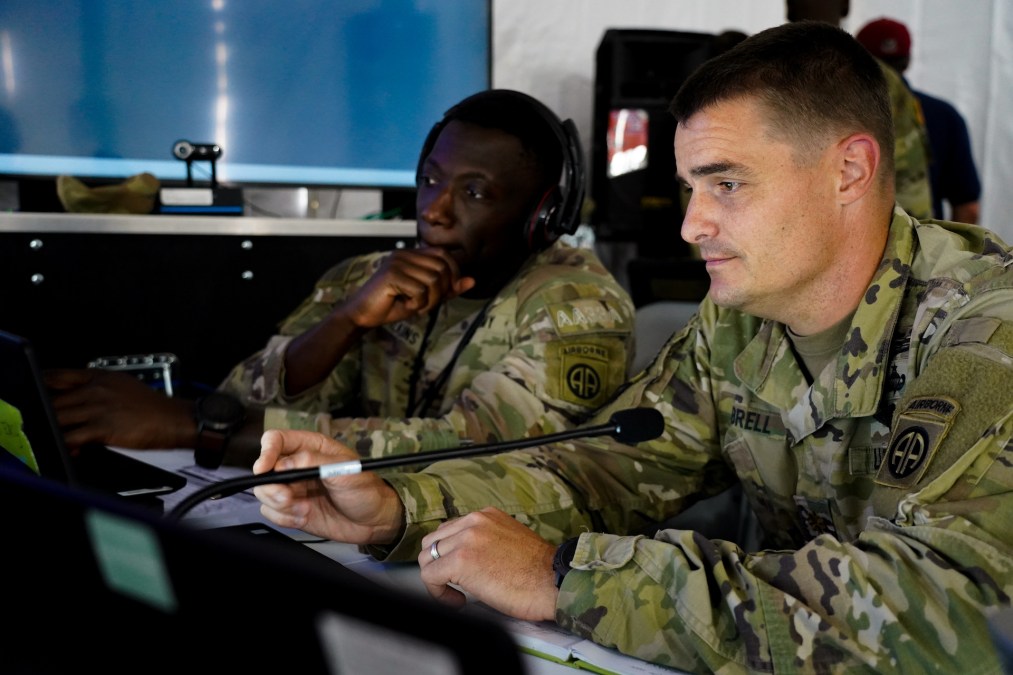 PHILADELPHIA, Pa. — The Army believes that true adoption of software — and the accompanying practices that come with it — will be essential to win a contested fight against a sophisticated enemy.
Software is "the most critical capability" and an "enhancer to the force when they're in a fight against a near-peer adversary, and we don't really 100% know what they have or what's going to come," Jennifer Swanson, deputy assistant secretary for data, engineering and software, told members of industry last week at the Army's technical exchange meeting in Philadelphia. "What we're trying to do is posture ourselves to be able to deliver those capabilities on-the-fly as needed, quickly."
In future conflicts, the Army won't have time to devise new requirements and fixes to technology problems under the old hardware- and platform-centric model of prior decades. Instead, it will need the ability to identify fixes and execute them in the fight in real-time.
"Requirements, test, material release — there's a lot of things that we have that are antiquated from how we used to do business or how the waterfall process works and impede us in terms of being able to do things in an agile fashion," Swanson said. "I'm very happy to say we have fixed almost all of it."
The Army is now looking at a more agile and software-based approach to designing the network architecture as it shifts from a brigade-focused design to a division-focused design.
As a whole, the service is shifting the way it fights and making the division the main unit of action as opposed to the brigade-centric approach of the post-9/11 counterinsurgency wars.
Since 2019, when the Army charted down a different path to modernize its network, it focused on so-called capability sets for its integrated tactical network that sought to incrementally add in new technology every two years building upon previous iterations.
That paradigm is now shifting somewhat as the division becomes the primary focus, which means scaling technology up to a higher echelon. As a result, the Army wants to harness the power of agile design where technology is updated in a more rapid fashion.
"We'll talk a little bit about this whole 'how do you do more agile as an enterprise?' Because there is a difference between the ability to do agile development and do agile delivery. The delivery gets a little bit bigger because it's an enterprise approach that has to come as all of our partners, all of our test community and everybody else that's involved. So, even though we might be able to develop very quickly, it's how quick can we field a capability? We're going to be starting to focus on that and the agile process with a division designs," Maj. Gen. Anthony Potts, program executive officer for Command, Control, Communications-Tactical, told conference attendees.
"We're really not talking about capability sets anymore. What we're really talking about [is] … the division coming to a [large-scale combat operations] environment to where we're getting back to the division as a unit of action. Well, that means architecturally we have to change the way that we think. Instead of doing these capability sets, what we're really focused on we call the division-as-a-unit-of-action network design," he added.
Potts explained the Army will begin to look at a model where once a baseline is defined, it will go through an agile process of turning out new iterations of software to get to a validation point.
Swanson said that the undersecretary and the vice chief of staff have approved a change across the Army so the service can enable what's known as continuous integration/continuous delivery.
"We're modifying our RFPs to ask for not just a solution from industry, but agility from the company. That's something that's going to be evaluated in RFPs because that is really what's going to make or break, in my mind, the next real war that we have with a near-peer adversary — are we going to be able to keep up or not?" she said. "That's all going to be through software, because we're not going to have time to go out there with field support and try to do things on the ground. It's going to be our ability to really deliver new capability for overmatch."
Going forward, software must be baked into systems from the beginning. As it currently stands, the Army and the other services use a variety of cross-domain solutions to connect systems that aren't compatible or to fix capabilities designed without the foresight of integration. But senior leaders have warned that this won't work in the future.
The service needs to move toward "algorithmic warfare," or a "software-centric … transport agnostic, command-and-control system that would let us generally leverage things like AI and machine learning, large language bots. Because until we do that pivot, we are going to be connecting existing things [and] figured out cross-domain solutions," Gen. James Rainey, commander of Army Futures Command, said at the conference. "We'll make it work as part of the fix, but those are all suboptimal solutions, as opposed to moving to a true software-first approach where everybody's hardware is designed or meets the standards required to be truly integrated in terms of data analytics."