Army working to reduce network complexity for brigades and lower level formations
As the Army is shifting to the division as the main unit of action and continuing to iteratively modernize its tactical network, it is seeking to alleviate the burden on brigades and move complexity to higher echelons.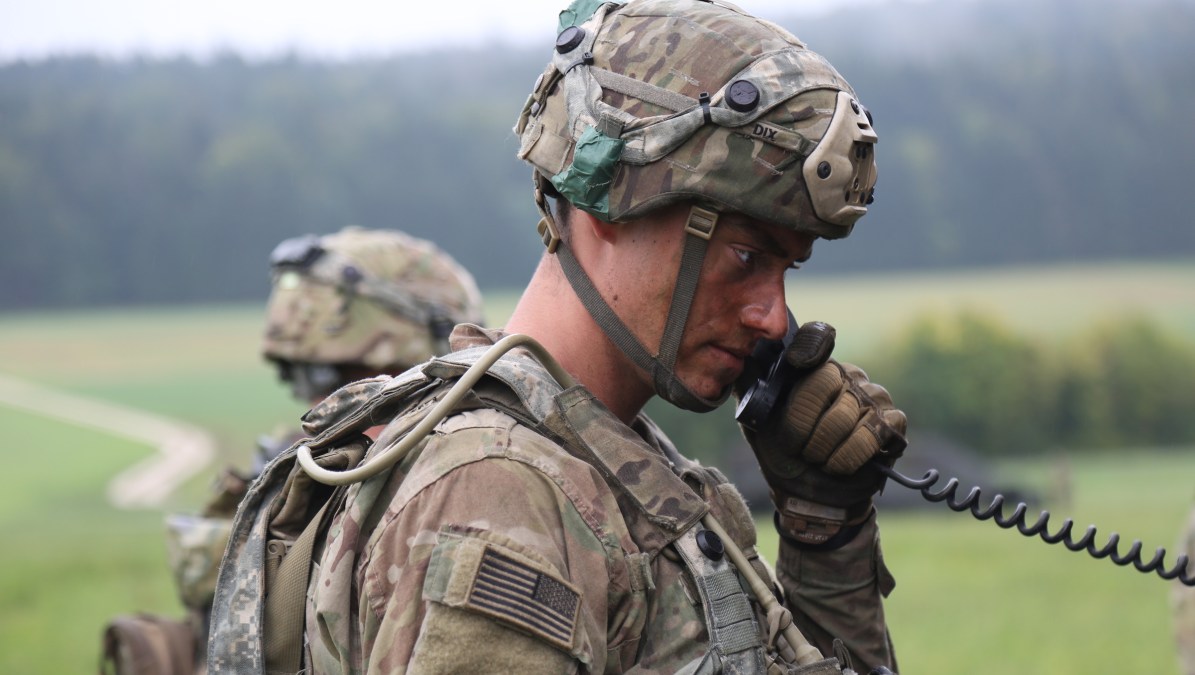 FORT CAMPBELL, Ky. — As the Army is readying to field its next iteration of modernized network gear, it is now beginning to reduce its complexity for smaller formations, moving it up to the division level and higher.
The Army has been on a years' long journey to modernize its tactical network with new gear making it easier for soldiers to establish communications and talk in a highly dynamic environment. In a future conflict against a peer adversary, officials say soldiers will have to move much faster across the battlefield than they did previously.
The Army has adopted a multiyear strategy involving the incremental development and delivery of new capabilities to its integrated tactical network, which involves a combination of program-of-record systems and commercial off-the-shelf tools. Those "capability sets" now provide technologies to units every two years — each building upon the previous delivery beginning with capability set 21 for 2021.
While the modernization efforts began about four years ago, in 2019, to provide a baseline level of capability, senior leaders have long been discussing that they need to get complexity out of brigade and below formations.
"As we shift towards the division as the unit of action, we're really focused on where does complexity need to be to conduct [Department of Defense Information Network] ops and quite frankly, as we move towards a data-centric Army to really do data engineering and all the components that go into making sure that data is available to the right commander at the right echelon, we're going to really take a hard look at where that complexity is today," Lt. Gen. John Morrison, the Army's deputy chief of staff, G6, told DefenseScoop in an October interview.
The 3rd Brigade, 101st Airborne Division is the first unit to be fielded capability set 23, and it conducted a validation of the kit at Fort Campbell, Kentucky, in March. The Army plans to field it to around four brigades this year.
Soldiers from 3/101 explained that some of the complexity issues stem from just never having the equipment before and taking time to learn it. The program office is working to provide better training materials. Officials from the program office noted that as more soldiers and units get their hands on the equipment across the Army, that will build proficiency, which takes a long time. Some soldiers who have bounced around to different units that have been exposed to integrated tactical network equipment have expressed some level of comfort with it, according to officials, and that proficiency is already being proliferated.
Simultaneous to the fielding of capability set 23, the Army is readying for a preliminary design review for its next iteration, capability set 25, which essentially locks in the technology for experimentation.
Capability set 25 will be designed for the division holistically and its enabling units for the first time versus the brigade, which will really tackle the issue of reducing the complexity at the brigade level and below while bringing it up to division and corps levels where they have the appropriate staff to manage it.
"Where the brigades were so independent and now they're not, in some cases, the brigades are doing the same things that the division is doing," Col. Shermoan Daiyaan, project manager for tactical radios at Program Executive Office Command, Control, Communications-Tactical, told reporters attending the validation event at Fort Campbell. "We all looked at each other and said, 'Ooh, let's pay attention to how do we simplify that, how do we make that easy.' And that's the things that we're focusing on division as a unit of action.'"
The Army will be providing capability set 23 gear that is brigade focused and then fit that capability into the capability set 25 design — working backwards from the division to other fighting formations, officials said, adding that they'll be examining and identifying the "choke points" of complexity.
In the meantime, the Army has been taking lessons learned from 3/101 — as well as prior deployments and experimentation — to begin to reduce some of the complexity at their level.
One of the critical ways it's doing this is by beginning to institutionalize a secure but unclassified (SBU) mentality, which is still underpinned by encrypted communications, but not to the highest levels that can sometimes bog down operations and information sharing with partner nations.
This concept was baked into the network architecture from the beginning and through capability set 21, and fielding to security force assistance brigades was validated as a viable notion.
Now, the Army is in discussions about the echelons where this capability should exist, an issue which ultimately boils down to policy. Much of the information at the tactical edge is perishable and doesn't need to be as protected as information at higher headquarters.
The SBU capability reduces the complexity at lower levels that comes with a classified network and will likely become even more prevalent as the Army moves to capability set 25.
In fact, one of the key lessons learned from exercises in February with 2nd Cavalry Regiment, which served as the experimentation unit for capability set 23, was that it allowed troops to move faster, reduced complexity and increased combat power by being able to share with partners.
"We just talked with a brigade commander who reaffirms another case for less complexity at echelon, SBU being more of the bulk of the battalion and below network," Daiyaan said. "From talking with the brigade commander [at 2nd Cavalry Regiment], the biggest thing I saw was the speed in which he could integrate with partners. Coming out of [NSA] type 1 encryption just allows them to integrate with partners so much faster because all the protections that are properly in place, but connecting with partners … they're able to do that faster and more seamlessly with the SBU architecture. It's not unprotected, but it does speed coalition interoperability."
Daiyaan noted that combat power, especially at the company and platoon levels, is increased with partner nations through this capability, calling it a game changer, because units don't have to exchange personnel to get around classification and sharing.
"Otherwise what they end up doing is you send me a guy and I send you a guy, and those are two trigger pullers that you don't have, or that's somebody not studying a map" or doing other important tasks, he said.
Through experimentation and deployments, the Army learned that from capability set 21 to 23, they could cut some of their radio requirements almost in half, again, reducing complexity.
Previously, team leaders received a two-channel radio that was NSA type 1 encrypted. However, the feedback they received indicated only the squad leader and above needed those radios and junior leaders received single-channel radios, which ties into the SBU capability. This vastly reduces the number of radios, officials noted.
Changing policy and doctrine
As the Army is transitioning to multi-domain operations and the division as the main unit of action — vice the brigade — moving complexity to higher headquarters presents not just technical concerns, but policy and doctrine as well, especially as the kit allows units to do things faster and differently than before.
Officials have explained that preliminary design review for capability set 25 will look a bit different compared to previous capability sets for a couple of reasons. First, capability set 25 is the first designed for the division holistically and its enabling units as opposed to the brigade, which the prior two were designed for.
Second, the Army is beginning to grapple with doctrinal questions associated with modernized capability. The Army is adopting new technology to enable units to maneuver faster, move data quicker and travel with less equipment, all of which will alter aspects of how units conduct operations from a doctrinal perspective.
Removing complexity comes with key doctrinal questions. For example, the Army is still determining at what levels to institutionalize SBU capability, though officials have suggested it'll likely be battalion and below.
Additionally, officials described challenges managing and simplifying data at certain echelons.
"My challenge is managing the polarity between protecting data and sharing data," Col. Matthew Paul, project manager for mission command at PEO C3T, said. "There's a community that's going to want to share everything because it's easy and it's simple, but then there's another camp that says, 'Well, wait a minute, there's the data in there that you got to protect.' By protecting that data, that adds complexity."
Enabling a unit, such as battalion, to fight largely in an unclassified manner has implications across warfighting functions, he said, and there are tradeoffs that need to be considered.
"It's more than just the materiel, more than just the stuff that we provide. It's the doctrine, the organizational structures that need to be optimized. It's the tactics, techniques and procedures," he explained. "All of that needs to be brought into the conversation in order for us to deliver a better capability."
Officials noted that much of the discussion around capability set 25 is actually policy focused, not necessarily technology focused.
"The focus right now is on looking at different courses of action to reduce that complexity … at the brigade and below levels," Matt Maier, project manager for interoperability, integration and services at PEO C3T, said regarding the preliminary design review process.
For example, if policy is changed to allow mission partner data to be exchanged on an SBU encrypted enclave, that could reduce complexity given fewer domains. Or, if fires missions could be conducted at different classifications other than secret, that adds complexity to the network.
"There's probably some decisions needed for the senior leaders in the Army to decide, 'OK, if you want the network to be easier or simpler to use or easier to deploy, then maybe we could change these policies to make that happen,'" Maier said.