With RFP on the way, Marines are eyeing a variety of 'non-kinetic' counter-drone weapons
A request for proposals for MADIS Increment 1, Block 2 is tentatively scheduled to be released in late fourth quarter fiscal 2023 or early first quarter fiscal 2024.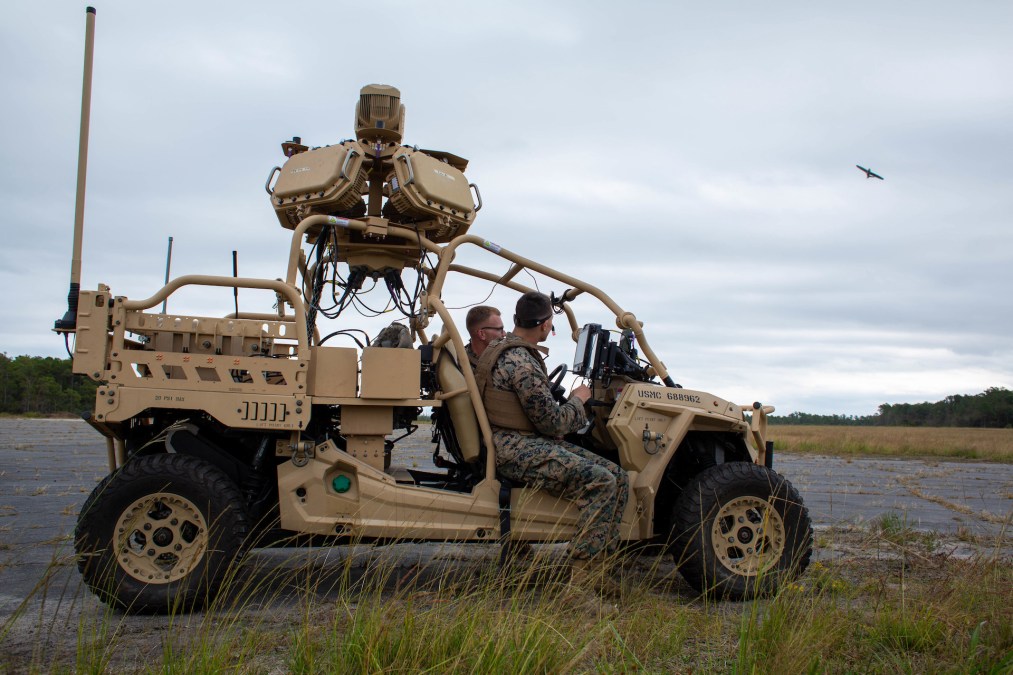 The Marine Corps is preparing to release a request for proposals for the next iteration of its Marine Air Defense Integrated System (MADIS) with the hopes of acquiring new "non-kinetic" weapons that can take out enemy unmanned aerial systems and other threats.
The push for more air-defense capabilities comes as the Marines are worried about the threat posed by small UAS including kamikaze drones, also known as loitering munitions.
"The defense against drones and swarming drones … it's clearly a challenge right now," outgoing Commandant Gen. David Berger said recently at the Modern Day Marine Conference. "Most of our air-defense systems traditionally are against missiles and aircraft, not against low-flying slow drones, which are really cheap to manufacture, and then you can change the payload out … you can put munitions on there for next to nothing. What are we doing about it? There are both kinetic solutions, which are not going to be the end-all-be-all, and non-kinetic solutions for how you engage a UAS and take it out of action."
In U.S. military parlance, the "kinetic" descriptor typically refers to projectiles and missiles, while "non-kinetic" weapons include directed energy, electronic attack, or cyber tools.
A request for proposals for MADIS Increment 1, Block 2 is tentatively scheduled to be released in late fourth quarter fiscal 2023 or early first quarter fiscal 2024, a spokesperson for the program executive office for land systems told DefenseScoop on Monday. Fiscal 2023 ends Sept. 30.
The MADIS family of systems will provide Marine littoral regiments, Marine expeditionary units and other deployable Marine Air Ground Task Force elements with "an organic, mobile, 360-degree expeditionary, upgradable, and state of the art fully integrated Short Range Air Defense (SHORAD) capability" to defend against small drones, fixed-wing and rotary-wing aircraft while maintaining pace with maneuver forces, according to Defense Department budget documents.
Increment 1 — which includes an AN/MSY-2(v)1, Mk1 vehicle and an AN/MSY-2(v)2, Mk2 vehicle — is intended to modernize the Corps' ground-based air-defense capability by mounting a combination of older and newly developed weapons onto the service's joint light tactical vehicle.
The Mk1 includes a turret-launched Stinger missile, multi-functional electronic warfare capability, direct fire weapon, electro-optical/infrared optic, and a shoulder-fired Stinger missile for dismounted operations. The Mk2 counter-drone platform includes a multi-function EW capability, 360-degree radar, direct fire weapon, EO/IR optic, and supporting command-and-control communications suite, according to a service description.
The Marines are moving into low-rate initial production for MADIS Increment 1, Block 1 following a recent Milestone C decision last month, while also gearing up for Block 2.
The next block will focus on "kinetic and non-kinetic" capabilities that provide "increased lethality," according to budget documents.
"MADIS Block 1 is kind of the current fighting pair with all the systems they have. But one area we need to do more for Block 2 is have a non-kinetic effector against class 1 and 2 UAS and … a threshold objective would be class 3 as well, if somebody can bring us that," PEO Stephen Bowdren told DefenseScoop on the sidelines of the Modern Day Marine conference.
DefenseScoop asked Bowdren if Corps is interested in directed energy weapons such as lasers or high-powered microwaves for MADIS Increment 1, Block 2.
"I want to say all the above," he replied.
With regard to electronic warfare tools, Bowdren said the service is interested in "anything in the RF spectrum."
"We're just asking industry to bring us all the" options, he told DefenseScoop. "I've seen a lot of the technologies you mentioned — lasers, interrupters if you will."
The service has requested $175 million for MADIS Increment 1 in fiscal 2024, and it's planning to spend a total of more than $2 billion on ground-based air defense procurement across the future years defense program.
Bowdren noted that the Light Marine Air Defense Integrated System (L-MADIS) program is also moving forward. The Corps requested $33 million for the program in fiscal 2024.
That system — which is designed to have non-kinetic counter-drone capabilities and will be integrated onto ultra-light tactical vehicles — was initially fielded in limited quantities under rapid acquisition authorities, but a program of record is expected to bring many more into the inventory.
"We're building on those successful capability demonstrations and the successful deployment to the fleet. We're entering the engineering and manufacturing development phase on that. Test vehicles are being integrated … and testing will begin later this year," he said during a panel at the conference, noting that the Corps anticipates a milestone decision within the next year.