Gen. Brown vows to keep foot on the gas for Pentagon modernization efforts as head of Joint Chiefs
"The challenge here is having all of our service members understand the big picture, and why this is so important, why we need to modernize and what's at stake," Gen. Charles "CQ" Brown said during his confirmation hearing.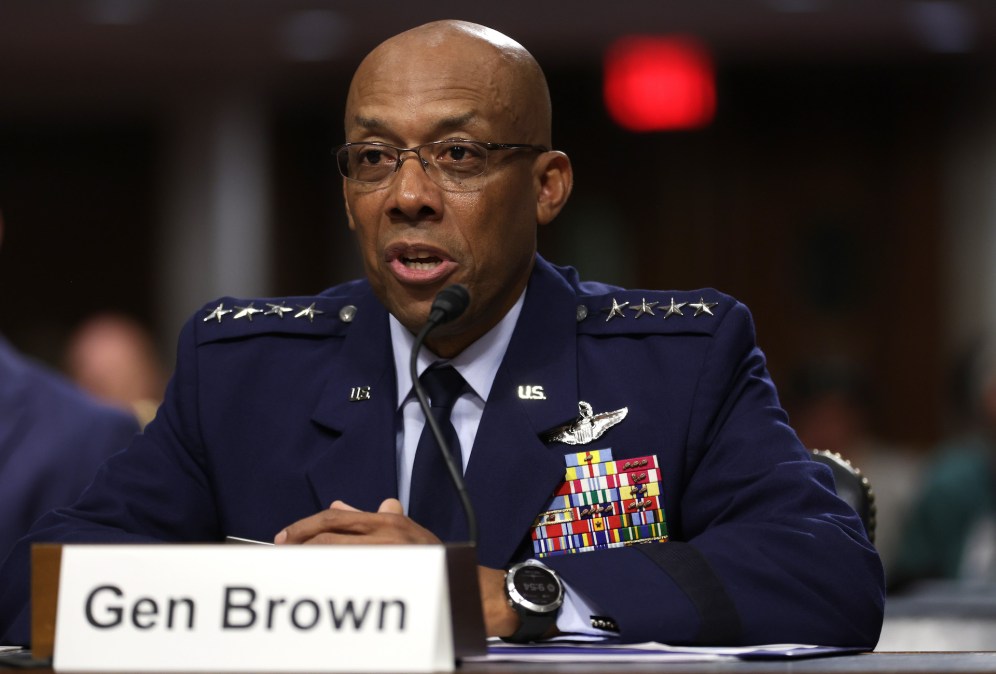 After years of advocating for modernization efforts within the Air Force, the service's current Chief of Staff Gen. Charles "CQ" Brown told lawmakers that he hopes to bring that same ethos to the entire joint force if confirmed as the next chairman of the Joint Chiefs of Staff.
But there will be challenges in convincing everyone in the Department of Defense to see beyond their own immediate needs, Brown said.
"The challenge here is having all of our service members understand the big picture, and why this is so important, why we need to modernize and what's at stake," Brown said during his confirmation hearing in front of the Senate Armed Services Committee on Tuesday. "From that perspective then, you step away from your own parochial interests, and then we do what's best not just for your part of the organization, but what's best for the entire organization."
In his three years as the Air Force's top officer, Brown has been a staunch advocate for the service's modernization programs. In his "Accelerate Change or Lose" manifesto, he emphasized the importance of advancing the Air Force's technological capabilities in order to deter U.S. adversaries.
While he acknowledged that some modernization efforts during his tenure have made more progress than others, Brown pledged to bring his aggressive mindset on modernization with him as chairman, if confirmed.
"We've got to be able to do that a bit more across the force, and put what's best out front for the force to ensure we're doing the right things to protect the nation and our national interests," Brown said.
In the past, Brown has been focused on fleshing out a number of Air Force modernization initiatives. He has prioritized investments in the Advanced Battle Management System (ABMS) — which serves as the service's contribution to the Pentagon-wide effort known as Joint All-Domain Command and Control (JADC2) — as well as capabilities that would turn the Air Force into a more data-centric service.
In written responses to advance policy questions from senators, Brown also pointed to a number of key modernization initiatives that are needed to stay ahead of U.S. adversaries.
In addition to enhancing interoperability between U.S. military branches and allies and partners, Brown wrote that the Defense Department "should focus investments on advanced technologies, such as cyber defense, space-based assets, and unmanned systems, that can help maintain a competitive edge."
He committed to continuing the department's efforts to defend against adversary hypersonic weapons, which are especially difficult to detect and defeat due to the high speeds they fly at and their ability to maneuver mid-flight. That includes the Space Development Agency's upcoming constellation of missile warning and missile tracking satellites, according to his written responses.
"Active U.S. missile defense will require advanced technologies to provide greater efficiencies for U.S. active missile defense capabilities, to include space-based sensors and boost-phase defense capabilities," Brown wrote. "The exploitation of space provides a missile defense posture that is more effective, resilient, and adaptable."
There are other modernization efforts at the Pentagon experiencing shortfalls, Brown said in some of his written responses. For example, he noted that the joint force's integration of electronic warfare into operations is a "work in progress."
On a broader note, Brown acknowledged difficulties in internally developing innovative technologies at the DOD, as well as acquiring them from the commercial sector. He wrote that one of the challenges in this area is the inability to bridge the so-called "valley of death" in acquisitions where promising technologies fail to transition from research and development into production and fielding.
When asked about the Pentagon's acquisition of new tech during the confirmation hearing, Brown said there is much to improve upon.
"We have great innovation here within our nation, and we want to make sure that we're putting that into the hands of our warfighters as quickly as possible," he told lawmakers. "I also believe there's an iterative process to this. … There are so many things that are software-based today, and if we knock down any barriers to be able to move faster, I'm all for it."
But like with accelerating change across the joint force, removing acquisition roadblocks that stifle innovation with commercial industry will also require a mindset shift, he said.
"It's not a flip of a switch, it's a culture change that takes a bit of time to get it bought into the force and start to move," he added.
Brown was mostly met with accolades from both Republican and Democratic senators during his confirmation hearing. If confirmed, he would succeed Gen. Mark Milley as the top officer in the U.S. armed forces.
However, his path to becoming the next chairman of the Joint Chiefs of Staff currently faces a roadblock due to Alabama Republican Sen. Tommy Tuberville's blanket hold on senior military confirmations.
The senator's protest of the Defense Department's abortion policies has put a halt to the Pentagon's senior leader appointments — a move that has since left the Marine Corps without a confirmed commandant in the wake of Gen. David Berger's retirement earlier this week.
When asked about the holds during his confirmation hearing, Brown said the blocks to military appointments will eventually have a trickle-down effect and create issues that may exacerbate the Pentagon's current retention challenges.
"Because we have more junior officers who now will look up and say, 'If that's the challenge that I'm gonna have to deal with in the future, I may not want to [stay in the armed forces]. I'm going to balance between my family and serving in a senior position.' And we will lose talent because of those challenges," Brown said.