DOD tests airborne microwave weapon's ability to defeat kamikaze drones
Lockheed Martin's MORFIUS system can fly close to small drones and attack them with high-powered microwave pulses.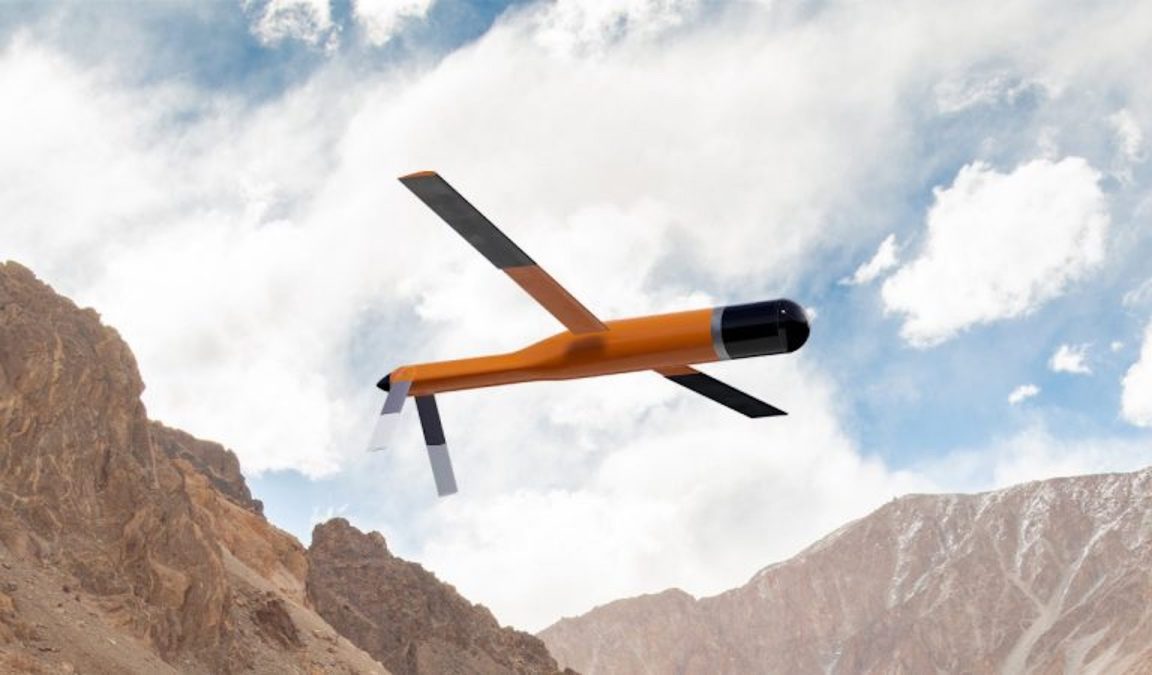 A high-powered microwave weapon developed by Lockheed Martin was recently put through its paces at Yuma Proving Ground to evaluate its ability to defeat kamikaze drones, the Defense Department's Joint Counter-small UAS Office (JCO) announced Thursday.
Lockheed's Mobile Radio Frequency-Integrated UAS Suppressor (MORFIUS) — a tube-launched, fixed-wing unmanned aerial system — can fly close to small drones and attack them with high-powered microwave pulses, Col. Michael Parent, chief of the JCO's acquisition and resources division, said during a teleconference with reporters.
The evaluation at Yuma — the latest in a series of Defense Department-hosted tech demos focused on countering small unmanned aerial systems to inform investment decisions by the services and other DOD components — was focused on solutions that could defeat Group 3 "one-way attack" UAS at a "slant range" of 4 kilometers or greater, according to the JCO.
The Pentagon categorizes drones into Groups 1-5, based on their size and other characteristics, with Groups 1-3 being on the smaller end of the spectrum.
The test of Lockheed's drone-carried high-powered microwave (HPM) weapon was part of a broader counter-UAS demonstration in Arizona that ran from May 30-June 23. So-called "kinetic" systems from other vendors also participated, including the Lightweight Multi-role Missile (LMM) and the Advanced Precision Kill Weapons System (APKWS).
The LMM brought by Thales is a tripod-fired, laser-guided missile designed to shoot down drones with an explosive warhead triggered by a proximity fuze. Invariant, MSI Defense and SAIC each brought different system configurations to fire the APKWS — a 70 mm Hydra rocket fitted with a laser guidance kit and a proximity fuze, according to officials.
Notably, Michael DiGennaro, the JCO team lead for testing, said the capabilities weren't tested against drone swarms during the latest demonstrations.
"They were single-aircraft scenarios — one at a lower altitude, one at a slightly higher altitude. We had done multiples in past demos. But the focus of this demo was not to get after that particular problem set, so we limited what we did to single-ship operations this time," he told DefenseScoop during the call with reporters.
JCO officials declined to provide details about how any of the counter-drone systems performed during the demo.
"For high-powered microwave, the challenge really is to do that distance, right. You have to close the … distance between the attacking target and also launching that system," Parent said.
More development and testing of these capabilities are needed, according to Parent.
"What I meant by saying it needs more development and testing is as far as [the demo that just occurred] in one-way attack, it's a very challenging environment. Remember, one-way attack we're talking about Group 3 [drones], we are talking about beyond 4 kilometers away — in some cases beyond that. So we are talking about larger targets and we are talking about them at a greater distance than Groups 1 and 2, which has been tested before … It's really a challenge, not just for HPM but it's a challenge for all contenders against that threat scenario," he said.
"MORFIUS has defeated Group 1 and 2 at Yuma Proving Grounds" during previous demos, a Lockheed Martin spokesperson said in a statement to DefenseScoop. "At this time, we are waiting for the Joint Counter UAS Office Demo 4 Report to come out before commenting further on Group 3."
The tech demonstration came as the U.S. military is worried about the threat posed by adversaries' kamikaze drones — also known as loitering munitions, suicide drones and "one-way" attack drones, because the unmanned aerial vehicles are designed to crash into their targets and destroy themselves in the process. Russia has launched kamikaze drone assaults against Ukrainian forces and infrastructure. And U.S. troops in Syria have come under attack by these types of weapons.
Relatively small, slow, low-flying drones can be challenging for traditional air-and-missile defense systems to detect and defeat.
At his confirmation hearing on Wednesday to be the Army's next chief of staff, Gen. Randy George noted that the DOD is learning lessons from what's happening in Ukraine as it tries to beef up its integrated air-and-missile defense capabilities.
"It gets to the counter-UAS piece that I brought up before — that you are going to have to have systems that are able to knock [them] down. And first you got to see all of that, but then you got to be able to knock down small, you know, class 1, 2, [and] 3 unmanned systems all the way up to cruise missiles. And I think that that's a real challenge that we're learning over there," he told members of the Senate Armed Services Committee.
"Counter-UAS, it's a different threat" than planes and traditional missiles, he added. "The Army is now the executive agent for that [in the DOD] and investing more in that. And I think that … we're going to have to rapidly evolve."
The JCO is slated to host another counter-drone tech demo in June 2024, and it plans to request white papers from industry in the coming months, most likely in the October time frame, according to officials.