Pentagon CIO confronts interoperability challenges with Indo-Pacific Command 
During his trip, DOD CIO John Sherman hosted meetings with delegations from Japan and the Republic of Korea at the DISA-Pacific headquarters, among other engagements.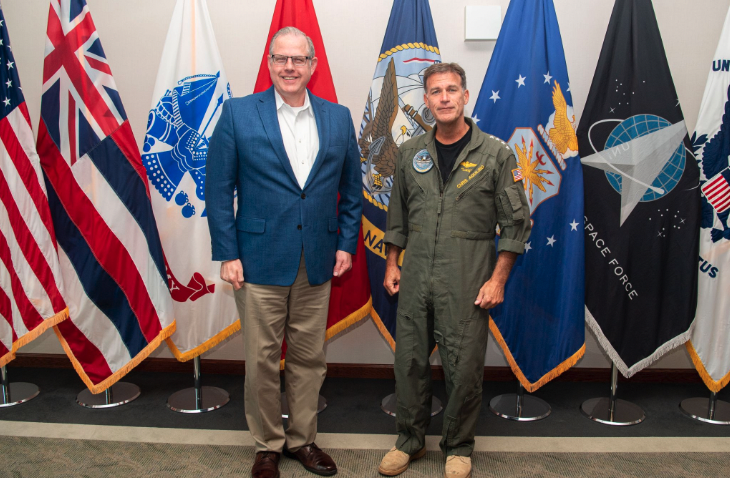 Pentagon Chief Information Officer John Sherman hosted international delegations and visited U.S. military installations during a trip to Hawaii earlier this month, which he led to "align efforts" and help Indo-Pacific Command resolve modern challenges associated with cyber, command, control and communication capabilities, a spokesperson said Monday.
The Indo-Pacific region is now a priority theater for the Department of Defense. The United States currently regards China as a top military threat, and DOD and intelligence community leaders are preparing for the People's Liberation Army to possibly attempt to annex Taiwan in the coming years.
Against that uncertain backdrop, Sherman's tours in that area — which included visits to U.S. Indo-Pacific Command headquarters, Naval Computer and Telecommunications Area Master Station Pacific and the Marine Corps installation Camp Smith — also occurred around the same time that the first U.S. nuclear-armed submarine made port in South Korea in four decades — and as Deputy Defense Secretary Kathleen Hicks traveled to Hawaii for briefings at Indo-Pacom and multiple other military headquarters.
"The CIO solicited the INDOPACOM Commander's perspective and objectives for the Indo-Pacific and identified priority issues. The CIO's visit complements that of the [deputy secretary of defense], as the region continues to present a challenge for U.S. security interests," Pentagon spokesperson Lt. Cmdr. Tim Gorman told DefenseScoop in an email on Monday.
In addition to meeting with Adm. John Aquilino, commander of Indo-Pacom, Sherman hosted engagements with Defense Information Systems Agency (DISA) Director Lt. Gen. Robert Skinner, U.S. Pacific Fleet Maritime Information Warfare Executive Director Bob Stephenson, U.S. Forces Japan Commander, Lt. Gen. Ricky Rupp, Commander of U.S. Fleet Cyber Command / U.S. Tenth Fleet Vice Adm. Craig "Clap" Clapperton and other officials.
Sherman and Skinner "held an All Hands meeting with the DISA-Pacific workforce to thank them for their critical role in maintaining and modernizing digital systems and networks in the INDOPACOM area of operations," Gorman said.
Gorman also confirmed that Sherman hosted meetings with delegations from Japan and the Republic of Korea at the DISA-Pacific headquarters.
Takaki Kawashima, director general for information and communications division and bureau of defense buildup planning, led a delegation from the Japanese Ministry of Defense. Kang Wan-Goo, deputy minister for planning and coordination, led a group from the ROK Ministry of National Defense.
"The groups shared information and discussed cybersecurity, interoperability, mission partner environment, and other areas of mutual interest," Gorman said.
Sherman's visit to the region came as the U.S. military is trying to become a more digitally driven force and pursuing capabilities to support Joint All-Domain Command and Control across the services and with international allies and partners. The Pentagon is also concerned that its communication systems and infrastructure around the globe could be attacked with cyber, electronic warfare or other adversary tools.
"The DOD CIO and USINDOPACOM did touch on the challenges around data and digital capabilities deployed, specifically focusing on the interoperability with partner nations. Additionally, computing at the edge was highlighted and how the CIO/INDOPACOM envisions operating in a disrupted, disconnected, intermittent and low-bandwidth (DDIL) environment," Gorman noted.
Sherman "was also interested to see that the command is looking into new ways to use technology to protect our nation's network infrastructure," Gorman said — although he did not expand on specific capabilities or platforms.
"Moving forward, DOD CIO and USINDOPACOM will work closer together in coordination efforts that impact one another and allow for better synchronization when working with partner nations in the region, so technical policy issues can be appropriately addressed," Gorman added.