Senators aim to set a mandatory timeline and process for agencies to declassify all UAP records
If passed, the bill would mandate the National Archives and Records Administration to generate an official "UAP Records Collection."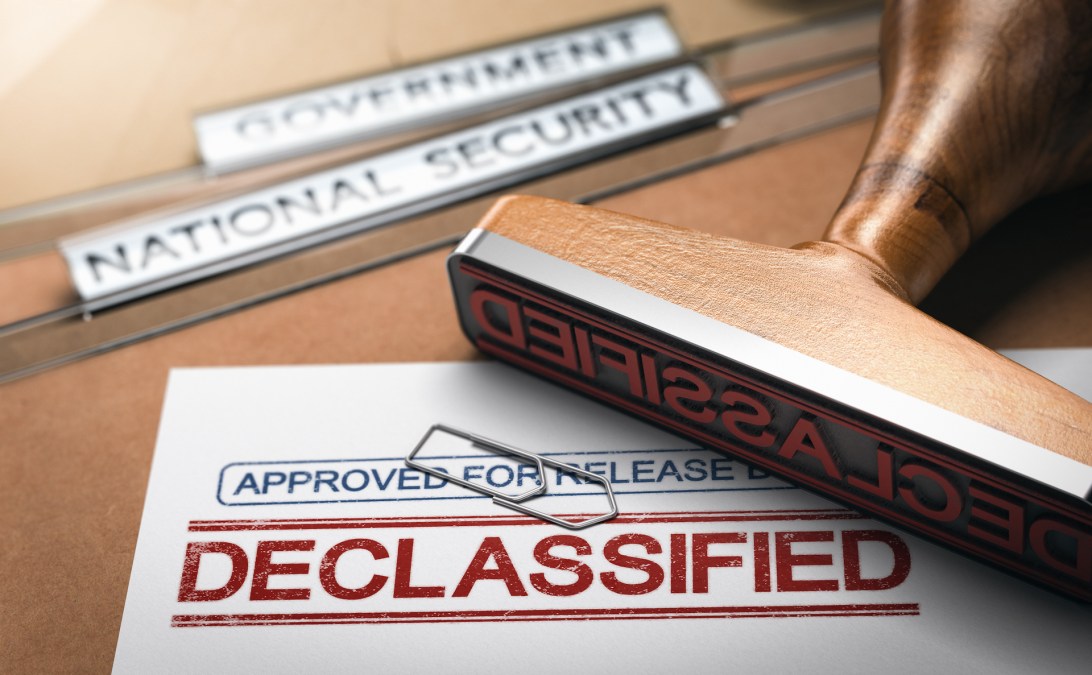 In an expansive, 64-page amendment to the fiscal 2024 National Defense Authorization Act, a bipartisan crew of senators are proposing a comprehensive plan to accelerate the disclosure of all U.S. government records associated with reports of unidentified anomalous phenomena (UAP) and potential lifeforms that demonstrate "non-human intelligence."
The UAP Disclosure Act of 2023 would codify 22 highly technical definitions for those and other terms associated with what was until recently referred to as UFOs. It goes much deeper than most prior bills have in terms of driving transparency on the historically controversial topic. Additionally, it seeks to provide $20 million in fiscal 2024 to establish an official, federal UAP Records Collection.
Backed by Senate Majority Leader Chuck Schumer, D-N.Y., Sens. Mike Rounds, R-S.D., Kristen Gillibrand, D-N.Y., Marco Rubio, R-Fla., and others, the amendment would mandate every government office to identify all copies of government-made, government-provided, or government-funded records relating to UAP, technologies of unknown origin, and non-human intelligence throughout their agencies' history. For the Department of Defense, such records could date back to the days when its enterprise was known as the Department of War.
If passed, the bill would mandate the National Archives and Records Administration to generate an entirely new "UAP Records Collection" and index of what's compiled from federal agencies and can be disclosed without putting any person at risk or exposing any platform in a way that could undermine national security. Among other notable inclusions, the amendment would form a new independent agency — the UAP Records Review Board — that would be responsible for determining if records should qualify for the postponement of disclosure.
"The Federal Government shall exercise eminent domain over any and all recovered technologies of unknown origin and biological evidence of non-human intelligence that may be controlled by private persons or entities in the interests of the public good," the bill language also states.
In recent years, the public and Congress have placed intensifying pressure on government agencies to provide explanations regarding multiple videos depicting U.S. military pilots' interactions with perplexing objects, and other UAP detected by sensors and human observers across different domains.
But over the last few months, lawmakers in both chambers and across the aisle have made a series of deliberate moves to enable even deeper transparency around what the government knows about UAP.
On Wednesday, members of the House Oversight Committee will hold a highly anticiptated hearing where a former Navy pilot who observed a UAP, a former commanding officer of the Navy's Black Aces Squadron, and a former intelligence official-turned-whistleblower accusing the DOD of withholding facts about the retrieval of spacecraft of nonhuman origin, are scheduled to testify.
Spokespersons for the senators introducing the UAP Disclosure Act of 2023 acknowledged but did not answer DefenseScoop's questions regarding why the lawmakers are putting forth this nuanced legislation so late in the NDAA drafting process, or the closed-door briefings influencing the events.
Rubio's spokesperson responded with the following statement from the senator: "There is a lot we still don't know about these UAPs and that is a big problem. We've taken some important steps over the last few years to increase transparency and reduce stigmas, but more needs to be done. This is yet another step in that direction, and one that I hope will spur further cooperation from the executive branch."
Still, if the amendment passes, this could mark the beginning of a stretch of new and historic hearings on the topic — as it would empower a new review board to "hold hearings, administer oaths, and subpoena witnesses and documents" about reports of UAP.
Sociologists, economists, historians, engineers and other Senate-confirmed experts would serve on the board through Sept. 30, 2030, unless extended by Congress, according to the bill. The cadre would pave the way for a future where all government UAP records "shall be publicly disclosed in full, and available in the Collection, not later than the date that is 25 years after the date of" its initial creation — unless the president certifies otherwise.
Notably, the amendment's language is modeled on the President John F. Kennedy Assassination Records Collection Act of 1992, which mandated all documents regarding the Kennedy Assassination be made public no later than 25 years later after enactment. However, presidents in some cases have used their authority to block disclosures on national security grounds.