Army tests tool for detecting bots on social media
DataRobot was tested at Fort Eisenhower during the annual Cyber Quest event.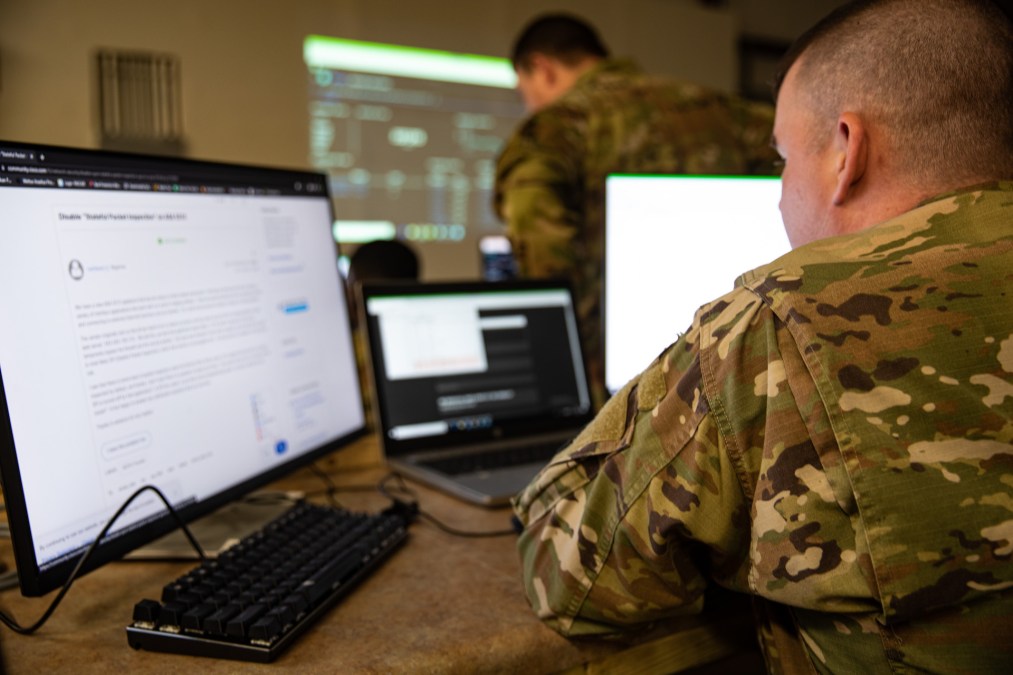 The Army recently tested an artificial intelligence tool aimed at allowing commanders to better understand the social media environment so they can have greater knowledge and awareness of their battlespace to make more informed decisions.
The technology was part of the annual Cyber Quest event held earlier this month at Fort Eisenhower, Georgia (previously known as Fort Gordon). Cyber Quest is an experimentation venue where the Army seeks to test emerging technologies on either existing or desired capabilities brought by contractors to help inform future requirements and concepts.
The tool, called DataRobot, is an AI framework that examines open-source social media data for bot detection as well as discovering deep fake algorithms to determine if social media activity being posted within a commander's area of responsibility is artificially generated.
Such a capability is critical for the Army, which is set to officially enshrine what it terms information advantage into doctrine in the coming months. Within that emerging doctrine, which commanders have already been executing for the last three years, are five pillars of information advantage. Some of those pillars — informing and educating domestic audiences and informing and influencing international audiences — are particularly relevant for commanders as they seek to achieve their goals within the information environment and by other means.
Officials in the past have explained that the Army must consider the target audiences for information operations — and thus understanding those audiences and what might be coming from social media is important.
Officials noted that DataRobot was also tested at Pacific Sentry in Hawaii earlier this summer for bot detection. This is a type of tool that soldiers in the Indo-Pacific theater are specifically looking for, they said.
"One of the problems that we had in our information advantage or dominance space, we're trying to create an overlay so the commander can see that space and make decisions, sort of like a [common operating picture]. Right now we don't have that capability," Col. Brett Riddle director of the Cyber Battle Lab, told reporters during a briefing on Cyber Quest on July 28. "We asked DataRobot … 'Can you create that overlay for us using information from open source and can we use some military systems to help take that open source information and provide it onto a [Command Post Computing Environment] devise or system?' We were able to successfully provide that overlay."
The Command Post Computing Environment is a web-enabled system that will consolidate current mission systems and programs into a single user interface at command posts to provide a common operating picture.
Despite some expected technical issues, officials said DataRobot was promising at Cyber Quest in terms of demonstrating that visual overlays can be done in this space.
The tool needs a significant lead time to train, but it proved effective once it was ready, officials noted.
"They needed about 90-days worth of data from a particular operating environment in order to train the existing AI algorithms sufficiently based off of social media feeds that were relevant to that very narrowly focused area. Social media in the Indo-Pacific doesn't look like social media in the United States," Maj. Gen. Paul Stanton, commander of the Cyber Center of Excellence, told reporters. "But then once trained over the 90-day period, it was effective at determining tweets that emanated from bots."