US, Japan working to negotiate and finalize new deal to develop hypersonic missile interceptor
The Defense Department has formally agreed to team up with Japan's Ministry of Defense on a Glide Phase Interceptor cooperative development program.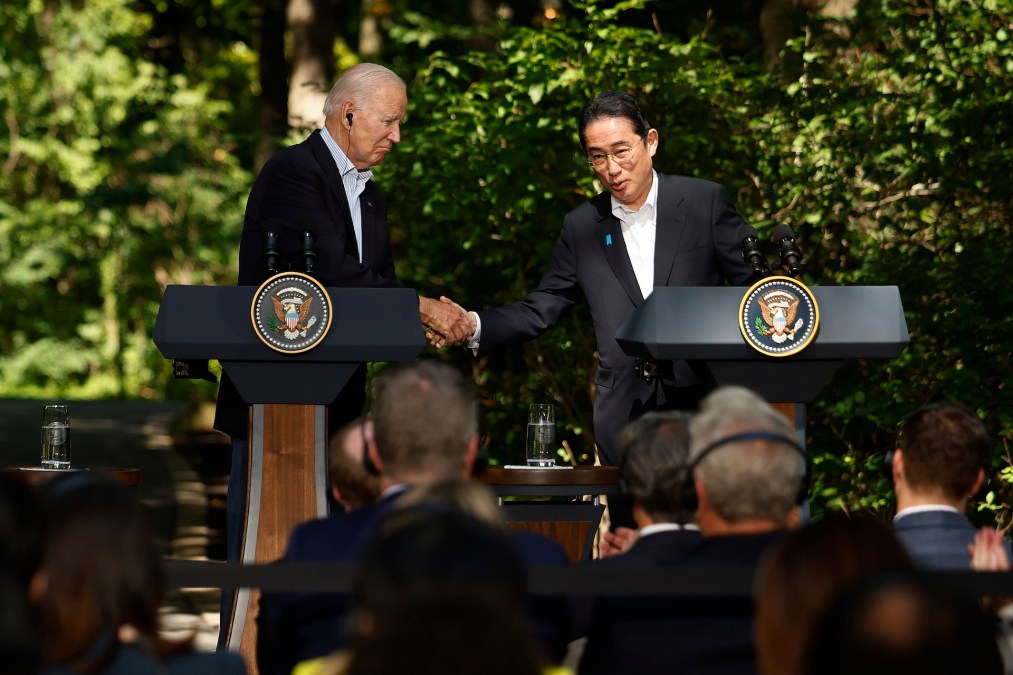 The Defense Department has agreed to team up with Japan's Ministry of Defense to jointly produce a new weapon that can counter advanced, emerging hypersonic threats in the Indo-Pacific region.
However, details regarding how the two militaries will co-finance and co-develop these next-generation missile-fighting capabilities remain sparse because they are still being hashed out by government leadership, a Pentagon spokesperson told DefenseScoop on Monday.
Via the new Glide Phase Interceptor (GPI) cooperative development program, the longstanding allies seek to generate sophisticated capabilities that could essentially destroy hypersonic missiles in their "glide phase" of flight.
Hypersonic weapons are designed to fly faster than Mach 5, be highly maneuverable and overwhelm traditional air defense systems. U.S. adversaries such as China and Russia are developing these types of systems, raising concerns in both Washington and Tokyo.
The decision to formally initiate this new joint counter-hypersonics project was unveiled by the Pentagon on Friday — and briefly spotlighted in the White House's readout of President Biden's meeting with Japanese Prime Minister Kishida Fumio at Camp David that same day, amid a trilateral summit the administration convened with the governments of Japan and South Korea.
"Post-Camp David, Japan and the U.S. are working to negotiate and finalize a formal project arrangement sometime next year. Specific details on funding arrangements, timing, etc. have not yet been determined," the Pentagon spokesperson wrote in an emailed response to multiple questions from DefenseScoop about the new program.
In April, the DOD announced that it had extended ongoing contracts with Raytheon Missiles and Defense and Northrop Grumman Corp. to separately refine their Glide Phase Intercept concepts for the department's Missile Defense Agency.
The Pentagon spokesperson did not address how the new U.S.-Japan cooperative development program will connect with those ongoing efforts, but noted that "the GPI co-development will build upon long-standing U.S.-Japan missile defense cooperation and strengthen the alliance deterrence posture."
The two nations have previously partnered up to share and prove out missile defense data and technologies in recent years. Notably, they co-developed the SM-3 Block IIA ballistic missile interceptor, which can be launched from Aegis-equipped ships or Aegis Ashore sites.