Top JADC2 official retires; no permanent replacement named
Lt. Gen. Mary O'Brien, who was leading the Pentagon's JADC2 efforts, has retired from the military and there's no Senate-confirmed successor in place.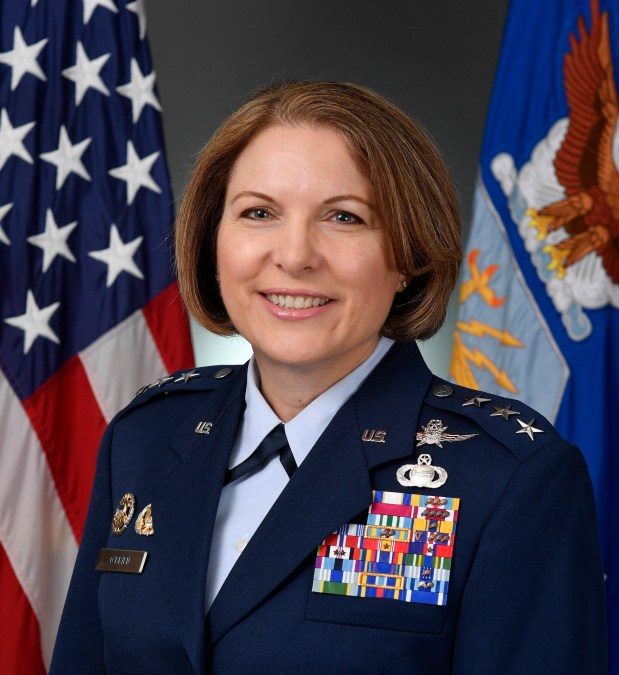 The top official in charge of overseeing the Pentagon's movement toward a new way of warfare has retired, a spokesperson confirmed to DefenseScoop.
Lt. Gen. Mary O'Brien was the Joint Staff director of command, control, communications and computer (C4)/cyber and chief information officer, prior to leaving the military earlier this month. In that role, she was a key player in the Department of Defense's Joint All-Domain Command and Control (JADC2) initiative, one of its top modernization priorities.
JADC2 envisions how systems across the entire battlespace from all services and key international partners could be more effectively and holistically networked and connected to provide the right data to commanders for better and faster decision-making. The effort is not a program in and of itself, but rather a means for architecting systems to ultimately improve how the military fights.
O'Brien, who stepped into her role on the Joint Staff in August 2022, announced in May that the Department of Defense was shifting its nomenclature for the effort to more encompass partner nations given the U.S. military will be expected to fight as part of a coalition.
"JADC2 — we recently put 'combined' on the front of it, so you'll hear a [lot of references to] CJADC2 going forward," she said. "If we look at what the National Defense Strategy tasked us to do, through a lens of command, control, communications and computers and cyber, then as it says, to develop our own warfighting capabilities together with allies and partners, being interoperable C4 capabilities that enable combined joint C2 across all domains to facilitate both towards integration and support of combined and joint operations — [the U.S. and its allies need] combined joint command and control across all domains."
No nominee to replace O'Brien has been publicly named and it's unclear when a Senate-confirmed successor might eventually be in place. Alabama Republican Sen. Tommy Tuberville has placed a blanket hold on confirmations for top DOD officials in protest of the department's abortion policies. White House and Pentagon officials have slammed Tuberville for gumming up the military's personnel system.
In an Aug. 22 post on X, the social media platform formerly known as Twitter, from Tuberville's official Senate account, he said: "The Biden Administration's liberal and woke policies are the real threat to military readiness. I'm trying to keep politics out of the military."
A Joint Staff spokesperson told DefenseScoop: "As in other situations where the principal billet is gapped, the Vice Director is performing the duties until the next Director is confirmed. CJADC2 remains one of DoD's top priorities and Rear Adm. BryerJoyner continues to serve as the CJADC2 Cross Functional Team Chair."
BryerJoyner has said that JADC2 is a "verb," not a noun that denotes a specific system or program of record.
"If we get Joint All-Domain Command and Control right, we will change the way we fight, from competition to conflict. It is about how we go into battle, how we command and control the joint force," she said during a conference earlier this year. "What I've been reinforcing with my team, and what I would encourage you to help me with, [is the idea that] JADC2 is a verb. If we're going to talk about capabilities, we talk about JADC2 capabilities, JADC2 systems, JADC2 efforts. It's important because we must speak clearly to each other about what we're trying to accomplish."