Air Force contemplating mission adaptability for future robotic wingmen
Gen. Mark Kelly said that depending on cost and size, some CCA drones will have to be adaptable for a variety of missions that could change day to day.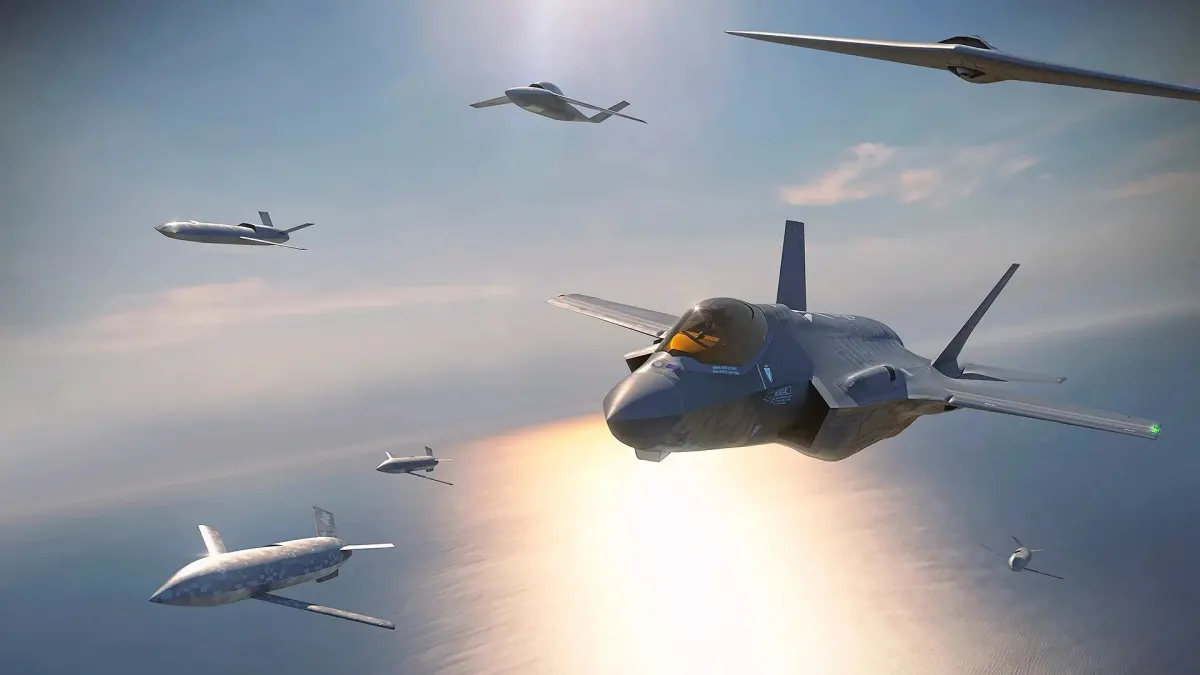 Some of the unmanned aerial vehicles that will fly alongside the Air Force's fighter jet fleet in the future will likely be able to perform multiple missions from day to day, according to the head of Air Combat Command.
Known as collaborative combat aircraft (CCA), the robotic wingmen will be part of a new family of systems for the Air Force's Next-Generation Air Dominance (NGAD) program. The service plans to pair CCAs with the NGAD sixth-generation stealth fighter, as well as fighter jets already in the Air Force fleet, like the F-35 joint strike fighter.
Air Force officials have said they are eying multiple missions for CCAs — from offensive strike to intelligence, surveillance, and reconnaissance — and are taking a modular approach in their development. That means part of the drone fleet could have the flexibility to perform different functions on different days, ACC Commander Gen. Mark Kelly said Wednesday during a panel at the annual Defense News Conference.
"When you look at the price point and you look at the size, weight and power, we very likely will be into arenas where we have to choose this day [that] the CCA is going to be a jamming platform and this day the CCA is going to be a strike platform," Kelly said.
The service is planning for a fleet of 1,000 CCAs and intends to spend more than $6 billion on the program and projects related to it over the next five years, according to its budget request for fiscal 2024. The goal is to create "affordable mass" and augment the Air Force's manned fleet with attritable unmanned systems, leaders have said.
However, not all collaborative combat aircraft in the Air Force's fleet will be the same type of platform. Kelly emphasized that it's possible in the future more expensive drones with more exquisite capabilities won't be as modular as others — and therefore may have dedicated missions they perform.
"We don't tell an F-35, 'Today you're going to jam this particular waveform, and tomorrow you're going to sense and the third day you're going to shoot.' They actually flex to what they need to do," he said. "In a perfect world — which we don't live in, because a perfect world would not be constrained by resources — our CCAs would have the capability to flex in the air to do that. But again, you have to balance the tradeoff of size, weight, power and cost. But I think we'll iterate our way there."
Organizational concepts for CCAs will also play a significant role in how the Air Force leverages the drones and the range of capabilities they will bring, Lt. Gen. James Slife, deputy chief of staff for operations, said during the panel.
He suggested the service should keep its options open for eventually pairing CCAs with aircraft other than fighter jets — like the B-21 Raider stealth bomber and the Next-Generation Air-Refueling System (NGAS), the Air Force's planned sixth-generation tanker project. Once the first batch of capabilities are delivered to the service, it's possible that warfighters will even come up with novel ways to leverage CCAs.
"How we think about the organization of CCAs and whether we want to specialize them for certain types of missions — depending on their attributes or not — I think is really the place that's kind of ripe for experimentation," he said. "I think that those will be some interesting questions in the years ahead."
A former commander to Air Force Special Operations Command, Slife was nominated by President Biden to serve as the next vice chief of the Air Force, Secretary of Defense Lloyd Austin announced on Wednesday. If confirmed, he would replace Gen. David Allvin, who has been chosen to take over as the service's top officer — pending current Chief of Staff Gen. Charles "CQ" Brown's nomination for Chairman of the Joint Chiefs of Staff.
However, Alabama Republican Sen. Tommy Tuberville has put a hold on Senate confirmations of nominees for senior military positions in protest of the Pentagon's abortion policies.