Undersecretary of the Army directs review of electronic warfare portfolio
Gabe Camarillo, undersecretary of the Army, has directed a capability portfolio review of the Army's electronic warfare enterprise to identify gaps, priorities and investment opportunities.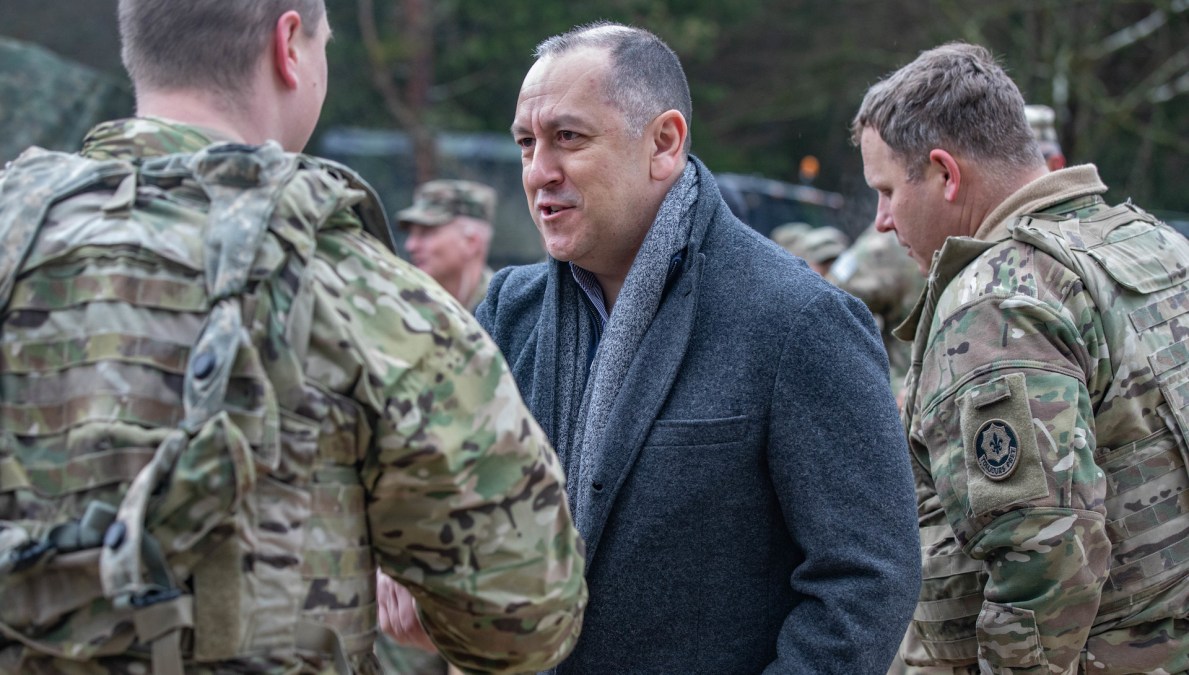 The undersecretary of the Army has directed a complete review of the service's electronic warfare capabilities, DefenseScoop has learned.
In what is called a capability portfolio review, Gabe Camarillo has directed the Army to examine potential gaps and priority investments in its electronic warfare portfolio.
"Undersecretary Camarillo directed a review of the Army's position within the Department of Defense's electronic warfare efforts to identify gaps, priorities and investment opportunities," an Army spokesperson told DefenseScoop. "As the Army shifts its focus from counterterrorism to large-scale combat operations, we will continue to assess and invest in capabilities to ensure the service effectively supports the Joint Force in any contingency operation."
Following the Cold War and during the counterterrorism fight, the Army – along with much of the joint force – divested much of its electronic warfare capabilities. During those counter-insurgency fights, the Army used blunt jamming tools to thwart improvised explosive devices, which, in turn, inadvertently jammed friendly systems.
In the years since Russia first entered Ukraine in 2014, the Army has been rapidly seeking to modernize its arsenal to keep pace with Russia and other advanced actors across the world who have seized on America's divestment in the spectrum and sought to bolster their own prowess and capabilities.
Camarillo has previously explained that electronic warfare "is something that definitely keeps me up at night."
To keep pace with adversaries, Camarillo has stressed the need to embrace open systems, which will enable the Army to be able to rapidly update capabilities as threats present themselves and rapidly integrate them on platforms.
"What I was also impressed by was really the adoption of the CMOSS open systems architecture approach for all of our capabilities in the portfolio. I think that really unlocks limitless potential," he told reporters last year, referring to the Army's Command, Control, Communications, Computers, Cyber, Intelligence, Surveillance, Reconnaissance (C5ISR)/Electronic Warfare Modular Open Suite of Standards. "To me, it is a challenge in the future, not just in terms of providing the defensive and offensive capabilities, but also integrating them onto the wide range of platforms that the Army has."
The Army currently has no fielded program-of-record jammers – relying for years on quick reaction capabilities developed to address capability gaps in Europe. It is working to develop a bevy of capabilities to include airborne platforms as well as vehicle-mounted and dismounted systems that span the tactical sphere as well as long-range. Despite taking several years of development, with program-of-record systems slated to field in the next year, Camarillo told reporters he is largely pleased with the Army's progress but noted that there is more work to do, adding "there's always room for us to improve the speed and acceleration at which we can turn out capabilities."
The Army is also undergoing what is known internally as the 120-day study initiated by the principal cyber adviser to examine funding and resourcing priorities for cyber capabilities along with other information-related systems including electronic warfare. The study aims to examine capabilities, policies, formations and concepts to inform future investments.
Camarillo along with the vice chief of staff previously directed a capability portfolio review of the Army's network with similar aims to the electronic warfare examination. That review studied requirements and capabilities to get a handle on what the Army was prioritizing and investing in to make better-informed decisions in the future.