Space Force gearing up for new challenges after record-setting rapid launch
The service was able to launch a national security satellite into orbit with just 24 hours' notice — dramatically outpacing its previous record of 21 days.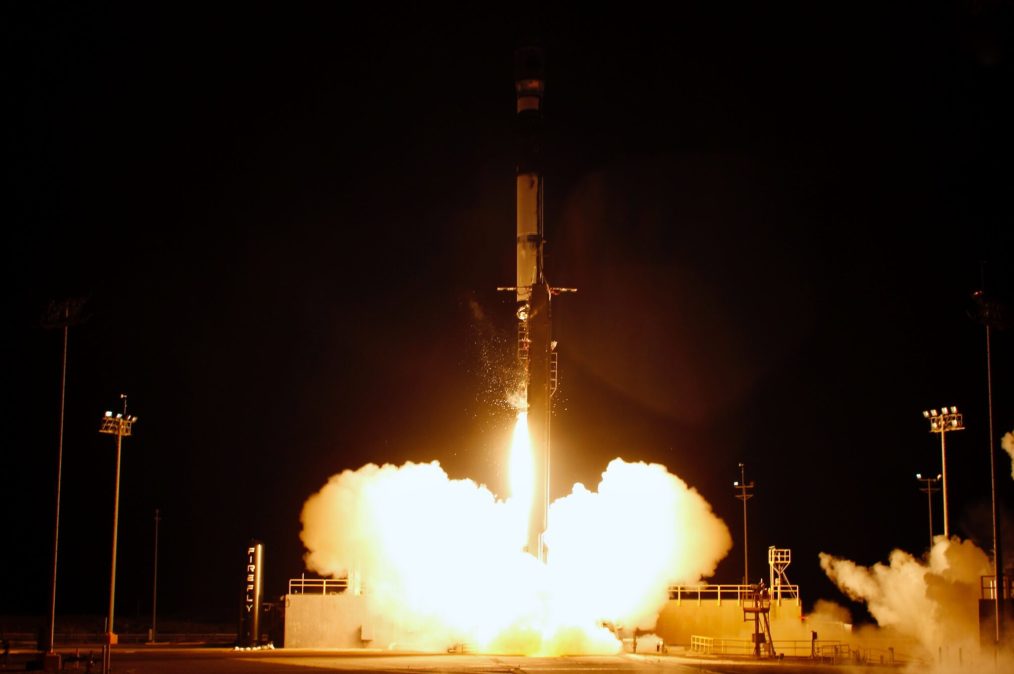 The Space Force set a new record for how quickly it can launch a military payload on orbit with its "Victus Nox" mission, which saw a satellite be hoisted into space just 27 hours after launch orders were given.
Now, the service is taking lessons learned from the mission and already looking at how it can move even faster, Lt. Col. MacKenzie Birchenough told reporters Tuesday during a post-launch briefing.
"Really, it's tightening up all of the different timelines of how we do things better," said Birchenough, who serves as senior material leader for Space Safari — a Space Systems Command program office dedicated to the service's urgent mission needs in space. "How do we transport space vehicles around the country faster? Or, how do we properly store them? How do we work with range to make sure that when a mission like this has to go off, we've properly deconflicted with other launches?"
The Sept. 14 launch was part of the Space Force's tactically responsive space (TacRS) effort that aims to develop the ability to launch national security satellites into space with just 24 hours' notice — a capability the service wants by 2026. That way, the United States could immediately respond to on-orbit threats or even replace space systems that were targeted by adversaries, Birchenough said.
"What we've demonstrated here with this Victus Nox mission and what we're trying to demonstrate through tactically responsive space is being able to respond to those threats," she said. "Whether it's having to just characterize something, or if the need be to augment our capabilities, we're really just trying to get after that extremely short timeline for those different types of missions."
For Victus Nox, Firefly Aerospace launched a small space domain awareness satellite made by Boeing-subsidiary Millennium Space into LEO from Firefly's Alpha launch vehicle to provide space domain awareness capabilities.
After entering a "hot standby" phase, the companies were first notified by the Space Force to transport the satellite 165 miles from Millennium's facility in El Segundo, Calif., to Vandenberg Space Force Base for testing, fueling and integrating with the launch adapter — a process that took less than 58 hours, according to the service.
Once the service gave the go-ahead to launch the payload, it took just 24 hours to mate the payload to the launch vehicle and complete all final preparations. Firefly launched the payload 27 hours after receiving orders during the first available launch window.
The mission dramatically outpaced the Space Force's previous record for a responsive space launch of 21 days, which was set in 2021. It also marks a huge step forward in overall capability when considering most national security space missions often take several weeks or months to complete.
Now on orbit, the satellite has completed post-launch checkout, Millennium CEO Jason Kim said in response to questions from DefenseScoop. The team completed the task in 37 hours — hitting the Space Force's goal to begin operations in under 48 hours.
"That's put us in a mission-ready state," he said. "That's something that usually takes weeks, maybe sometimes months, but the team did it in 37 hours. And now the spacecraft is in a good state and it's performing its mission."
Victus Nox also demonstrated that the Space Force does not have to sacrifice flexibility for speed. The service's contract with Firefly outlined a "menu" of seven different launch scenarios that the company could prepare for, Lt. Col. Justin Beltz, material leader and chief of SSC's small launch and targets division, said during the Tuesday call with reporters.
"We couldn't just call them and say, 'Hey, here's a brand new mission you've never seen.' There was a lot of prep work to create these seven possibilities," he said. "Where we need to go is to have that same speed, if not greater, but we also have the flexibility to deal with almost unlimited flexibility."
Maj. Jason Altenhofen, deputy branch chief at Space Safari, told reporters during the call that Victus Nox set an extremely high bar for the Space Force's future tactically responsive space missions. The service is already planning its next demonstration — dubbed "Victus Haze" — alongside the Defense Innovation Unit.
"It's going to be very difficult to top that, but we want to continue to push the commercial industry as hard as we can because we know the threats are not going to slow down," Altenhofen said. "We need to leverage the competition and the commercial base as much as possible because we want to get faster."
SpaceWERX, the Space Force's innovation arm, is also moving to get industry involved with its tactically responsive space challenge. The organization is inviting space companies to compete for small business innovation research contracts to further accelerate the capability.
Along with goals for the Space Force, Victus Nox is sending a new demand signal for tactically responsive space capabilities to commercial companies. Future launches can open doors that create more infrastructure and availability for rapid launches, as well as opportunities for different launch providers of all sizes, Bill Weber, CEO of Firefly Aerospace, said during the call.
"The reason commercial launch capability hasn't utilized 24-hour demand is because it didn't exist before," Weber said. "The exciting part of what just happened is — because the Space Force performed this mission, now that capability does exist."