Army changing its approach for command post tool
The Army will be delivering quarterly software capability drops for its Command Post Computing Environment going forward.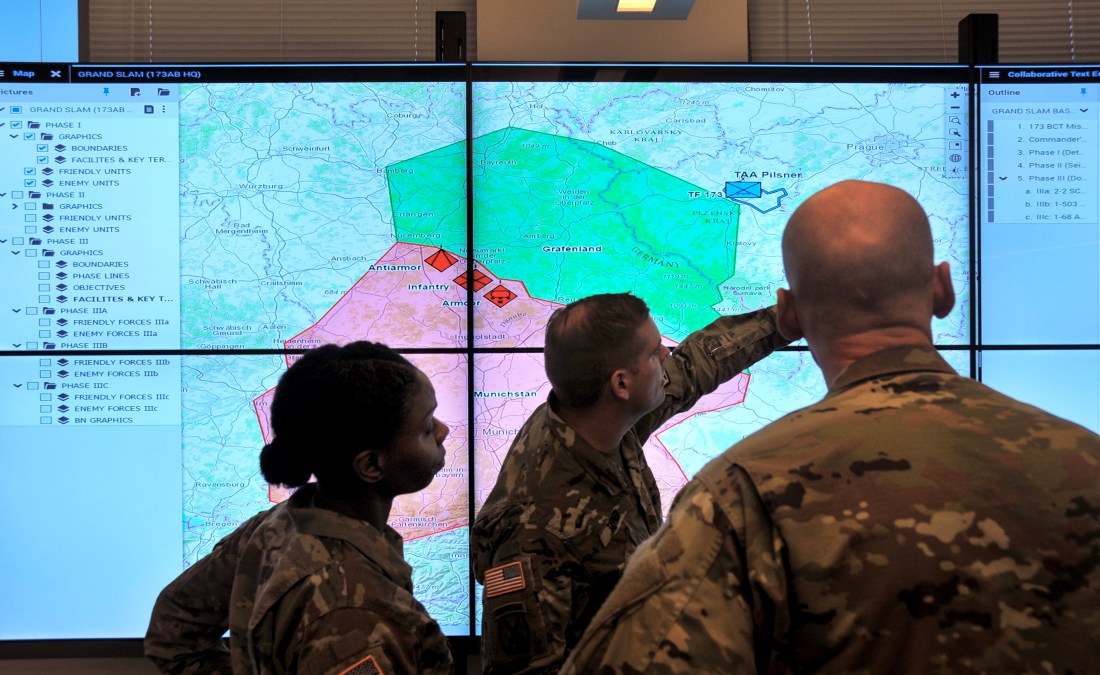 ABERDEEN, Md. — The Army is altering its acquisition strategy for its command post tool, moving to a more agile software approach.
As opposed to the old waterfall method the program currently executes, the Army will be releasing new capability drops at minimum once per quarter for the Command Post Computing Environment. CPCE is a web-enabled system that will consolidate current mission systems and programs into a single user interface at command posts to provide a common operational picture.
The shift is part of an Army-wide change led by Young Bang, principal deputy assistant secretary of the Army for acquisition, logistics and technology, and Jennifer Swanson, chief systems engineer for the ASAALT office, to push the Army to become more software centric.
"My entire portfolio is pivoting to an agile CI/CD [or continuous integration/continuous delivery] approach. Six months ago, that would have been really unthinkable," Col. Matthew Paul, project manager for mission command at Program Executive Office Command, Control, Communications-Tactical, said during a presentation at an AFCEA Aberdeen chapter event Sept. 26. "CPCE is going to be one of my trailblazers."
Paul explained that the current way of doing business, whereby there are increments executed serially over a period of time that can often take upwards of two years to complete, is not suitable for the current threat environment coupled with advancements in the commercial technology world.
"The reality is, Army priorities change all the time, user feedback changes, world events happen and priorities change. We need a strategy that can keep pace with the speed of change," he said. "Every three months, we wash, rinse and repeat. But what's important is that we reevaluate our priorities. Every quarter, every sprint, we're reevaluating our priorities and we're adapting accordingly. That's our new strategy."
In a July interview, Paul told DefenseScoop that the new approach to a software centric, CI/CD model will be a major effort for the program office, because it's a paradigm shift.
"It's a big lift. We have to sort of retool our software factories. We have to reengineer all of our business processes," he said. "Acquisition is a team sport, so we've got to get all of our stakeholders on board. They too need to modify their processes and procedures so they can be in a position to support the new acquisition strategy. What I would say is all of our stakeholders have been incredibly supportive and had been embracing the change. We have not encountered any resistance. I think we're on a good track. I think 2024 is going to be a big year of transition. I think we're going to get banged up a little bit, we may get a little bloody, but as we get reps and sets, we're going to get more efficient over time, as a community."
CPCE is thought of as an ecosystem of applications and systems as opposed to a singular thing. As such, Paul analogized the acquisition approach to that of Lego blocks that can be integrated into the environment.
The Army issued requests for information from industry in three priority capability areas: collaboration, data science platform and data science tools and a data catalog.
These three areas were what stood out over the past year working with the community of stakeholders and at Army exercises.
Paul highlighted a phased approach to capabilities, with the first phase described as the "fight tonight" phase focused on the next three to four years. Phase two is expected to begin in the 2027 time frame.
Paul didn't offer many details about the next phase as to not get ahead of those working it, but noted it needs to be able to thrive in unforgiving, large-scale combat environments of the future.
The science-and-technology community, Combat Capabilities Development Command and Army Futures Command headquarters are "going to start to turn up the volume on new S&T initiatives that they're going to be working on to evaluate or reevaluate what command and control needs to look like in the future within that large-scale combat operations context," he said. "What does that next-generation C2 capability to be? That's going to involve some prototyping, it's going to involve some experimentation, industry outreach, user feedback, all of that."
Paul hopes to not have a major singular event in 2027, but rather, an "in-stride transition" to the new, reimagined CPCE of the future.
"I will make the assumption today that phase two of our approach will require some pretty significant changes to how we implement capability and how we host capability, how we deploy capability. It will likely involve new competition, recompeting major elements of CPCE," he said. "It's going to take us a couple of years to set conditions for that, working with you all, beginning the dialogue, engaging our S&T partners, engaging our requirements managers, etc."
Both chambers of Congress have taken a keen interest in CPCE. In their respective versions of the fiscal 2024 defense policy bill, they direct briefings from the Army on a CPCE award as well as how the service is assessing the scalability of commercial off-the-shelf capabilities for the program.