Continued network experimentation informing future Army priorities with an eye on 2030
The Army is taking network equipment to the Pacific for experimentation after years of tests with Europe-focused units.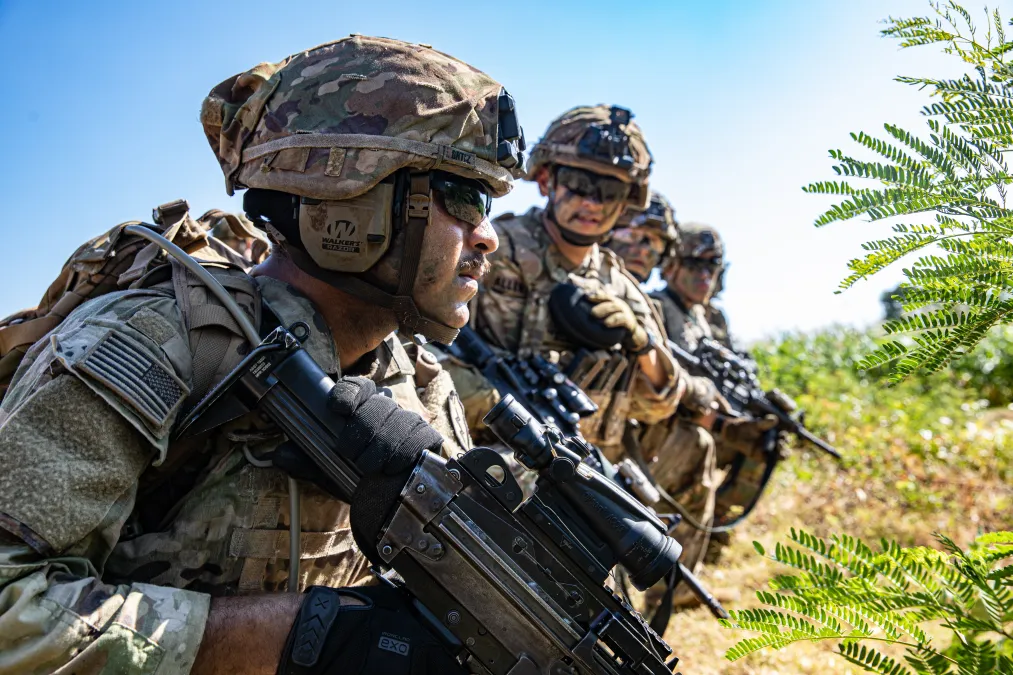 ABERDEEN PROVING GROUND, Md. — As the Army continues to build out and modernize its tactical network architecture, ongoing experimentation is helping officials determine what to prioritize for the ultimate network design of 2030.
The Army writ large talks about ongoing modernization efforts aimed at building the "Army of 2030," a key point in time when the service wants to be ready to for a possible confrontation with China.
From a network standpoint, it has been on a journey for about five years to modernize its capabilities and overall architecture to give units more forms of redundant communication and the ability to move rapidly on the battlefield through a series of experiments. The Army is taking several lessons from ongoing experimentation, especially as it begins focusing on the Pacific given its unique geography. It will likely tailor capabilities depending on the theater of operations.
Prior efforts were done mostly in the Middle East and European theaters, but the Pacific poses significant challenges with with regard to distance, terrain and foliage.
"The Pacific fight is that it's jungle, it's thick jungle. The placement of your radios, the waveforms have to be resilient enough to cut through the brush," Col. Shermoan Daiyaan, project manager for tactical radios at program executive office for command, control, communications-tactical, told DefenseScoop in a September interview.
The Army just wrapped up a series of exercises in the region under the umbrella of Pacific Pathways. From the network perspective, Daiyaan said the capstone event was Garuda Shield in Indonesia with the 25th Infantry Division.
One way the Army is looking to improve comms in that dense environment is experimentation using unmanned aerial systems to boost the range of a signal by being able to get higher off the ground. As part of the integrated tactical network kit — which includes a combination of program-of-record systems and commercial off-the-shelf tools — the Army has experimented with what it calls a variable height antenna, which was essentially a tethered drone that could extend signals.
Now, the Army wants an untethered system that can get even higher.
"With the next exercise with 25th, we're experimenting with a radio inside a UAS and so we get up and above the canopy and able to extend the network," Daiyaan said. "Now you're talking a drone, a UAS that loiters for hours enabled to extend and network a lot wider."
Forces were also able to successfully test in the Pacific an unprecedented level of situational awareness with ties to the Pentagon's new concept for warfare known as Joint All-Domain Command and Control (JADC2).
"They actually really shook out the capabilities and was able to enable their division command to be able to have the [common operational picture] being fed from the individual soldier all the way up to [U.S. Army Pacific]. That's big, right? An individual team leader or soldier was able to provide data all the way up to a four-star quarters … They were managing their forces in Indonesia, but they will also [be] managing another brigade in another exercise back in Hawaii. Two separate commands, offshore, onshore in two different areas," Daiyaan said.
"The bottom line on the benefit we learned there is at the lowest level, not that a four-star commander wants to see that low, but he could. If you talk about JADC2 and sensor to shooter, that soldier is a sensor. If he sees something, that individual soldier's being able to send something all the way back up … on a four-star common operating picture is powerful," he added.
Daiyaan's team also began experimenting with handheld Link 16 radios. Link 16 is a NATO tactical data link network capability.
This was a "big deal for kill chain management down at the tactical edge where before the Link 16 radios and those capabilities were back in the headquarters, this is down at the individual soldier," Daiyaan said.
It now allows for more joint interoperability and the ability to call for fires from the Air Force and others.
The experimentation with Link 16 will help the Army decide how many of these handheld systems to buy and at what echelon they should reside as they are not an inexpensive capability.
The service is also looking into low-cost radios that are easy to use. It issued requests for information at the ninth technical exchange meeting at the end of 2022 to learn what is possible.
They got about 15 responses, according to Daiyaan.
"What we did is we challenged the vendors. The vendors brought their capabilities out, we took them out in the brush and we only gave them one hour to train soldiers how to use their radios. Then we turn the soldiers loose," he said. "Each vendor kind of went off into their own little area in this field, trained a squad of soldiers and gave them the radios and they took them out … What we're finding is that many of the radios, the simpler at the team level, at the very low levels, they just need a very simple radio that works."
This push is a result of direct feedback stemming from the first instantiation build out of the integrated tactical network in which soldiers said it was a complicated process to train on the two-channel radios and required a lot of time to upload data prior to deploying.
The experimentation is helping the Army make resourcing decisions on where these capabilities need to reside and how systems might augment each other — in this case, officials are looking at whether there's an offset between a two-channel leader radio and a lower cost, single-channel radio.
The next step is at the upcoming technical exchange meeting. The Army will issue another contract opportunity seeking to purchase a unit's worth of low-cost radios to test scaling.
The low-cost radios also have secure but unclassified-encrypted capability, or SBU-E, which reduces overall network complexity and has had huge benefits in terms of interfacing with partner nations and eschewing the need for liaisons — which increases the speed of operations.
"We're leaning in to find those radios that are SBU only, but still provide the network resiliency and protections that our soldiers need by using commercial encryption and … technology," Daiyaan said.
The Army still needs to codify a policy for SBU-E. Presently, there is no policy decision on the capability, which could direct at what echelon this should reside at.
"We have a little bit more work to do. We just want to make sure that we got it right, so that we know the right way, the right mix of SBU-E capabilities and U.S. secret capabilities," Lt. Gen. John Morrison, deputy chief of staff, G-6, told DefenseScoop in an August interview. "What echelon should that be at? We're using things like Project Convergence and other fieldings of the integrated tactical network — capability set fieldings is probably more accurate — to inform us what is the right disposition of the number of radios and what have operating in this environment and what echelon we're actually going to put it … We definitely see it as a key piece where we will be moving forward, especially at the tactical edge, where information is so perishable."
Part of that is coordinating with the joint force, Daiyaan noted.
"It's a lot of coordination with the joint force, because as you know, for example, in the radio portfolio [Single Channel Ground and Airborne Radio System] radios, that waveform is in multiple services," he said. "Ensuring that the Army doesn't push itself out onto an island takes coordination with the other services and the other 6s. They're working through those challenges with the other services to make sure that we're not on an island and we don't break interoperability."
Daiyaan also provided details on work officials are doing to outfit platforms with radio and communications capabilities. In 2017, when the Army first started working on the integrated tactical network, the baseline was set with light infantry units given they were easier to deal with. Platforms pose integration challenges that are more complex and must be worked through.
The only mounted platforms Daiyaan's team has finished working with are those of the 2nd Cavalry Regiment in Europe. Next for them is 1st Cavalry Division, which will take place in fourth quarter of 2024.
"We're looking forward to that, because … we are excellent at the lights, the light units. Now let's go to the mounted units and bring them the new capabilities," Daiyaan said.