Army taking operational and technical lessons from demonstrations of EW capabilities
Despite years without a program-of-record jammer, the Army has been testing a family of systems and is nearing fielding.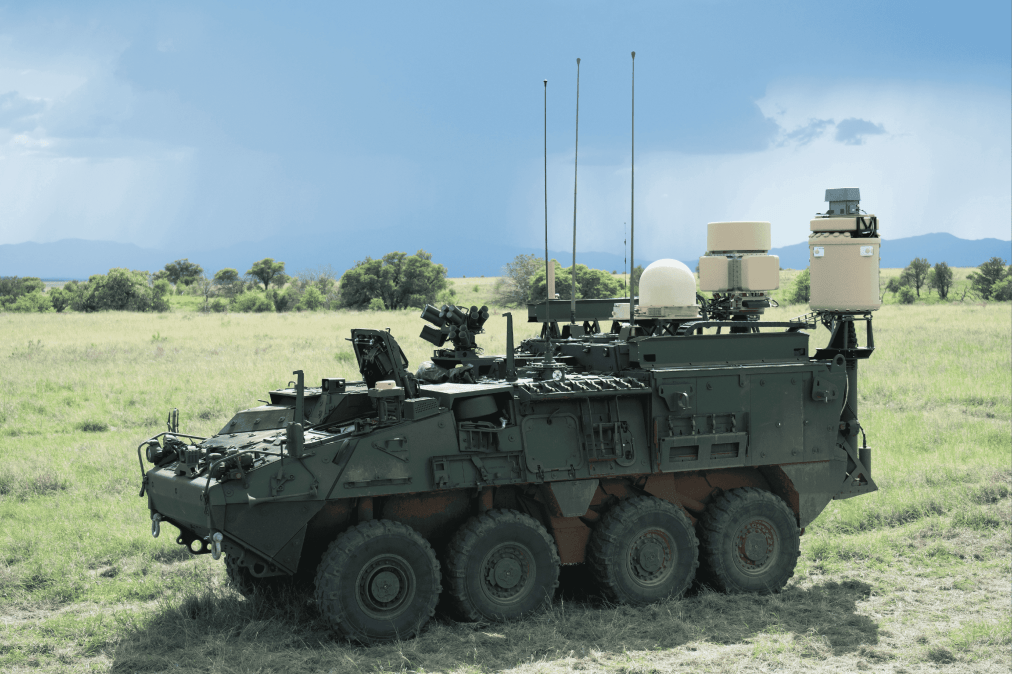 Editor's note: This story is part two of a two-part series. Part one is focused on the Army's review of its entire electronic warfare portfolio.
As the Army is undergoing a review of all of its electronic warfare tools, it is furiously developing a family of capabilities to deliver much needed jamming power to troops.
Since its divestment of systems after the Cold War, the Army had primarily relied upon EW and jamming tools to block signals of improvised explosive devices in Afghanistan and Iraq.
With adversaries becoming more adept within the spectrum, the Army needs more advanced technologies to be able to sense and jam. The service has been relying solely on quick-reaction tools delivered to units to address gaps in capability, and it's still working on developing its first real program-of-record jammer.
The first program-of-record system in the family is known as the Terrestrial Layer System-Brigade Combat Team. This system, being developed by Lockheed Martin, is the first integrated electronic warfare, signals intelligence and cyber platform. As initially conceived, it was to be designed for Stryker platforms, however, acquisition priorities shfited.
The system recently underwent an operational demonstration, which the program office differentiated from an operational test because it's a prototyped system being developed under an other transaction agreement.
The Army learned a lot both operationally and technically about the system during a recent demonstration at Fort Huachuca, Ken Strayer, project manager for electronic warfare and cyber at Program Executive Office for Intelligence, Electronic Warfare and Sensors, told DefenseScoop at the annual AUSA conference.
He noted the hardware performed as expected and is pretty stable, though there are a long list of software updates they are looking to perform. Those fixes involve mostly the architecture and user interface.
There's a lot of operational lessons the Army is taking from the system demonstrations, especially considering it's the first time the service has built an integrated electronic warfare and signals intelligence capability.
"The unit is learning how to function together with these two different skills because it feeds two different chains within the operational brigade operation on the battlefield. How do they relate to one another?" Strayer said. "Then just standard techniques and procedures out on the battlefield — they're learning a lot."
There continue to be ongoing discussions within the Army regarding how to align the platform or if there needs to be variants focused on signals intelligence or electronic warfare — given concerns of sending a top secret intelligence platform into the field that could be captured by the enemy.
"We're learning through going through this operational demonstration what is the synergistic benefit of having an integrated system versus what you lose in terms of placement on the battlefield. There is also challenges because the current system operates as a SIGINT platform on a different security classification," he said. "If you're checking any discussions in the Army about division becoming the unit of action, they want to pull a lot of that high-end capability up to the division and out of the brigades. So, that all goes into the calculus about the final product, what classification it will be at and exactly where in the formation they end up getting fielded. [That's] all in the discussion right now."
Other challenges include integrating the system onto the platform itself. These platforms have significant size, weight and power constraints, and integrating new capabilities and technologies can be difficult.
"We believe we got a good integrated solution for the Stryker. There are other things we would like to put on that platform that there's just not enough space right now," Strayer said. "I had PM for Stryker … down at our operational demo, looking at his Stryker with our mission payload and he gave us some good ideas about how we can give greater power, how we can fix some of the [size, weight and power] challenges we had."
The Army is also beginning design and integration for armored units on the Army Multi-Purpose Vehicle (AMPV). Strayer said Lockheed is trying to work on configuring the TLS system for the AMPV given it is a different platform than a Stryker and things are in different places on the vehicle.
For lighter units, the Army has developed the TLS Manpack, a dismounted solution for lighter units that can conduct sensing and jamming away from the platform. The Army altered its procurement for TLS-BCT to account for the manpack version, which is meant for lighter units now and is cheaper than the Stryker variant.
The Army has simultaneously been pursing another possible route for light units with the Tactical Electronic Warfare System-Infantry (TEWS-I) prototype effort. Initially a quick-reaction capability, this system, built by General Dynamics, is a smaller version designed for infantry vehicles.
"A couple of years ago, the Army decided to defer the IBCT solution and replace it with a manpack to start with, and that's the procurement we're going to be pursuing in [fiscal] '24. But I think there is definitely a demand vehicle for more mobility and agility," Strayer said. "I think we're going to learn a lot by this [quick-reaction capability], and that could definitely … cycle back into the program in later phases."
Strayer said they've built six TEWS-I systems and are getting ready to roll them out to the XVIII Airborne Corps to see how they perform.
The next major event for TLS-BCT will take place in fiscal 2025 with an operational assessment. The Army plans to do multiple soldier touch points between now and then.
In terms of the first unit to receive the system, Strayer said that could happen after that assessment. Since this has been a prototyping effort, things have been a bit different than traditional acquisitions. The system will likely remain at static locations and the Army will bring units to it rather than the other way around.
"We're probably going to leave the systems at the various test centers where they're at, bring soldiers in periodically throughout the year to get multiple sets and reps on that system, so that for the operational assessment in '25, that unit will be well-trained, well-familiar about how to operationally employ" it, he said. "I would expect coming immediately out of that operational assessment, the unit would either keep the equipment or go to some other unit immediately after that. Those prototypes will be ready to go to the field."
The next capability in the family of systems is the TLS Echelons Above Brigade. This system, also built by Lockheed, is designed primarily for divisions, corps and Multi-Domain Task Forces to sense across greater ranges than its brigade counterpart.
The Army altered its approach to the system, opting to tailor it to theaters rather than building a one-size-fits-all capability.
"We did an initial design iteration on TLS-EAB, which for the 1st MDTF in the Pacific, the feedback we got was that it's too big, too much capability given their operational environment. [It's] probably an excellent solution for Europe," Strayer said. "We're doing another design iteration with that MDTF to come up with a more disaggregated approach in smaller, more mobile solution set for them for TLS-EAB."
For aircraft, the Army has been working on the Multi-Function Electronic Warfare-Air Large (MFEW) for a number of years. The Lockheed-made system was designed to be pod-mounted to an MQ-1C Gray Eagle drone as the first brigade-organic airborne electronic attack asset that can also provide limited cyberattack capability.
In the fiscal 2022 budget request, the Army zeroed out procurement funds for the system, essentially forcing the program office to prove out the technology through further demonstrations and development.
"Maybe a couple of years ago, the procurement was zeroed out, because the Army hadn't seen the demonstrated capability. But I think we've turned the corner on that and the funding levels are right where they need to be," Strayer said.
He added that the Army is fully committed to the system now, however, quantities could be more limited than previously conceived at the outset of the program.
"The numbers we were looking at is something less than all the aviation brigades. We've been in this 'prove it' mode for a while so we've got to get this new capability out there," he noted, saying it could be viewed as a high demand, low-density asset.
The 10th Mountain Division has been doing a lot of testing with the system recently, including during a demonstration at China Lake.
"We've been in a number of exercises out there and really matured how EW feeds into the fires chain, with the 10th Mountain really is the diversity in the division, artillery that has really grabbed on to this concept of being able to do long-range targeting with MFEW," Strayer said. "Within our portfolio, it provides you the deepest look of any system we have that's directly owned by a maneuver commander — and that's been a valuable impact into the unit's operations."
While the pod could be flown on any platform that can hold and power it, there still is no demand to put it on anything other than a Gray Eagle for operations. During demonstrations, it has flown on surrogate vehicles.
The Army has flown it on special Gray Eagles and expects to put it on conventional Gray Eagles for air worthiness certifications this year.
"We will get official certification and air worthiness this year, so we will be ready to roll out in '25. There is going to be a couple more formal tests in '25, and that will be on the conventional Gray Eagle fleet," Strayer said.
Editor's note: This story is part two of a two-part series. Click here to read part one here.