NASA appoints new head of UAP research as it eyes deeper cooperation with Pentagon
The space agency also unveiled a report about how data collected by government, commercial and other sources can be analyzed to make sense of reports of potential UAP encounters that might threaten U.S. security.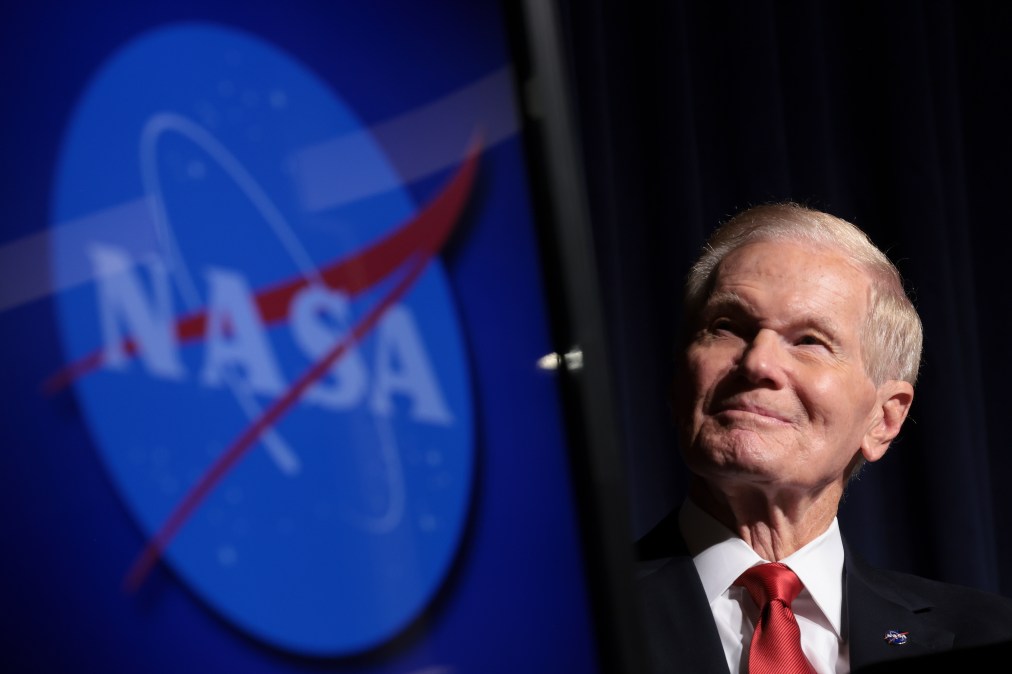 NASA is poised to play an "essential" and "vital" role in supporting the Pentagon's All-Domain Anomaly Resolution Office and its unfolding, whole-of-government pursuits to understand and resolve cases associated with unidentified anomalous phenomena — the modern term for UFOs — federal officials said Thursday.
A new NASA director of unidentified anomalous phenomena (UAP) research will drive a lot of the work — but immediate details about this envisioned, tech-heavy collaboration between the two agencies remain mostly unclear.
Last year, the space agency revealed plans to commission a team of 16 executives and technology experts to help determine how data collected by government, commercial and other sources can be analyzed to make sense of reports of potential UAP encounters that might threaten U.S. security. That team's highly anticipated final report was published on Thursday, and NASA Administrator Bill Nelson hosted a press briefing with a panel of experts at the agency's headquarters to unveil it.
On the heels of the review's release, personnel from both NASA and the Defense Department are being tight-lipped about what their partnership on UAPs will look like — even as they continue to commit to deeper government transparency on this historically stigmatized topic.
"NASA has taken — for the first time — concrete action to seriously look into UAP, and this independent study team is exactly that. It's independent. They work to develop recommendations about how NASA could better examine them from a scientific perspective — and the top takeaway from the study is that there is a lot more to learn," Nelson explained.
"So, while today is a significant step for NASA, it's certainly not our final step. And we're going to share more with you," he added.
The U.S. government has a long and complicated history with UAP — but demands from Congress and the public for transparency have intensified in recent years, particularly in response to more and more seemingly unexplainable objects detected by sensors and observed by commercial, government and military pilots.
Nelson, who previously served in Congress in the 1970s and from 2001 to 2019, noted that in his "previous life in the Senate, [he] was privy to talk to the Navy pilots," and saw then-classified media for military assets that captured possible UAP.
While many of DOD's UAP-related records are still classified for reasons the department associates with operational security, Nelson and the panel of experts emphasized that NASA is prioritizing unclassified data in its work so that personnel and the public can speak openly about it.
"We are going to continue our search from a scientific point of view. If those other agencies continue their search, we're going to be glad to join in — but our stuff is going to be open," Nelson said.
The administrator was joined by NASA Science Mission Directorate's Associate Administrator Nicola Fox, the directorate's Assistant Deputy Associate Administrator for Research Dan Evans, and the chair of NASA's UAP independent study team David Spergel. During the one-hour briefing, the group spotlighted some findings of the final report and roadmap, and answered some follow-up questions from reporters.
Broadly, the report recommends a number of ways in which NASA should assist the All-Domain Anomaly Resolution Office's (AARO) ongoing, congressionally mandated responsibilities and potentially take on some new ones of its own.
"[DOD's] primary mission is not investigating the universe, but protecting it," Spergel told DefenseScoop after the briefing.
Meanwhile, NASA "with its extensive expertise in these domains and global reputation for scientific openness — is in an excellent position to contribute to UAP studies within the broader whole-of-government framework led by" AARO, he and the expert team he led wrote in their new report.
The panel suggests that the space agency takes on an "essential role within that framework" and leverages "its core capabilities and expertise to determine whether it should take a leading or supporting role in implementing a given recommendation."
Among other findings, the report reveals that the U.S. presently does not have a standardized federal system for making civilian UAP reports.
"While AARO is establishing a systematic mechanism for military and intelligence community UAP reports, current FAA guidelines instruct citizens wanting to report UAP to contact local law enforcement or one or more non-governmental organizations. As a result, the collection of data is sparse, unsystematic, and lacks any curation or vetting protocols. NASA should play a vital role by assisting AARO in its development of this federal system," officials wrote.
Last month, AARO launched the first iteration of a new website to share information with the public. It's meant to eventually be DOD's one-stop-shop on UAP, and allow military and government pilots, and federal contractors, to report relevant observances.
At the Pentagon's press briefing on Thursday, Sabrina Singh, deputy press secretary, declined to share any further information about the making and deployment of a federal system for civilian reporting of UAP in relation to the new site or how the department might look to NASA for support.
Still, in its new report, NASA's independent study team argues that right now, "UAP analysis is more limited by the quality of data than by the availability of techniques." So, obtaining more and higher quality data should be a top government priority.
Then, advanced artificial intelligence and machine learning capabilities can be applied to identify UAP in vast, complex datasets.
"Once AARO and other agencies, including NASA, accumulate an extensive and well-curated catalog of baseline data, these can be used to train neural networks so that they can characterize deviations from normal. The panel finds that standard techniques that are routinely applied in astronomy, particle physics, and other areas of science can be adapted for these analyses," according to the report.
With the release of this report, Nelson also announced that the agency is appointing a new director of UAP Research to centralize communications and leverage its enterprise-wide data, AI and other resources to enable this overarching, national UAP endeavor.
In response to DefenseScoop's questions regarding the next steps for cooperation with AARO and the secure mechanisms the NASA team is using for information-sharing, Fox simply responded: "On the immediate actions, we've established our director of UAP research and they're working across the whole-of-government, they're working very closely with AARO. They are a sort of central point for all of the collaboration."
She and other panelists declined to name that new official then, citing previous threats and online trolling that the independent study team endured while conducting its assessment. But in an apparent change of heart late on Thursday, a NASA spokesperson alerted DefenseScoop that the agency opted to identify the official as Mark McInerney.
Previously, McInerney "served as NASA's liaison to the Department of Defense covering limited UAP activities for the agency," states a press release that was updated Thursday afternoon. DefenseScoop reported on that engagement earlier this year.
"One of AARO's best partners in the review of the scientific data and collection capabilities surrounding UAPs has been NASA. Our partnership was solidified by the inclusion of a NASA liaison to join AARO's science and technology group, who has helped expand AARO's reach into the academic and scientific communities," Pentagon Spokesperson Eric Pahon told DefenseScoop on Thursday.
"NASA plays a vital role in the whole-of-government approach to understanding the types of data requirements, collection capabilities, and scientific methodologies applicable to UAP research. AARO has supported NASA's Independent Study team throughout their process, and fully supports NASA's findings and recommendations," Pahon said.