Estonia warns Russia is using 'hybrid attacks' to 'poke' NATO
Estonian Minister of Defence Hanno Pevkur discussed the global security environment with DefenseScoop and other reporters.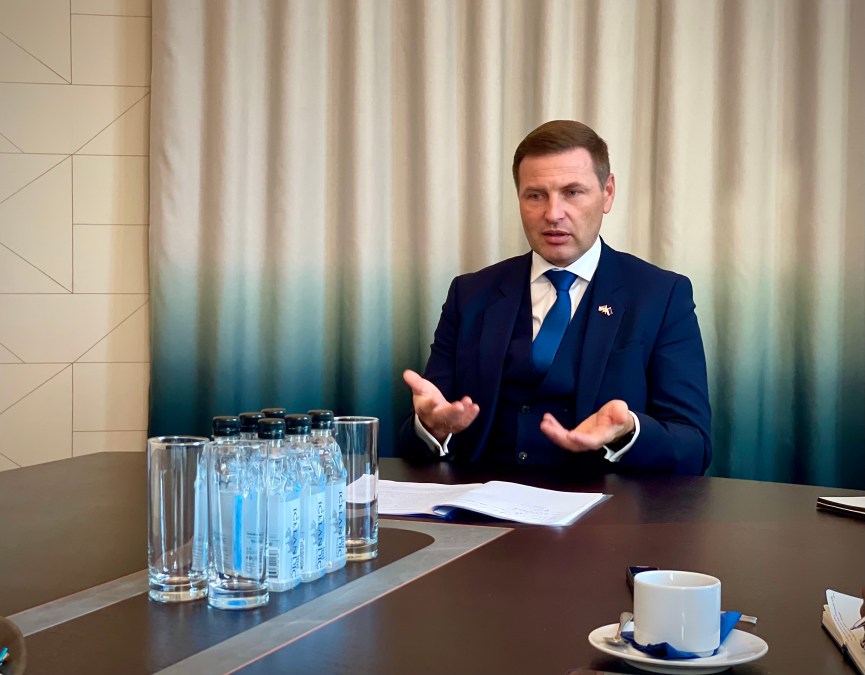 Almost two years into its invasion of Ukraine, Russia is now also conducting "hybrid" warfare techniques involving drones, cyber intrusions and other means against Estonia and nearby NATO members in the Baltic region, according to Estonian Minister of Defence Hanno Pevkur.
Pevkur hosted a small group of reporters Thursday at the Embassy of Estonia in Washington, where he discussed multiple intensifying military conflicts including the Israel-Hamas War, and their global implications. He explained why Estonia is urging the U.S. and other nations to continue to back Ukraine's military and to make more strategic investments to deter Russia.
"The world is very, very unstable and unfortunately the Ukraine-Russian War — for us why it is so important … [is] this war for sure defines the security architecture for the next decades to come, especially in Europe. That means [it's important] also for the United States, because as a member of NATO we all share the same values, of course. And this means that if Russia will prevail, if Russia will succeed in this war, then this will also send the message to all the dictators that 'You can do whatever you want with your neighbors,'" he said.
Estonia is a small but digitally savvy nation that declared its independence from the Soviet Union in 1991 (Estonia had been an independent country before it was occupied by Soviet troops and annexed in 1940). Today, U.S. leaders consider it to be a crucial NATO ally with a strong cyber foundation and IT infrastructure.
With Russia, Estonia shares an 183-mile border — and a complex, challenging history.
"We all understand — in politics and in Estonia — what message [Russian President Vladimir] Putin will take out from this towards us. So, we do not have any illusions that he's not ready to poke, like definitely he is. He's able to test NATO's resilience, NATO's decision-making processes. Unfortunately, we see, already, hybrid attacks," Pevkur said.
As he offered "examples where you see that [Russia is] just, all the time, poking with small things," Pevkur pointed to media reports of a recent incident where an alleged Russian drone launched against Ukraine detonated in Romania.
"We all understand that, most probably, Russia will not go to the direct conflict — kinetic military conflict — with NATO. But for sure they are in the conflict, because already since 2007, we see constant cyberattacks, and not very small cyberattacks," he told reporters.
Notably, NATO's Cooperative Cyber Defence Centre of Excellence is a multinational and interdisciplinary cybersecurity hub based in Tallinn, Estonia. At the roundtable, Pevkur did not directly answer DefenseScoop's questions regarding whether his team or officials in that organization have seen recent upticks in attempted cyber intrusions against NATO members launched by Russia or China.
"We also collect information from Ukraine on how Russia is operating, what they are doing, and what we need to do. In the cyber field, the biggest question mark sometimes is how much information we can share when we talk about not only the cyber defense, but also cyberattack and offensive possibilities — because normally countries do not want to share what capabilities … they have," he told DefenseScoop.
Another "hybrid attack" Russia has been unleashing on Estonia and other nations, according to Pevkur, involves deliberately flooding their borders with migrants from Belarus, the Middle East and other places.
"I met with all the leaders of Iraq and also leaders of Kurdistan, and specifically the Kurdistan president explained to me in great detail how the Russians" are orchestrating and coordinating influxes of migrants on NATO members' borders, including Poland, he said. "Now we see the next phase towards Estonia."
In Pevkur's view, Putin is likely happy that a new war has now emerged between Israel and Hamas — though he confirmed that officials on his team have so far not calculated any impacts from that conflict on the battlefield in Ukraine.
"I believe these next nine to 12 months will be crucial for all of us — not only here in the United States, but also globally — because we will see so many important meetings and decisions. One, of course, is the U.S. elections and how this will affect the decisions made here, looking at the China-Taiwan conflict, looking at the Israel-Hamas conflict, looking at the war in Ukraine and of course, looking also at what we are doing together collectively as NATO," Pevkur said.