DOD counting on 'depth of support' from defense industrial base to keep up with evolving warfare
Since Russia invaded Ukraine early this year, Defense Department leaders are starting to think differently about the development of capabilities for current and future wars.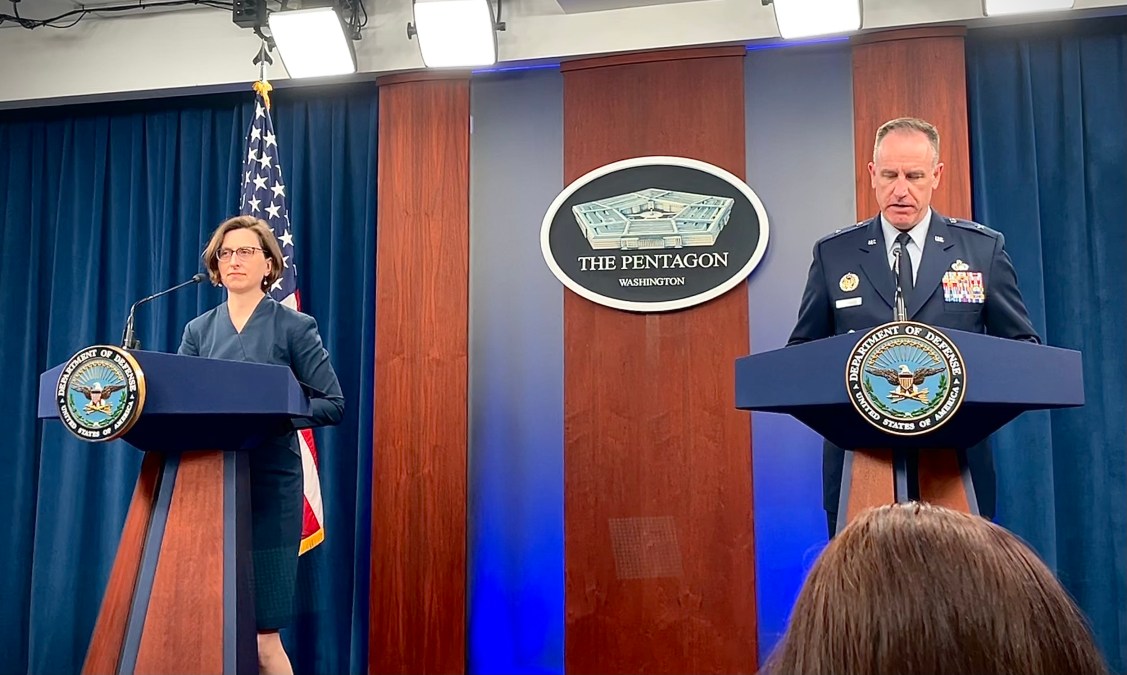 Ukraine's savvy application of different technologies in the ongoing conflict sparked by Russia's invasion is informing how Pentagon leaders are thinking about and approaching the development of new and emerging capabilities for future wars. It's also highlighting the need for robust support from America's defense industrial base to sustain high-tech fights.
So far, experts agree Russia has generally performed below previous expectations technologically. But as they collect takeaways from this unfolding conflict, senior Defense officials increasingly recognize that ensuring military readiness against Russia as it is performing now does not demand the same approach as other, more technologically advanced adversaries, like China, might later. They also see the need for DOD leadership to continuously and proactively engage industry partners that supply the weapons and equipment that will be needed.
"What Ukraine has on its side right now is not just its own capabilities, but you know, the capabilities of all of its allies and partners. And what you're seeing is the United States is providing additional ammunition, but we're also investing in ammunition production. And we're seeing our allies and partners investing in ammunition production," Deputy Assistant Secretary of Defense for Russia, Ukraine and Eurasia Laura Cooper told reporters during a press briefing at the Pentagon on Tuesday.
Just last week, Cooper noted, Undersecretary of Defense for Acquisition and Sustainment William LaPlante met with allied nations' officials, and particularly armaments directors, to discuss ways to sustain and enhance their industrial bases as they jointly continue to support Ukraine and prepare for future conflicts.
"What is Russia doing? Russia is turning to North Korea for assistance. It's turning to Iran. It doesn't have that depth of support" that the U.S. and its allies have, Cooper noted.
She briefed reporters on the latest presidential drawdown of security assistance and equipment from DOD inventories for Ukraine, which was announced on Tuesday. Valued at up to $625 million, the support marks the Biden administration's 22nd drawdown of assets from DOD stocks for Ukraine since August of 2021.
Assistance from drawdown channels are provided based on Ukraine's needs "in terms of more immediate timeframes, because we know that we can get it there within days or weeks, or at-most months," Cooper noted.
"When we do our Ukraine Security Assistance Initiative packages — like we did last week, where we're actually procuring them [from industry] — we're looking out at a much longer-time horizon, envisioning what the Ukrainians will need on future battlefields to defend themselves," she added.
Celeste Wallander, the assistant secretary of defense for international security affairs in the Office of the Secretary of Defense for Policy, pinpointed lessons her team is grasping as Russia and Ukraine continue to battle.
High on her list is "the importance of our defense industrial base," she said at an event hosted by the Center for Strategic and International Studies earlier this week.
"One of the things we have been able to do that Russia is struggling with, is we've been able to keep this steady supply of support to Ukraine and to ourselves and to allies and partners — even as the Russian defense industrial base is really struggling just to supply Russia itself," Wallander explained. "So we need to, as the defense and security community, understand it's not just the forces you have — it's the ability of your defense industrial base, and your economy, to sustain your defense enterprise and that of your allies and partners going forward."
Wallander noted that, over the last few months, she and her colleagues have "worked closely on that," with Deputy Secretary of Defense Kathleen Hicks leading the engagement with industry.
Pentagon spokesman Eric Pahon told DefenseScoop on Monday that Hicks is frequently engaging with executives from key technology industries to communicate the department's priorities and be directly informed about defense industrial base concerns. The Pentagon's No. 2 official recently attended the White House Summit on Biotechnology and Biomanufacturing, for example, and also met with the Aerospace Industries Association executive committee of aerospace CEOs.
"Secretary [Lloyd] Austin and Deputy Secretary Hicks are continuing to communicate consistently and regularly with industry and DOD components supporting our efforts to supply Ukraine, allies and partners, and replenish our own stocks," Pahon said.
Many lessons about the use of technology in contemporary and future warfare are also being analyzed.
"My own takeaway is that we do have new technologies — we've seen how [drones] have been used and deployed in this conflict," Wallander noted. But in her view, going forward, "it's not an 'either/or'" choice between legacy and emerging military capabilities, noting that the availability of more traditional assets like "armor, artillery, air defense capabilities have been key" in the fight between Ukraine and Russia.
"The balance might be different in different potential conflicts globally. But the United States really needs to be investing in new technologies and investing in modernization, but have that sort of 360 [degree] approach to defense requirements if we're going to have global responsibilities with our allies and partners," Wallander said.
Early in the present conflict, Elon Musk's SpaceX started providing internet and connectivity to Ukraine through its commercially available Starlink satellite network, which is now underpinning many other dual-use technologies in the ongoing fight. Ukrainian drones have been able "to drop bombs on forward Russian positions using the Starlink capability," according to the Defense Innovation Unit's Acting Director Mike Madsen. At the same time, "civilians in war zones are able to contact their loved ones" using the Starlink tech.
"So, what we've learned there is [about the] democratization of technology — it's available, it's out there, and so we need to be more active in this space to understand what that technology is and to get it before adversaries get their hands on it," Madsen said last week at a summit in Texas.
The former combat pilot and defense acquisition expert pointed to an example, noting that Ukrainian military officials have also recently developed a rideshare-like app — which Madsen described as "Uber for artillery" — where they can conveniently share where they are and what they need so that asset-providing units can respond.
"It's a response in seconds now. That wouldn't be available without Starlink. So, we start to see that layering of the technology through the democratization piece of it," Madsen noted.
That technology is providing Ukraine with continuity of operations and some asymmetric advantages. Observing it unfold, Madsen's team is also processing takeaways around the importance of properly training personnel to adapt to new technologies before they are deployed on the frontlines.
"We're not going to have time to start training on this technology 'once the balloon goes up,' as it were. We're going to have to start including this technology in our [concept of operations] right now, so we can train the men and women in uniform to use those technologies — to use that app to call in fires, for example," he said.
Though it may seem "a little bit counterintuitive" in his view, another lesson Madsen and DIU officials are learning relates to classification.
"We were able to use commercial overhead satellites that were unclassified — available to anyone — with pretty good resolution," to counter some of Russia's false narratives and "show the world what was really happening," Madsen noted.
He and his team are also observing new lessons about how important it is to ensure military assets can be delivered and deployed in a speedy manner.
"Let's face it — in the next contest, we're not going to have time to develop a lot of these capabilities organically. So, we've got to be able to just leverage all the great stuff that is taking place out there," Madsen said.